Microsoft will soon be rolling out the next release of Windows Phone, the succinctly titled Windows Phone 8.1 Update 1, and it bring with several new features.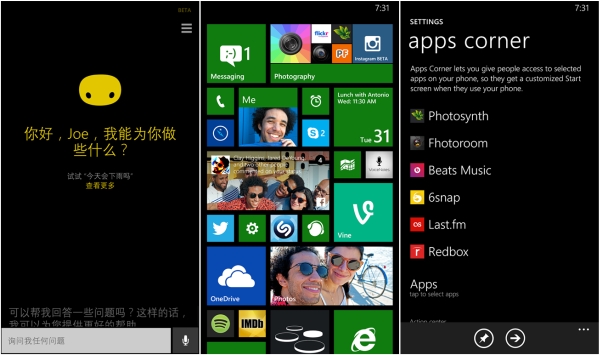 One of the major changes is not a new feature but an update to the existing one. Cortana, which was introduced in 8.1 and is Microsoft's voice assistant, will now be available in markets outside the US, namely China and the UK in beta form, along with Canada, India, and Australia in alpha form.
For China, Microsoft has made several modifications to Cortana. Nicknamed 'Xiao Na', Cortana will have an alternative form with different visual appearance, animations, and sounds. It will support Mandarin in voice, text, and speech. There will also be additional information tuned for the Chinese audience, such as air quality info in weather cards, information about driving restrictions, and the ability to track local TV shows and celebrities. Cortana can also look up English words in Bing Dictionary.
In the UK, Cortana will have a different voice than in the UK as we reported before, with British pronunciation and spelling. Bing will provide local information on sports teams, the London Stock Exchange, commuter conditions, etc.
In the US, Cortana will be updated to support more natural language scenarios, snooze times for notifications, and several improvements to her personality for improved conversations.
Other than Cortana, Update 1 will have other features as well, such as folder support on the Start screen, performance improvements to the Xbox Music app, live tile for the Store app to show app suggestions, ability to mark multiple text messages for deletion or forwarding, Apps Corner to select a handful of apps and limit the device to only those apps or to make the device boot straight into a particular app, which can be useful for businesses.
Windows Phone 8.1 Update 1 will be rolling out next week to those on the developer preview. For those on stable 8.1 update, it will be available in the coming months.
Z
well.... that was a joke ... #sigh Siri-yes-lee you lost your humour or what ?
?
For last six months I am hearing this. I am tired of this. Its I think a marketing stategy of Nokia/Microsoft. During every release of new set they also release a rumor. If they want to catch market its time to tell true or specific time frame to the...
?
I want to complain about my koycera phone