In a survey done by the Aberdeen Group, some 348 enterprise application developers were asked which mobile platforms they've released or were planning on releasing their products to.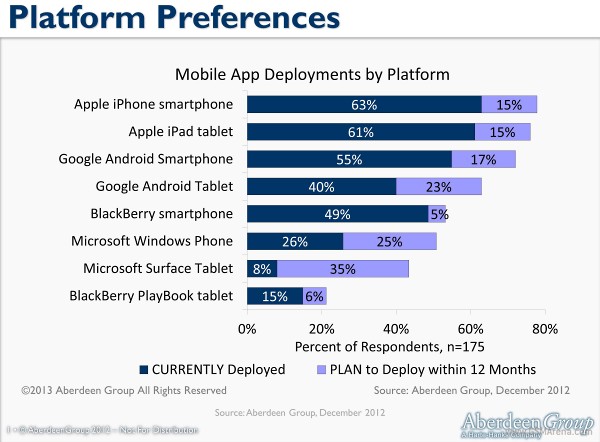 While iOS and Android were unsurprisingly at the top of the chart, Microsoft's mobile OS's saw some great responses by developers, with the Windows Phone and Surface Tablet having 25% and 35%, respectively, of developers planning on releasing apps within the next 12 months.
Aberdeen ties this rise with the growing emergence of Bring Your Own Device (BYOD) in the corporate world. Samsung has been heavily promoting that campaign hoping that it will help boost the sales of devices like the Galaxy Note II.
In light of what looks like a bright future for Microsoft, the news is not so good for BlackBerry. Despite the release of the BlackBerry 10 OS, businesses have all but lost faith in the Canadian company, due to their oft-delayed operating system, and unclear plans for the future, especially in regard to its PlayBook tablet.
t
yes , you can open the microsoft phone store and you see new apps everyday. windows is rising.
?
Yeah cause symbian apps and the whole OS was really stable...
ADVERTISEMENTS