Market research firm Kantar WorldPanel has released its latest report on mobile operating system market share. The report, which covers the 3 months ending August, reveals that Windows Phone's share has increased in several countries around the world.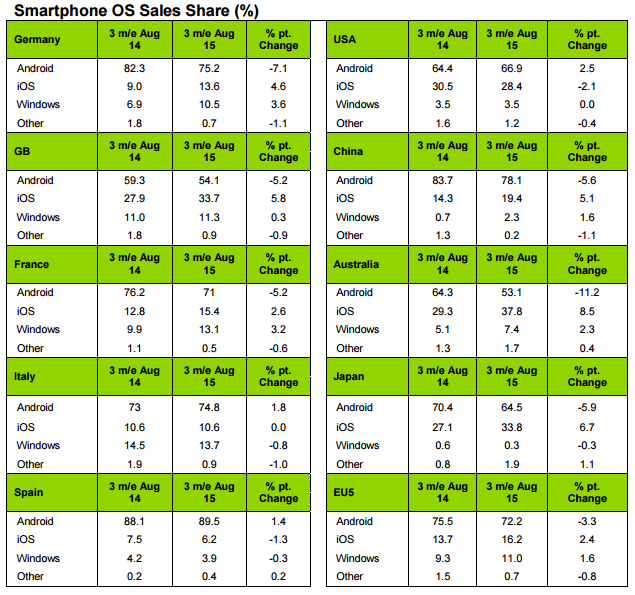 As you can see in the image above, the countries where Windows Phone has seen its market share increase considerably include Germany, France, and Australia, where the share has risen 3.6, 3.2, and 2.3%, respectively.
"Windows Phone share has experienced some growth in France, Germany, and Australia, and maintained share elsewhere, but we have not seen any major impact on the overall market, despite some aggressive price points," said Carolina Milanesi, chief of research at Kantar Worldpanel ComTech.
"At the Windows 10 New York launch on October 6, we saw Microsoft refocused on offering a companion phone for users of Windows 10, and enterprise-class devices to IT departments – a more modest goal perhaps, but certainly a more realistic one."
?
You make no sense at all. Are you from the US?
?
The same for Germany - a good running economy unaffected by the ups and downs of the european market. And the most users move from Android to WP, so it has certainly nothing to do with the price. I think most users are tired of the somewhat antiquate...
A
Australia is hardly in taters, while growth has slowed and imports from China have retracted, the economy is certainly not in recession. Australia still remains one of very few economies unaffected by worldwide downturns in recent years. The uptake ...