It seems Windows Phone users are unable to download apps for the time being. The Windows Phone Store is having technical issues, which is preventing the download of new apps.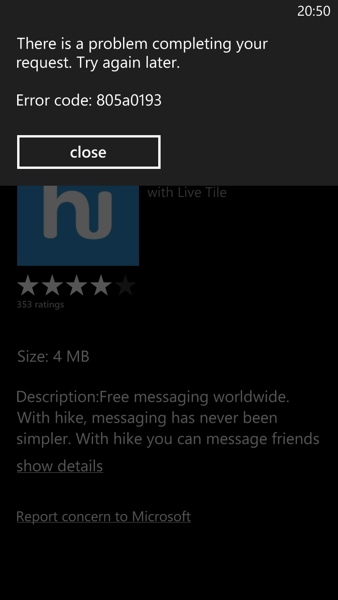 Users trying to download or update apps are being shown the above error message, with the error code: 805a0193. The issue seems to be widespread and we have confirmed it on our own device as well.
No word yet on what's causing the issue but hopefully it should be sorted soon.
D
what the flash player does most of the time is displaying ads, i'm glad i don't have it
t
Windows are in renovation mode, nothing comes out good yet. Maybe window9 , i start buying windows phones. I dont want to be their guinea pig trying their fail product n still paying it. Wow too good for microsoft.we are paying their school fee.they ...
D
...and an OS that isn't supported anymore.
ADVERTISEMENTS