Offerings from both Nokia and ZTE debuted the next major build of Windows Phone last week at MWC, dubbed "Tango". The new Nokia Lumia 610 and ZTE Orbit both took to their respective stands to show off the new lower-end capabilities of Microsoft's mobile OS.
Despite the latest iteration (excluding Apollo) of Windows Phone having made it to these devices on the floor at MWC, Microsoft had been particularly vague about just what the limitations were for devices employing lower-tiered hardware, until now.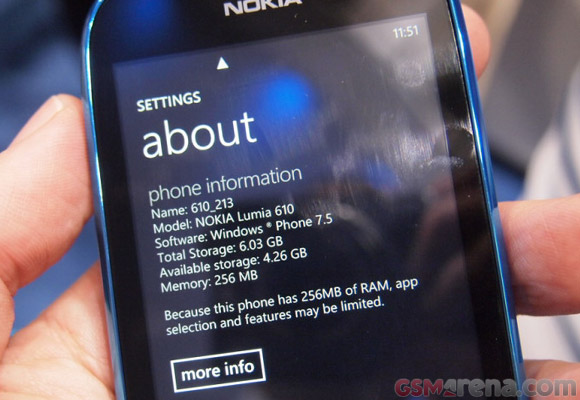 Both the Lumia 610 and Orbit employ 256MB of RAM and this means that there are certain implications which consumers will need to bear in mind when choosing a Windows Phone device, these are as follows:
• Windows Phone Marketplace app restrictions – Some processor-intensive apps have particular memory requirements, and won't work on phones with 256MB of RAM.
• Podcast/Video Podcast Subscriptions – Managing podcast subscriptions or watching video podcasts on a device with 256MB of RAM will not be possible.
• Bing Local Scout – Bing Local Scout won't feature on a device with only 256MB of RAM.
• Fast app/Task switching – The feature differs on Windows Phones with 256MB of RAM in that if a single application uses over 90MB, it will be killed on exit and thus not appear in the task switcher, besides this the functionality will remain unchanged.
• SkyDrive automatic photo upload – 256MB of RAM means no auto-upload option, but users will still be able to upload their photos manually.
• HD video playback – Some compressed videos will be unable to play due to a lack of codec support on devices with 256MB of RAM.
• Background agents – To free up RAM for the foreground on such devices, generic background agents (PeriodicTasks/ResourceIntensiveTasks) will be disabled.
As well as informing prospective buyers of these new more competitively priced Windows Phones what they'll be missing out on, Microsoft have also made a point of appealing to Windows Phone developers who will need to take into account the limitations of devices using the new minimum hardware requirements.
Speed seems to be key with a message of optimizing app start times and reducing an apps' memory footprint being pushed to developers. All this being said, Microsoft are adding features to Windows Phone 7.5 too, including a new location alert, MMS enhancements and improved SIM contact management.
Windows Phone "Tango" should be arriving on 256MB of RAM-endowed Windows Phone devices come Q2 this year.
Source
|
Via
O
All I hear here are a lot of people who talk crap about specs that do NOT matter! Grow up, get your hands on a Lumia and try it and then come back with your comments! You may be happy with your (very) low budget Samsung Android (Say: Thank ...
A
Hmm.. these are prices from the online retailer that I use. Lumia 610 - $368 US Lumia 710 - $399 US I would have thought the low-end WP7 device would be a lot cheaper than that.. If it hovers around that price, there'd be very little reas...
?
you can go for Android smart phones. They are the no 1 and toast of South Africa.
ADVERTISEMENTS