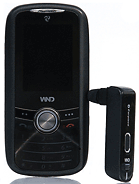 ?
This phone will put earpiece manufacturers out of business.
I wonder how come a new company like WND can have such exciting and reliable (I'm using the Duo2200) products while some other giant mobile companies are manufacturing handsets that look more like shoe boxes!!?
?
I love this phone! Korea has it already why not here?! I have the duo2200 & I like it also. hopefully this one will not cost too much.
?
Lovely all-in-one handset bluetooth; howe come no other company make it. I think patent or something
?
A gsm with an integrated earpiece??! WOW, WOW & WOW!!!!! it seems that this company only manufactures exquisite products!!
B
So cool!!!
This is gonna make my life so much easier & more economical ;) Actually, I always lose my BT earpiece in the power outlet at some airport lobby or in a hotel conference room. With this WND Wind Van Gogh 2100 mobile, I am sure I'll keep the BT earpiece with me, wherever I go. Great great invention!! Where can I buy it from? Does anyone know?
?
Unbelievable idea... this should be a Nokia or a Samsung. So simple yet so clever! Good work WND
Total of 33 user reviews and opinions for WND Wind Van Gogh 2100.