The new Xbox One S went on sale yesterday, as expected, and today the teardown experts at iFixit have done what they do best - take the thing apart. The Xbox One S comes with an improved GPU which supports HDR10, 2TB of storage (500GB and 1TB options will launch soon), HDMI 2.0a connectivity with support for 4K video at 60Hz, a redesigned wireless controller, a vertical stand, and mechanical buttons. It's identified as Model 1681.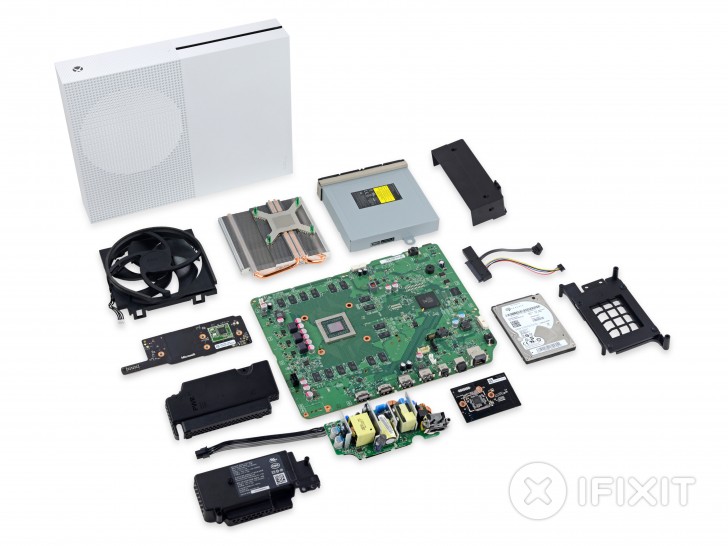 The Xbox One S uses a MediaTek chip for Wi-Fi and Bluetooth connectivity, a 5,400 RPM SATA III Seagate hard drive with 32MB cache, while the BD-UHD drive is made by Philips and Lite-On. The new internal power supply in the console accepts 100-240V inputs and is fanless. Underneath a 120mm fan and an aluminum heat sink and a copper heat pipe set sit AMD's "Jaguar" octa-core CPU and 914 MHz Radeon GPU. RAM is provided by Samsung, and the eMMC NAND is made by Toshiba.
The console's new wireless controller is very similar on the inside to the old one. The bad thing about it is that once you take it apart, you'll be hard pressed to put it back together, unless you're handy with a soldering iron.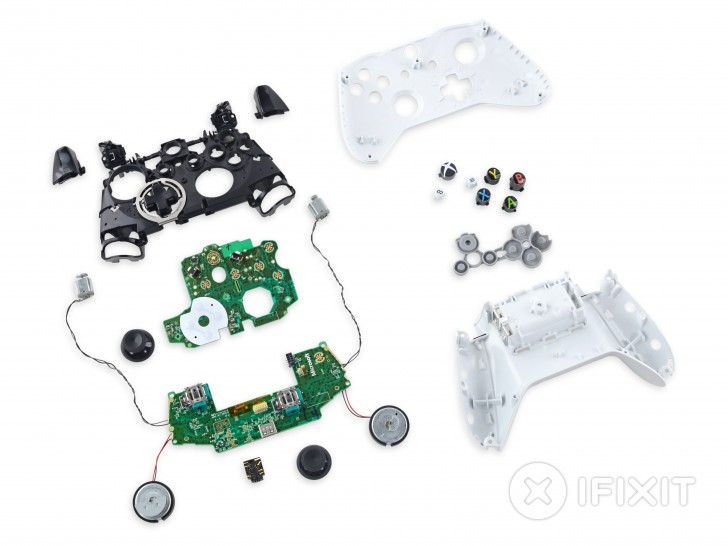 The repairability score for the Xbox One S is 8 out of 10 (where 10 means easiest to repair). Only a few tools are required to tear down the console, and its internals benefit from a modular design that allows easy replacement of the drives, fan, heat sink, wireless board, and front daughterboard. What's more, thanks to fewer interlocking body panels and a simpler clip arrangement, the One S is easier to open than the One. On the flip side, replacing your hard drive will void your warranty as well as require "some difficult hackery to make it serviceable", iFixit concludes.
D
Platter densities have gone up,.. on a 250gb platter, data loads slower than on a 333gb platter. Tech changes, not all things are equal. Hence why I take rant about 'spec sheet' numbers. We need to understand what is really going on. I know ...
D
Incorrect. On ps3, the sata interface greatly limited the throughput from truly benefitting.. Many games mostly using lots of small files (PS3, grand turismo made a huge difference) and using dynamic texture load in (rage, gta5 etc) showed ...
A
If you had a SSD you'd already know the gains aren't just in the loading screen... before you even click the icon to start the game, you already gained time on the HDD (from boot to everything you did before the game, during the game and after).