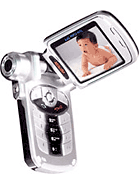 c
no bluetooth!? wtf!!!??? i just dont understand these people or maybe the engineers just forgot about it.
j
good phonw ith great feaure, but who mad this phone?
japan or china or whta?

d
using one, tremendous camera capability and video recording is superb, its more like digi cam with built in mobile phone...no prob without bluetooth as card reader is easier and faster...downside:tiny makes you feel that its vulnerable...
Total of 108 user reviews and opinions for XCute DV2.