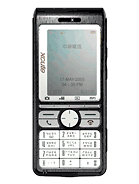 ?
no IRDA ?no bluetooth ,no usb!! how to do with this phone? :-) it is just a camera with 5mp + phone in option! this is a poorest gadget!!
T
I noticed that the date specified on the screen of the phone is 17 MAY 2005
THAT'S MY BIRTHDAY !!!
anyway... i was just wondering will this phone become available in Europe? cuz it has asian characters on it... and i'm confused!
I
Very good phone, but where is the connectivity like IrDA and Bluetooth. Whitout these things this phone gets stupid.
?
great feature inside, bad shape outside
esp the 5 mp, but no bluetooth , thst's a big problem, and i wanna know,, is this made ini japan org china or where>?
?
Would it kill them to center the screen on the phone instead of having it offset to the right. That's just disturbing and strange and xcute's done this a bunch of times now with their phones. If they can't even get something simple right, what else did they get wrong on this phone?
Total of 70 user reviews and opinions for XCute DV50.