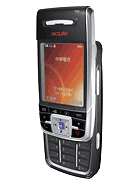 h
this is a tad noobish but what does interpolated mean if there aren't two cameras?
C
no, thats how many pixels can be displayed on the screen - if you just look at 5/8mp pictures on a mobile phone screen then you can't appreciate them - upload them to a computer then you'll see 8mp in all its glory!!!!
?
why people are so stupid? one of here say that he won't buy a phone without autofocus, why? (probably because everybody speak about autofocus and he think that this is something extraordinary and it isn't) autofocus is like digital zoom, is nothing, maybe a phone with optical zoom, that is something you should look for. and if you compare pictures taken with 2 different phones (one with autofocus and the other without at the same resolution) you will see that there is no difference. So don't be so stupid anymore, autofocus is nothing.
K
Something is wrong here.
640x240 pixel 16M display?????
It has miniSD but no USB..how do i transfer files..via bluetooth? computers with bluetooth are yet to come up.
J
to you know if you look up a little further the specs state that there is bluetooth available

?
ever so stupid, if u had checked the picture u would see that it says autofocus. anywqay not gonna buy it, prefer fliphones
?
Xcutes are horrible, menus are horrible. i would never buy a 2+ MP phone without autofocus. Plus there is no bluetooth on this model!!!
?
5MPX, are you nutts?? This is going to cost a fortunte!!! I'd better buy a phone and a camera separately rather than buy this one. More than 1000$ for sure!
Total of 132 user reviews and opinions for XCute DV80.