As most of you have surely heard, the Xiaomi MiNote Pro is official. It was launched just a few hours ago. The handset boasts a pretty impressive specs sheet, including a Qualcomm Snapdragon 810 SoC, 4GB of LPDDR4 RAM and a 5.7-inch QHD 2.5D display.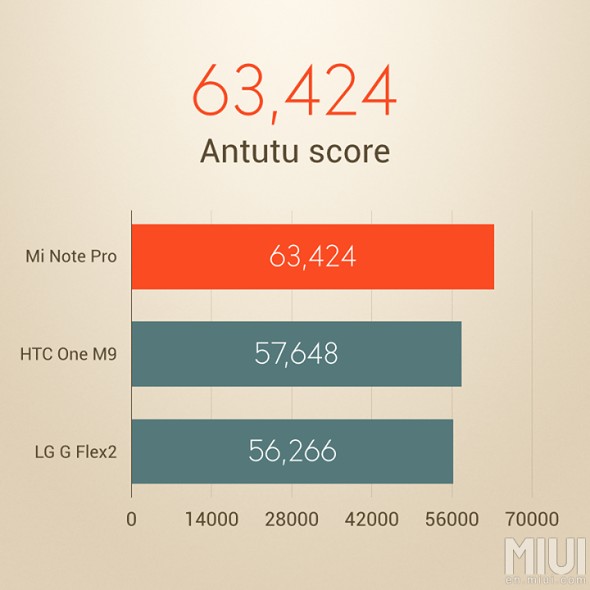 But the phone might just have another trick up its sleeve. According to Xiaomi, the MiNote Pro uses a newer version of Qualcomm's top-of-the-line chip. The SoC it has is a v2.1 model, which the manufacturer claims gives it a slight edge in performance over other phones with the same Snapdragon chip.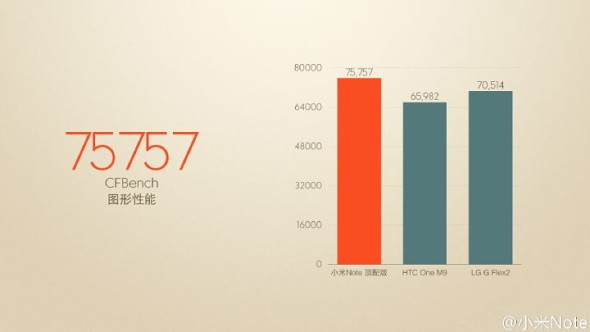 To back this up, Xiaomi published some benchmark results, from CFBench and Antutu, to be exact, which seem to show that the MiNote Pro outperforms both the HTC One M9 and the LG G Flex 2. This all sounds quite intriguing and we definitely can't wait to get our hands on the handset to verify the results for ourselves. As for the heat-management problems that the Snapdragon 810 has been battling with, Xiaomi claims to have found a remedy for that as well, by using what it describes as clever heat management. We'll just have to see about that as well.
Source 1 (in Chinese) | Source 2 (in Chinese) | Source 3 | Via
D
Theres no way thts true unless the nm is less
B
First of all, you I don't think you own a s6. Secondly that is never gonna happen.
M
That's called 'hope'. Hoping that with my idiotic brain, snapdragon can fix the thermal issues.