Xiaomi creates Warcraft theme for Mi phones right on time for the movie launch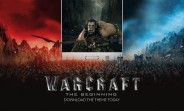 Blizzard is stirring up nostalgia for Warcraft fans who finally got their wish - Blizz cinematics extended to a feature-length film. Xiaomi can help you get in the mood for the film with a theme for your Mi phone.
The theme swaps app icons with items from the movie, a lockscreen with a greeting by Durotan and a "punch" unlock sound and many other details from Warcraft lore.
You can download the Theme from Xiaomi's Mi Store.
The Warcraft movie officially premiered last week but is still expanding globally. You can check IMDb for a premiere date in your country.
d
its a very good phne its only an app themes ..
D
its MI theme app not mi store
D
omg omg omg omg omg spaaaaaaceeee! running bare foot to china to buy one right now :d