Xiaomi made its debut in India this month, and yesterday the Chinese smartphone maker held its first flash sale in the subcontinent.
The company proudly boasted that its Mi 3 sold out in under 40 minutes. However, Xiaomi omitted to mention just how many units were actually available for purchase. That kind of screamed 'publicity stunt' even then, and now a few unnamed sources allegedly came forward and confirmed it.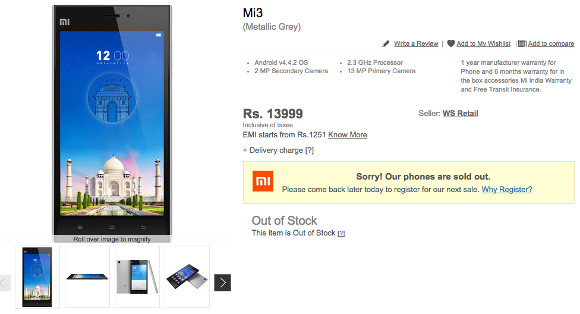 It turns out that less than 10,000 Mi 3 smartphones were on offer yesterday. In this context, the 40-minute sell out period definitely seems less impressive, though it's still not bad performance by any stretch of the imagination.
Xiaomi received more than 100,000 pre-registrations for the Mi 3 prior to its going on sale, so the amount of models in this batch didn't even cover 10% of the demand.
On the other hand, that does ensure that Xiaomi's next flash sale, which will take place on July 29, will be a success too. There are, after all, at least 90,000 people in India still hoping to be able to buy their very own Mi 3.
That said, if Xiaomi continues to keep the batches of devices it releases in India very small, it risks eventually angering its prospective customers over there.
r
I need real information about mi3
g
Howzz ur phone is working nd which color is available
R
Certainly the sale of Xiaomi Mi3 on flipkart is not at all fare. Some kind of negativity is there. In my view the game should be fare and no body should allowed to cheat the customer.