The Xiaomi Mi3 was launched back in September and it has always been known for offering plenty of bang for your buck. To maintain that reputation today the company has announced new prices, which considerably cheaper than before.
Xiaomi has slashed the price of the 16GB Mi3 from $327 to $270, while the 64GB model retails for $320 shortly after the company announced that it intends to bring the Mi3 outside of China. By the end of 2014, you should be able to buy the phone in India, Brazil, and Russia as well as Indonesia, Malaysia, Mexico, the Philippines, Thailand, Turkey, and Vietnam.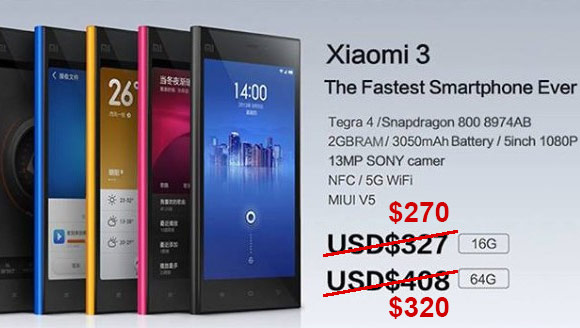 The device is available with two different chipsets - you can either get a Tegra 4 with four Cortex-A15 cores or a Snapdragon 800 with four Krait 400 cores at 2.2 GHz each. Currently, the Tegra 4 model is available on China Mobile, while the Snapdragon 800 is sold on China Unicom.
The device is very slender at 144mm×72mm×8.1mm and weighs only 145 g. it has a 5" 1080p IPS dislay, Android 4.2.1 skinned with MIUI v5 and covers imaging needs with 13 MP and 2 MP cameras.
The price cut may be Xiaomi's direct answer to the aggressive pricing of the OnePlus One, which was announced last week. The phone retails for $299 or $349 for the 16GB or 64GB model, respectively.
R
I Don't Know why xaiomi has not increased it's stock in flipkart but i can say just that this is not the worth . The person who want to buy mi 3 in 14,000 why will he buy in 16'000???
J
Dear Friends, In India, site flipkart.com, sell for Rs. 13990/-, but to be very honest, this site has made hype about this phone by saying that they sold 10000 pcs in one second, which is baseless comment. Today the day was there for selling for the ...
A
If i buy MI3 from china, can i use in india with indian telecom operator?