Xiaomi Mi5 storms through Antutu with 73K score, Snapdragon 820 inside?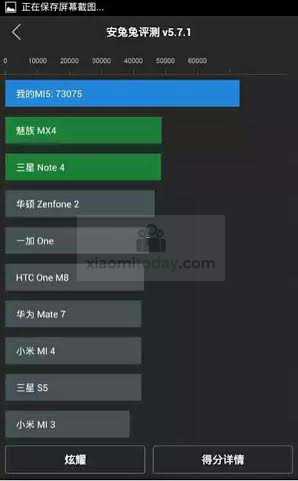 The Xiaomi Mi 5 started showing up in rumors way back in the spring, but all these months later it hasn't yet materialized, at least not to the general public. After the MIUI 7 launch and the announcement of the Redmi Note 2, it was time for the Mi5 to break the silence, and it has allegedly appeared on the Antutu database.
Easy as these numbers are to manipulate (remember the hoax with the unannounced Samsung with 96K?), the Xiaomi Mi5 has posted a very believable 73,075 figure. The Exynos-7420-powered Galaxy S6/S6 edge are so far the front-runners in this particular benchmark and they score in the 70K ballpark, so a 73K number is plausible for a device coming out 6 months later.
That said, there's still some debate as to the chipset inside the Xiaomi Mi 5. It has been widely accepted that it will be the all-new Snapdragon 820, but Qualcomm's latest and greatest is not expected to be seen in a working device until H1 2016. That may stretch the life cycle of the existing Mi 4 up to two full years, and that's hardly acceptable.
Alternatively, Xiaomi may have opted for a Mediatek Helio X20, which has been official for a few months and seems to be in a more advanced stage of its development. It takes the prevalent big.LITTLE architecture to another level and employs a tri-cluster CPU with a total of 10 cores. However, the TENAA certification page of the supposed large-screened brother Mi 5 Plus listed the CPU as having 8 cores, so we may actually get to see the S820 in a Mi 5 this November.
Whichever chipset is inside the Mi 5, the general consensus us that it will come with a 5.3-inch QHD display, 4GB of RAM and 16MP optically stabilized primary camera. A Type-C microUSB connector is also on the list of rumored specs.
The usual word of caution is due here as well - the above info remains to be confirmed by solid evidence.
U
me happy steal all image in search google image?me thank you for google?hahaha?
D
i was excepting xiaomi will become first to launch a phone with 4k display hopes are still on
D
Im still hoping for SD820 with only4 powerful cores instead of 10.
ADVERTISEMENTS