High refresh rate IPS display and a tiny cutout
One of the best aspects of this tall, 1080 x 2400px resolution IPS LCD panel is the small cutout for the front-facing camera. It rivals the ones we've seen on OLED screens, and those are usually tiny, especially on high-end phones.
Another thing we've noticed right away is the absence of glow around the punch-hole and the bezels. There is a minimal shadow if you look around the camera at a certain angle when a specific color is displayed (mostly white or gray), but this is negligible.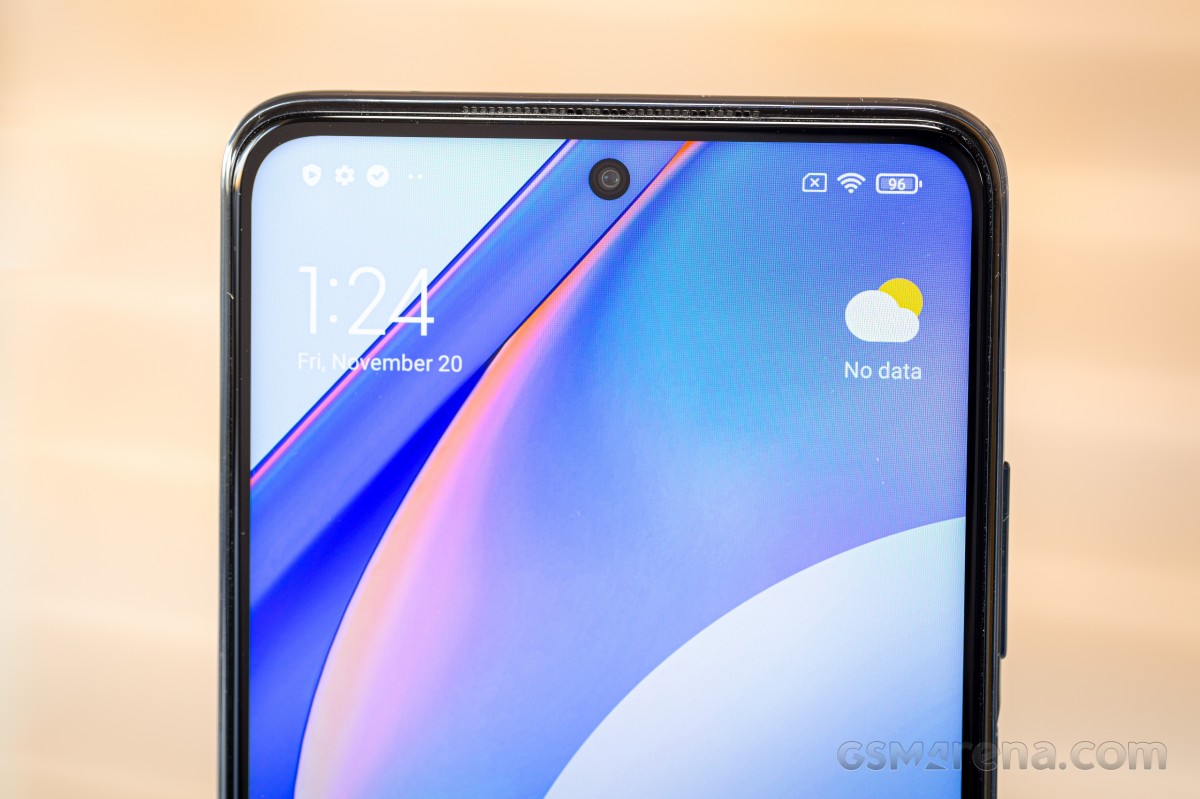 Now, when it comes to features, this display is packed. Aside from the 120Hz refresh rate, it's also HDR10-compliant. Just like the Pro model, the Lite displays HDR10 content on YouTube and Netflix. Of course, since we are talking about local dimming on a small LCD panel, don't expect a radically different viewing experience compared to the non-HDR10 content.
When it comes to brightness, this panel isn't amazing but doesn't disappoint as well. With the brightness slider cranked up at max, the display peaks at 476 nits while in auto mode, and with the sun shining bright, the screen can go as high as 596 nits. There also seems to be a pair of light sensors like the big boys have - one on the front and one on the back. It's particularly useful when holding the phone's back against a strong light source because this way the phone will know how to adjust the brightness. Don't you find it annoying when you are reading an article with a lamp shining into your eyes while the screen stays dim? Well, this shouldn't happen with the Mi 10T Lite.
Display test
100% brightness
Black,cd/m2
White,cd/m2
Contrast ratio
Xiaomi Mi 10T Lite
0.348
476
1368:1
Xiaomi Mi 10T Lite (Max Auto)
0.455
596
1310:1
Xiaomi Mi 10T Pro
0.432
512
1185:1
Xiaomi Mi 10T Pro (Max Auto)
0.541
630
1165:1
Xiaomi Mi 10 Lite 5G
0
442
∞
Xiaomi Mi 10 Lite 5G (Max Auto)
0
610
∞
Realme 7 Pro
0
459
∞
Realme 7 Pro (Max Auto)
0
585
∞
Xiaomi Poco X3 NFC
0.354
460
1299:1
Xiaomi Poco X3 NFC (Max Auto)
0.515
631
1225:1
Motorola Moto G9 Plus
0.315
427
1356:1
Motorola Moto G9 Plus (Max Auto)
0.39
522
1338:1
Color calibration, on the other hand, can be great if you need it to be. Aside from the granular color temperature control, you are also given a choice between three color presets. The default one would give you borderline acceptable 5.9 DeltaE2000 while the Standard mode can lower that value to just 2.5.
Last but not least, there's a pretty smart adaptive sync feature, hence why Xiaomi calls it Smart AdaptiveSync Display. It does offer finer control over the refresh rate than usual, offering steps like 30, 48, 50, 60, 90, and 120Hz.
When you are not touching the display, the software lowers it to 50Hz, even in static images around the system menus. It works on Chrome too. As soon as you touch it, it shoots back up to 120Hz. Depending on the video you are watching on YouTube or on the default video app, the screen can go as low as 30Hz.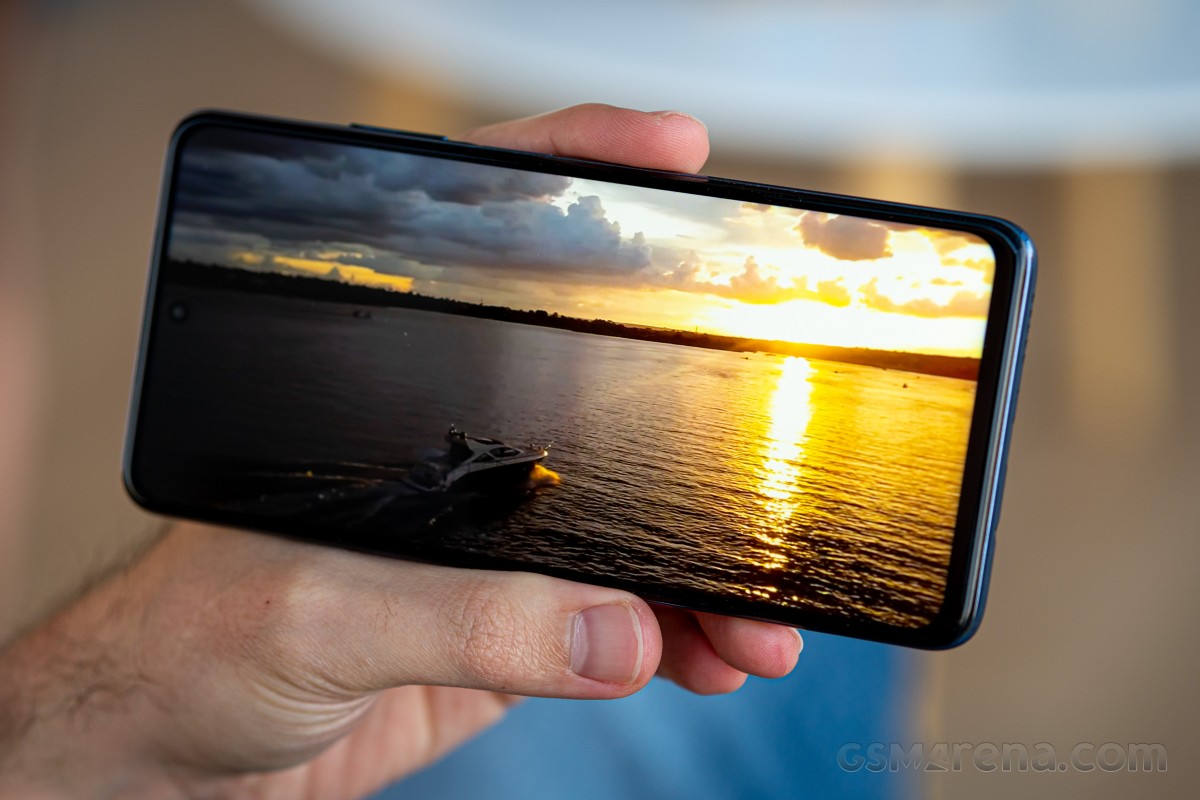 There's no MEMC feature, which is a good thing in our opinion as it can be detrimental to the viewing experience with the induced smearing effect. So 24 and 30fps videos will run at 48Hz and 60Hz, respectively, without any additional frames in-between.
For gaming, the display can do 60, 90, or 120Hz as long as the phone supports it on a given game, which it often does not. Still, we can say with great certainty that this is one of the best HRR implementations we've seen. It saves battery life with the low refresh rate levels, but it can boost the refresh rate as much as the current app allows to provide smoother visuals and operation. We tried a couple of popular games and we were pleased to see that not all, but some run above the 60fps threshold. Sky Force: Reloaded and Alto's Odyssey, for example, run at 120 and 90fps, respectively. Real Racing 3, which is supposed to support up to 144fps was locked at 60fps.
Battery life
Most of this year's midrangers tend to go closer to 5,000 mAh batteries, and the Mi 10T Lite makes no exception. Sure, it's not 5,000 mAh, but it gets pretty close with its 4,820 mAh unit. More importantly, though, it offers excellent battery life. In fact, even better than some 5,000 mAh-powered smartphones.
Typically for a phone with an LCD panel, the web browsing runtimes are significantly higher than the video playback. You can say that the latter isn't impressive, but the long standby time and talk time propel the Mi 10T Lite up in our battery endurance rankings. The handset gets a respectable 116h overall score.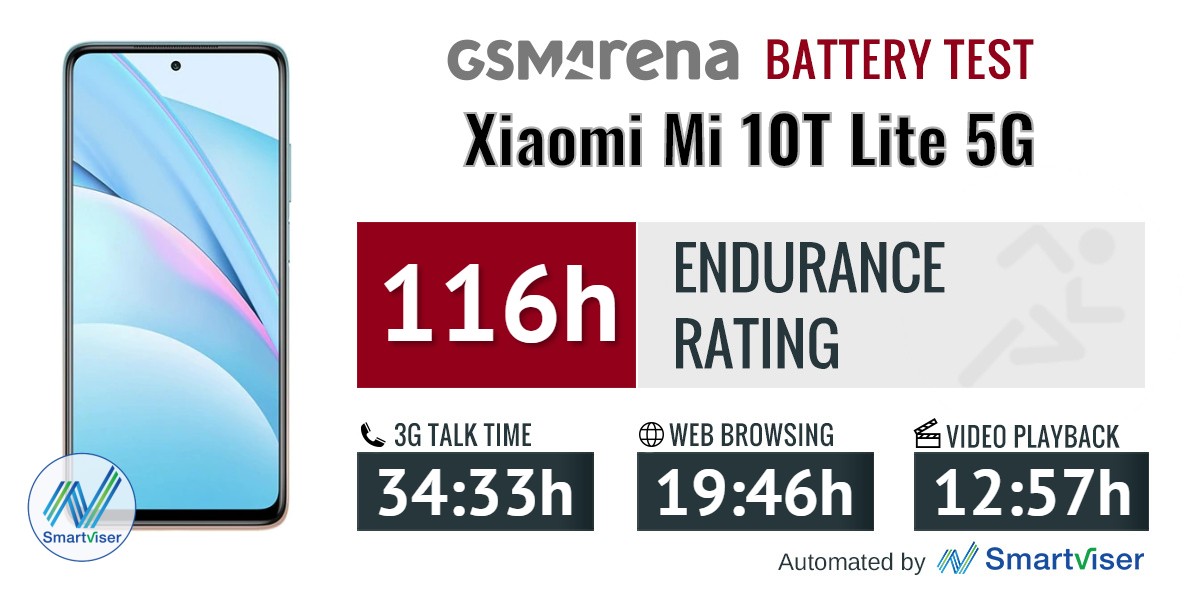 Our battery tests were automated thanks to SmartViser, using its viSer App. The endurance rating above denotes how long a single battery charge will last you if you use the Xiaomi Mi 10T Lite 5G for an hour each of telephony, web browsing, and video playback daily. We've established this usage pattern so that our battery results are comparable across devices in the most common day-to-day tasks. The battery testing procedure is described in detail in case you're interested in the nitty-gritty. You can check out our complete battery test table, where you can see how all of the smartphones we've tested will compare under your own typical use.
Charging speed
The Xiaomi Mi 10T Lite 5G ships with a 33W charger in the box. It's model number MDY-11-EZ and it also supports 27W and 15W. Xiaomi lists the phone as compatible with any other USB Power Delivery charger.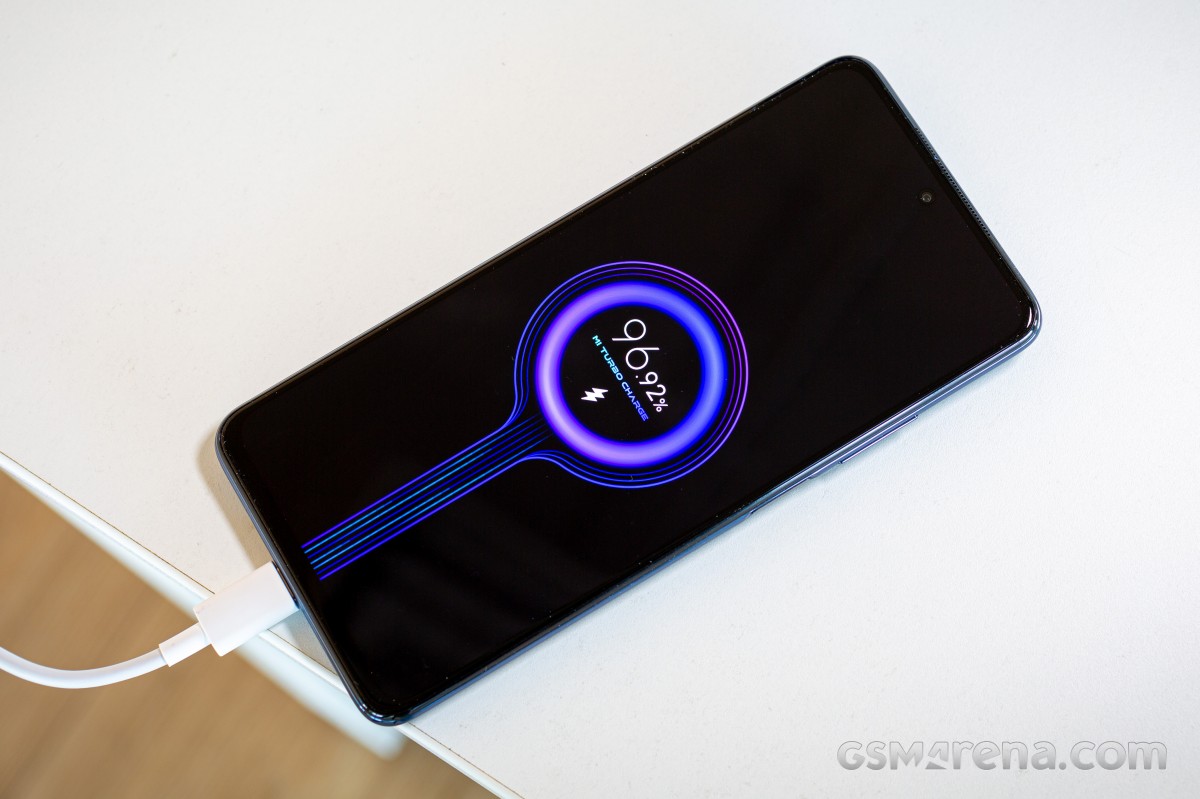 We are happy to see 33W fast charging supported even on the Lite model in the series. With the included charger, the phone charged from 0% to 68% in just 30 minutes. And it can get to 100% in a mere 58 minutes.
30min charging test (from 0%)
Realme 7 Pro
94%
Xiaomi Mi 10T Lite 5G
68%
Xiaomi Mi 10T Pro
61%
Xiaomi Mi 10 Lite 5G
55%
Poco X3 NFC
55%
Time to full charge (from 0%)
Realme 7 Pro
0:37h
Xiaomi Mi 10T Pro
0:58h
Xiaomi Mi 10T Lite 5G
0:58h
Poco X3 NFC
1:15h
Xiaomi Mi 10 Lite 5G
1:16h
Speaker test
Absolutely stoked that Xiaomi didn't cut corners in the audio department. Despite being a relatively affordable mid-range phone, the Mi 10T Lite features a set of dual stereo speakers. The main one is at the bottom while the other one doubles as an earpiece.
The overall quality isn't exceptional, but loudness is good. Going too high with the volume produces some distortions. We also noticed that the earpiece speaker isn't as loud as the main one at the bottom and the overall setup lacks fullness. However, vocals sound clear, and you can easily enjoy a movie, for example, without having to put on headphones.
Use the Playback controls to listen to the phone sample recordings (best use headphones). We measure the average loudness of the speakers in LUFS. A lower absolute value means a louder sound. A look at the frequency response chart will tell you how far off the ideal "0db" flat line is the reproduction of the bass, treble, and mid frequencies. You can add more phones to compare how they differ. The scores and ratings are not comparable with our older loudspeaker test. Learn more about how we test here.
Audio output quality
We've recently discontinued our audio output quality test.
The reason for that is that most phones that arrived for testing were already excellent in this regard. Whatever difference there was, it was marginal and probably indistinguishable to anything but our lab equipment.