Display
The Xiaomi Mi 11 Lite 5G offers a 6.55-inch AMOLED screen with a small punch-hole for the selfie camera at the top left corner. The panel is of rather premium quality with 10-bit color support, HDR10+ certification, and a 90Hz refresh rate.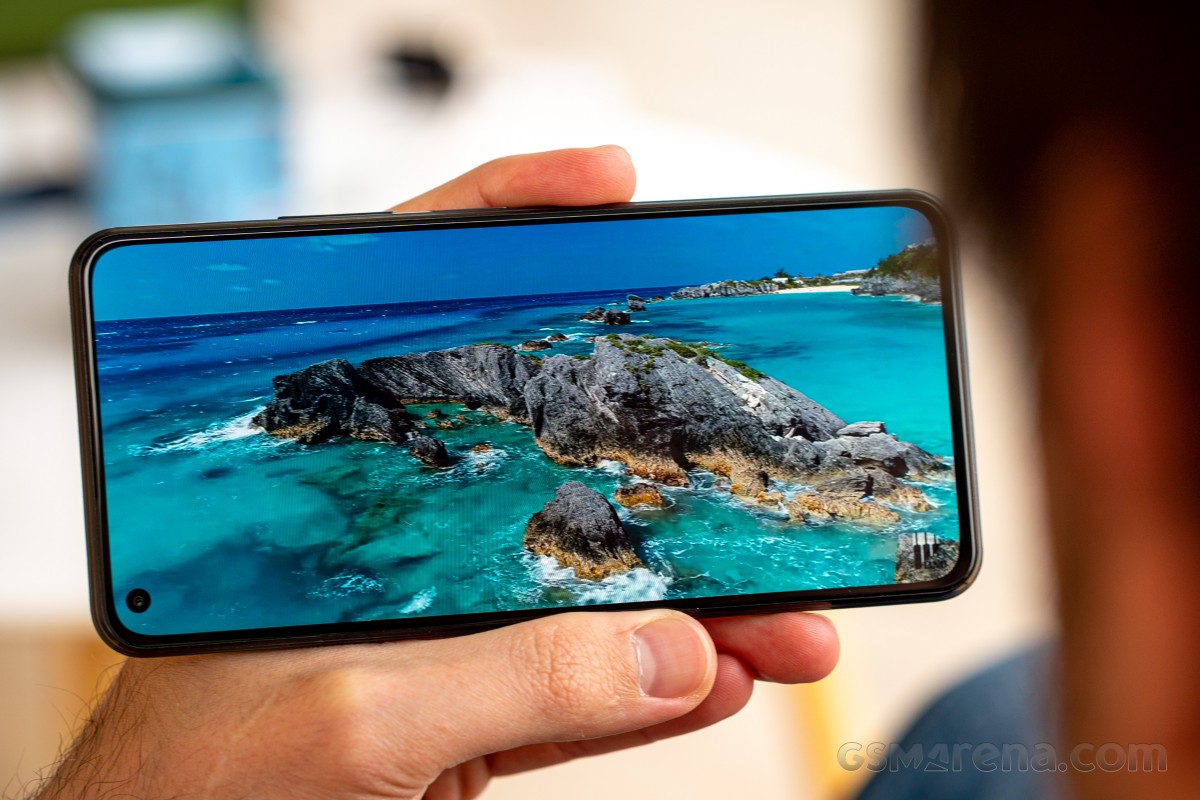 The 6.55" display has a resolution of 2,400 x 1,080 pixels or extended Full HD making for 402ppi density. Since the panel supports 10-bit color, it can display more than 1 billion colors vs. 16 million on most competing phones. It is shielded by a flat Gorilla Glass 6.
The touch sensors are working with a 240Hz sampling rate, which should be appreciated by gamers mostly.
The screen supports a standard 60Hz refresh rate, or you can use a 90Hz high refresh rate. If you opt for 90Hz, it will always revert back to 60Hz when you stop touching or scrolling, or when you are playing videos (YouTube, Mi Video, Netflix, Amazon).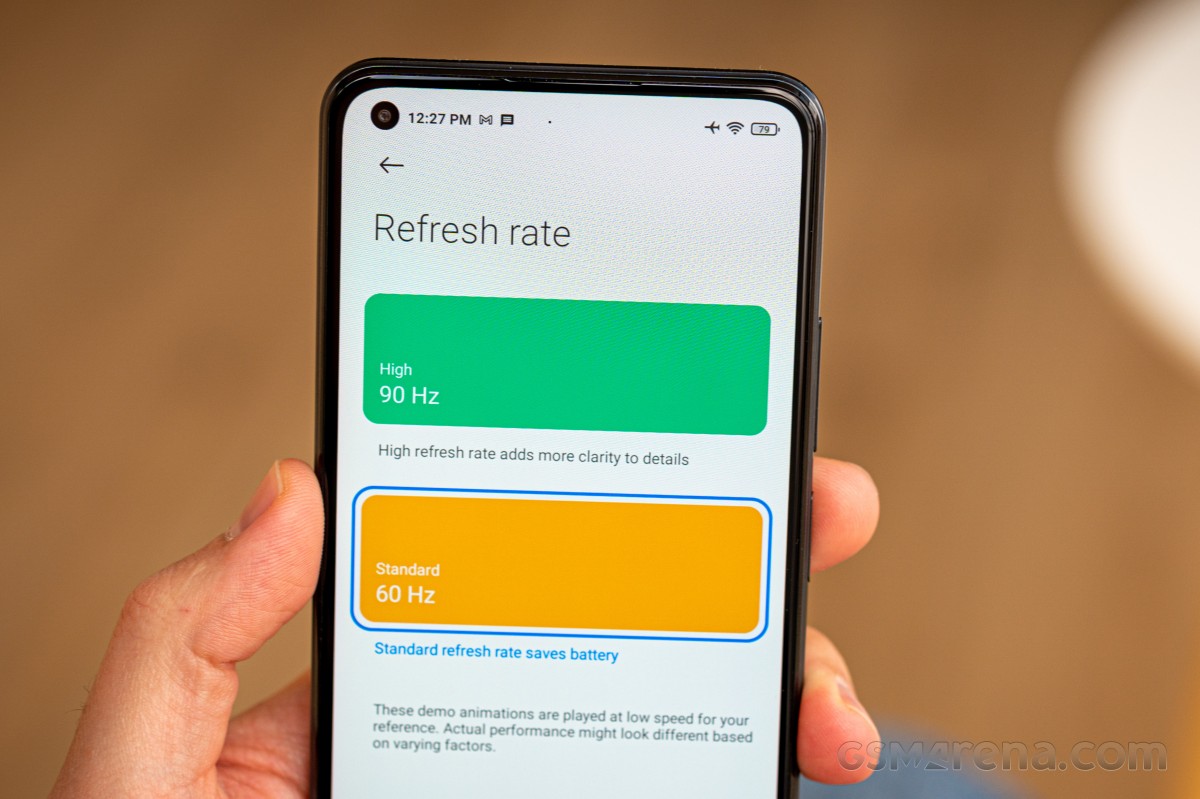 We found that not all HRR-games recognize the Mi 11 Lite 5G's screen as HRR, but updates will probably right that wrong soon enough. For example - Alto's Odyssey ran at 90Hz, but Dead Trigger 2 - at 60Hz.
The screen supports HDR10+, and combined with the Widevine L1 DRM support, you can always enjoy the maximum quality of any streaming service. We tried Netflix, YouTube and Amazon and they all stream media with 1080p HDR10 quality.
Xiaomi promises a maximum auto-brightness of 800 nits (high-brightness mode), and manual of 500 nits (typical). Our measurements show the phone lives up to these promises. We measured 846 nits brightness when the High Brightness Mode triggers, say, under bright sunlight, while the max brightness at the end of the brightness scrubber is 514 nits.
The minimum brightness at point white is just 2.8 nits!
Display test
100% brightness
Black,cd/m2
White,cd/m2
Contrast ratio
Xiaomi Mi 11 Lite 5G
0
514
∞
Xiaomi Mi 11 Lite 5G (Max Auto)
0
846
∞
Xiaomi Mi 11 Lite 4G
0
476
∞
Xiaomi Mi 11 Lite 4G (Max Auto)
0
826
∞
Xiaomi Mi 11
0
498
∞
Xiaomi Mi 11 (Max Auto)
0
926
∞
Poco F3
0
511
∞
Poco F3 (Max Auto)
0
716
∞
Poco X3 Pro
0.327
458
1401:1
Poco X3 Pro (Max Auto)
0.4
534
1335:1
Xiaomi Redmi Note 10 Pro
0
457
∞
Xiaomi Redmi Note 10 Pro (Max Auto)
0
725
∞
Realme 8 Pro
0
454
∞
Realme 8 Pro (Max Auto)
0
627
∞
Realme 7 Pro
0
459
∞
Realme 7 Pro (Max Auto)
0
585
∞
Realme 7 5G
0.376
484
1287:1
Realme 7 5G (Max Auto)
0.667
571
856:1
Samsung Galaxy A52
0
386
∞
Samsung Galaxy A52 (Max Auto)
0
794
∞
Samsung Galaxy A42 5G
0
395
∞
Samsung Galaxy A42 5G (Max Auto)
0
570
∞
Just like many other Xiaomi phones, the Mi 11 Lite 5G offers three predefined Color presets - Auto, Saturated, Original - each representing a specific color space.
The Auto option is tuned to reproduce DCI-P3 faithfully, and we found it to be indeed accurate, sans the slightly bluish white and gray hues. Saturated makes for a bit punchier colors on top of Auto. Standard should be accurate to sRGB, but here the white and grays are noticeably reddish.
There are Advanced Settings, where you can choose between Enhanced (show the display content in the widest possible color), Original (identify and calibrate colors on the go), P3 (same accuracy to P3 as Auto - pretty good), and sRGB (perfect accuracy to sRGB).
The Advanced Settings also feature color, saturation, contrast and gamma sliders.
The Mi 11 Lite 5G currently doesn't support MEMC or other AI upscale or smoothing enhancements.
Battery life
The Mi 11 Lite 5G is powered by a 4,250mAh battery and runs on the new 5nm Snapdragon 780G 5G chipset with Qualcomm's internal X53 5G modem. This is the first time we meet this SoC, so we don't really know what to expect, but we sure are hopeful.
The Xiaomi Mi 11 Lite 5G aced our battery life test. It can do calls for almost a day, it can last 12+ hours in smooth web browsing (120Hz) or 17 hours when watching videos (all video apps run at 60Hz). The standby performance is battery-efficient, too.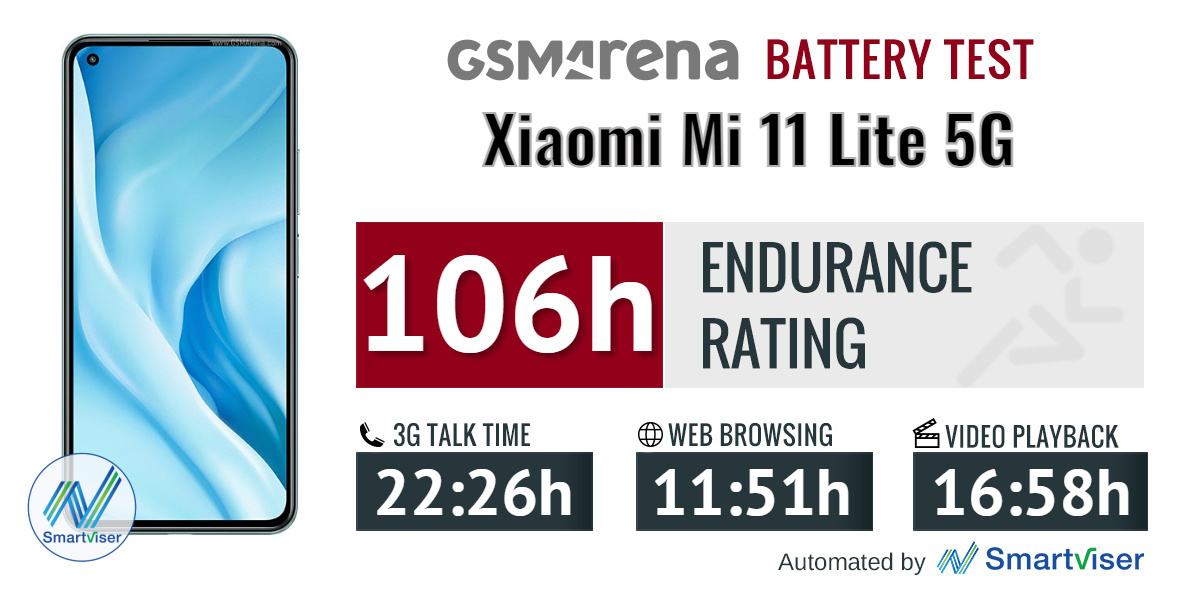 Our battery tests were automated thanks to SmartViser, using its viSerDevice app. The endurance rating denotes how long the battery charge will last you if you use the device for an hour of telephony, web browsing, and video playback daily. More details can be found here.
All test results shown are achieved under the highest screen refresh rate mode. You can adjust the endurance rating formula manually so it matches better your own usage in our all-time battery test results chart where you can also find all phones we've tested.
Charging speed
Xiaomi Mi 11 Lite 5G supports 33W fast charging and such power adapter and 3A-rated cable ship with the phone.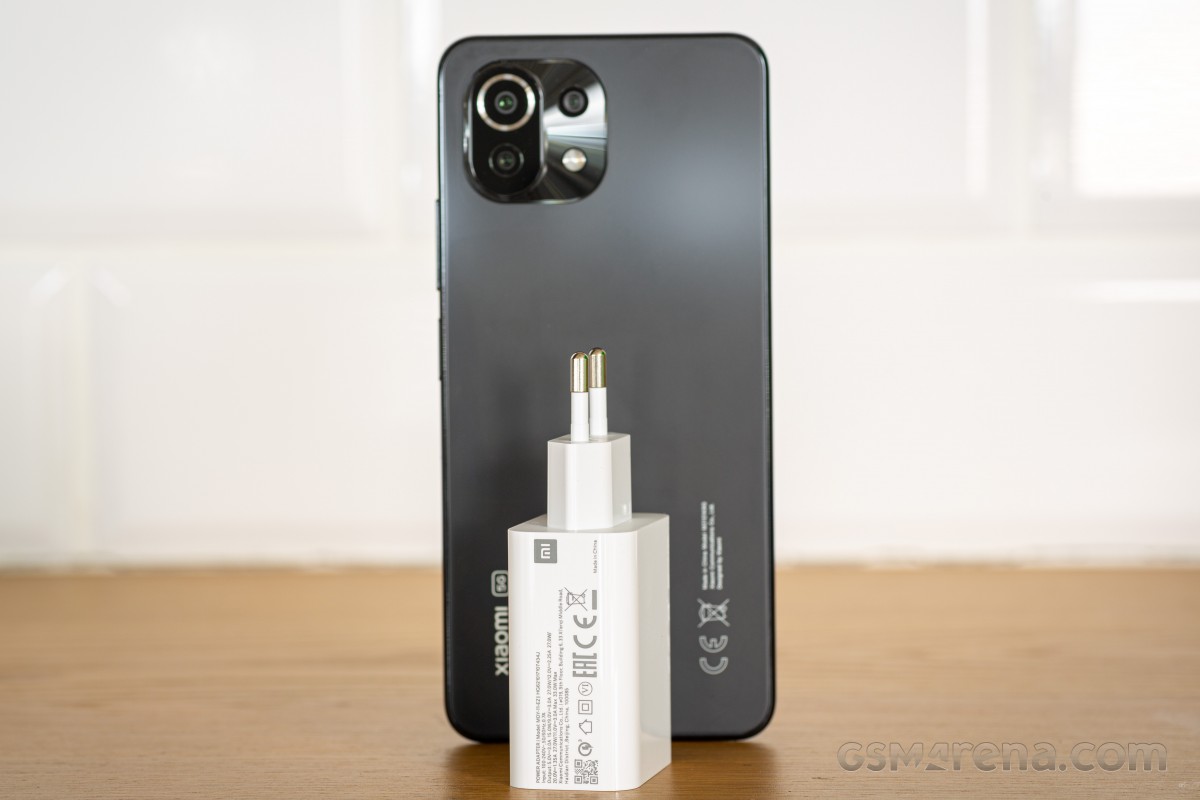 The bundled power adapter recharges 58% of the Mi 11 Lite 5G's flat battery in 30 minutes, a pretty chunky part, we'd say.
30min charging test (from 0%)
Realme 7 Pro
94%
Realme 8 Pro
88%
Poco F3
67%
Xiaomi Redmi Note 10
65%
Xiaomi Mi 11 Lite 5G
58%
Xiaomi Mi 11 Lite 4G
58%
Realme 7 5G
57%
Samsung Galaxy A52 (25W)
52%
Xiaomi Redmi Note 10 Pro
50%
Poco X3 Pro
50%
Xiaomi Redmi Note 9S
37%
Samsung Galaxy A52
34%
A full charge requires about one hour, or 64 minutes to be specific - a pretty impressive number, beating most of its competitors. But let's not forget the Mi 11 Lite 5G has a 4,250mAh battery to recharge, while many of the phones in our chart pack 5,000mAh cells.
Time to full charge (from 0%)
Realme 7 Pro
0:37h
Realme 8 Pro
0:38h
Poco F3
0:56h
Xiaomi Mi 11 Lite 5G
1:04h
Xiaomi Mi 11 Lite 4G
1:04h
Realme 7 5G
1:06h
Poco X3 Pro
1:08h
Xiaomi Redmi Note 10
1:13h
Xiaomi Redmi Note 10 Pro
1:21h
Samsung Galaxy A52 (25W)
1:30h
Xiaomi Redmi Note 9S
1:45h
Samsung Galaxy A52
2:03h
Speakers
The Xiaomi Mi 11 Lite 5G has a stereo speaker setup of the hybrid kind - there is one dedicated speaker at the bottom, while the front-facing earpiece acts as the second speaker.
The good news is that the loudness and the output seem nicely balanced on the Mi 11 Lite 5G, and we didn't feel that one of these is, say, inferior. Sure, if we were to bung the bottom one, the top would sound a bit quieter, but then again, for the way these are positioned - they are tuned well.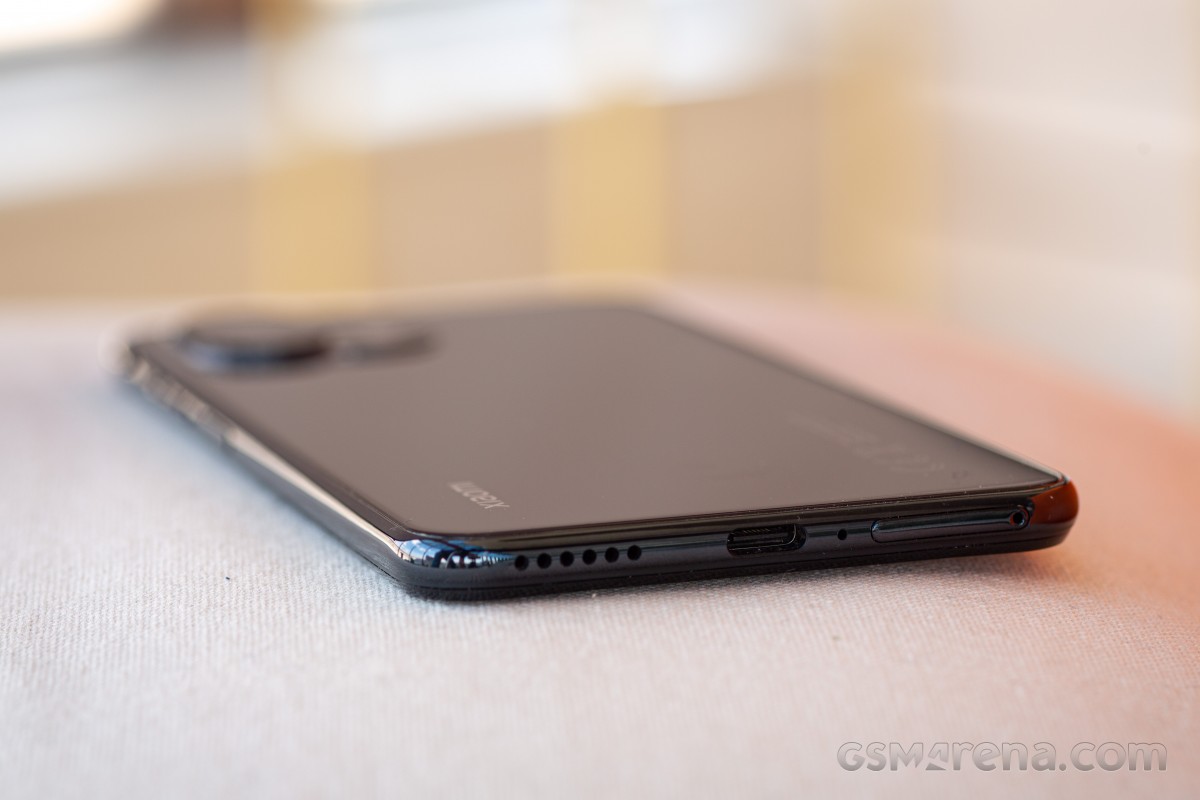 The Mi 11 Lite 5G scored a Very Good loudness in our speaker test. It has well-presented mid-tones, and the vocals are great but it is lacking a bit in the high tones when compared to some of its recent siblings. The bass is almost non-existent, but then again - it's a mobile phone, isn't it?
Use the Playback controls to listen to the phone sample recordings (best use headphones). We measure the average loudness of the speakers in LUFS. A lower absolute value means a louder sound. A look at the frequency response chart will tell you how far off the ideal "0db" flat line is the reproduction of the bass, treble, and mid frequencies. You can add more phones to compare how they differ. The scores and ratings are not comparable with our older loudspeaker test. Learn more about how we test here.