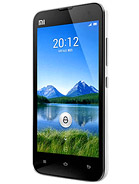 ?
For the people that doesn't know much about this piece of tech.
Firstly it has a massive 2GB RAM (Extreme multi tasking)
Quad core Snapdragon S4 Pro 1.7GHZ Processor not 1.5
(Xiaomi 2 Quadrant:7600+ Galaxy S3 Quadrant4800+ Higher the better, highest quadrant in the market right now)
1280x720 screen = 342 insane PPI sharper text then the new retina display mac book
720p in 90FPS (HOLY FUCK) this as smooth as your TV programs no other phone has 720p at 90FPS (1080p at 30FPS , 8MP+HDR)
Adreno 320 is said to save the power when playing games by 50% and performance increased by 60-70%
Android 4.1 jelly beans project butter will make it smoother from estimated 90FPS to 160FPS (DANG)

So guys in conclusion this is the best phone for performance, media, multi tasking and probably the best battery saver. Battery optional to 3000mah!!
Total of 483 user reviews and opinions for Xiaomi Mi 2.