The eagerly-anticipated Xiaomi Mi Mix 2s has been such a constant presence in the rumor mill lately, that we don't really think there is any more substantial info on it left to leak. Still, many aspects of the handset have been widely debated, especially its almost entirely bezel-free design. So, we'll still take any info we can get. At least before Xiaomi finally takes the wrapping off the device in a month or os.
The new leak in question comes in the form of a screenshot, or rather a photo of the phone's screen itself, showing the MIUI About screen. Going through the various values themselves, we see Qualcomm's new flagship chip - the Snapdragon 845 - the same one powering devices like the Samsung Galaxy S9 pair and the Sony Xperia XZ2 duo, announced only hours ago at MWC. Also on the list is a 6.01-inch, 18:9 display, with a resolution of 2160 x 1080 pixels, 8GB of RAM, 256GB of storage (at least on that particular unit) and a 16MP main camera.
Like we already said, none of these specs is new information. We are just happy to see yet another confirmation for what we already know about the Mix 2s. However, we can't help but notice that the handset in the photo has a rounded, symmetrical panel. This doesn't quite fit with an alleged earlier render, which placed the selfie camera in the top right corner of the device.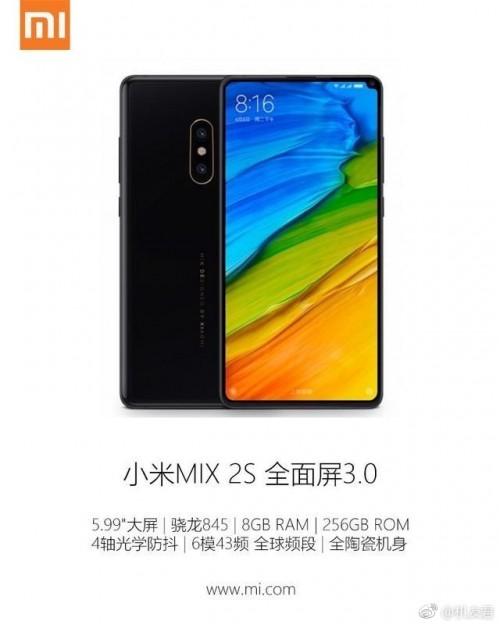 So, there's at least one mystery to answer at the unveiling, namely, what did Xiaomi do with with the selfie camera? Maybe the bottom bezel still somehow has enough space for it, or perhaps an innovative periscope solution, like on the APEX concept device, vivo showcased at MWC? Tell us your two cents on the matter in the comments and tune in tomorrow for the answer.
?
The notch on the corner is weird.
D
Ha yeah, I had started to think that after posting, so I got out the old Google Translate and confirmed it :)
ADVERTISEMENTS