User interface - MIUI v5 on top of Android 4.4 KitKat
Xiaomi Mi 3 runs on Android 4.4.2 KitKat out of the box skinned with company's proprietary MIUI v5. The MIUI ROMs have been around for quite a while and are fairly popular among the Android community. Xiaomi's customizations run very deep and replace everything including all Google services, but you can get them from the Mi Market.
In fact some regional versions of the Mi 3 come with the Google Services built right in so you don't even need to install them. The Mi 3 review unit we have is for the Chinese market, so there might be differences with other regional versions.
Here's quick walkthrough of the MIUI v5 on video to get you started:
The lockscreen looks very familiar and we've already seen similar in Huawei's Emotion UI. There is centered circle with shortcuts in the four cardinal directions: simple unlock to the South, start the camera to the North, messaging is to the East and the dialer/call log is to the West.
Beyond the lockscreen is the Android homescreen with four customizable shortcuts docked at the bottom, but you can dock up to five items. The default selection is phone app, contacts, camera, and messages but you can have any app really, or folders with multiple items, visible on all homescreens.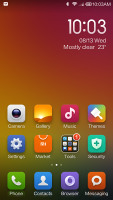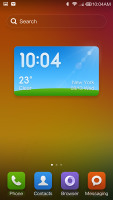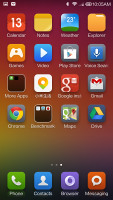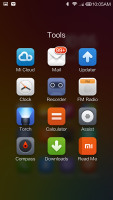 The MIUI homescreens • there is no app drawer
There is no app drawer - anything you install pops up on your unlimited number of homescreens. There're no shortcuts and the usual routine of removing icons (dragging them up to a recycle bin at the top of the screen) will uninstall the corresponding app. The thing is fool-proof and you can't accidentally uninstall essential apps like the gallery or email client.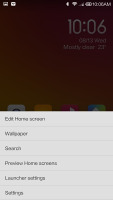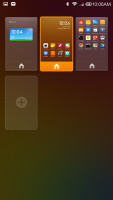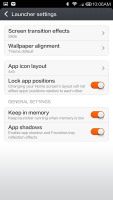 Homescreen overview • launcher settings
Widgets are available too - tap and hold on the homescreen, then choose Widgets. Of course, you can get third party widgets from the Play Store.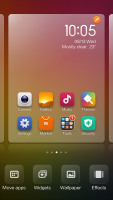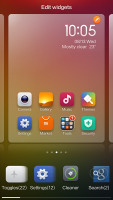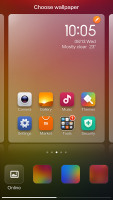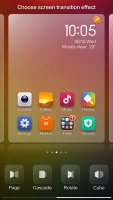 Customization menu • widgets • wallpapers • transition effects
By the way, Xiaomi's proprietary Search widget does a similar job as iOS's Spotlight system-wide search. It even goes further and suggests internet search results.
Homescreen effects are available from the customization menu. You can change themes, too. A theme will change your homescreen wallpaper, lockscreen style, system icons, system font and the sound profile.
The notification area has two tabs - the first one holds all notifications, while the second is a 4x4 grid of toggles. You can add, remove and rearrange toggles. The Quick Settings tab is the one that opens by default unless you have unread notifications. Nice touch!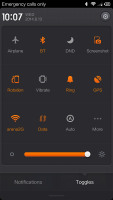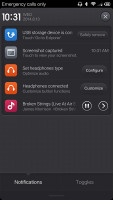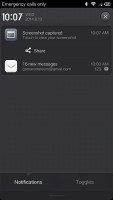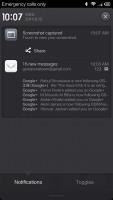 Toggles • Notifications • Expandable notifications
The task switcher has the icons of all currently opened apps in a single row plus there is a Clean All shortcut to kill all apps.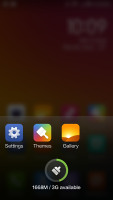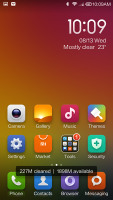 The task switcher • killing all and freeing up some RAM
Xiaomi provides its own app repository and cloud service for content syncing between devices. While the Mi Market somewhat mirrors the Play Store functionality, Mi Cloud is a different story.
Each Mi Cloud account is granted with 5GB of free storage. You can use it to backup contacts, messages, your entire gallery, call log, notes, settings, voice recordings, Browser content (history, tabs, webapp data) and your music library. Sounds familiar? Yes, indeed! Xiaomi's sync and backup service shares lots of similarities with the Apple iCloud. There is even a free Cloud Messaging option that allows Xiaomi users to exchange messages over the internet connection instead of being billed for SMS.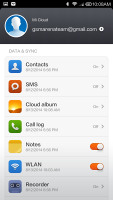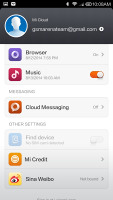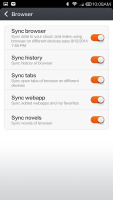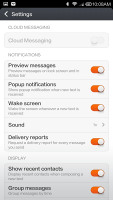 Configuring Mi Cloud and Cloud Messaging
Finally, if you singed in with your Mi Cloud account you can opt for the Find device function - a handy feature in case you lose your Xiaomi Mi 3 or someone steals it.
As far as the smart assistants are concerned - you can either opt for the familiar Google Now (you can install Google Search if it is no available by default) or you can launch Xiaomi's proprietary Voice Assistant. The latter looks a lot like Siri in both user interface and functionality, but unfortunately works only in Chinese and we couldn't test it as our Chinese is a bit... rusty.
The virtual assistant is summoned with a tap and hold on the Menu key and you can configure the default on - Google Now or Xiaomi's.