Xiaomi brought its lineup to India – it sold out all available units of the Xiaomi Mi 3 in just 38 minutes and 50 seconds and is already setting up for the next batch. Registrations for the Mi 3 reached 100,000 yesterday, but it's not clear how many actual units Xiaomi moved.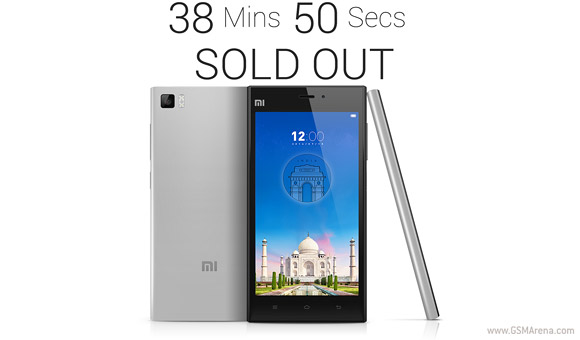 If you missed this one you can register for the next Mi 3 sale. The registration window closes on July 28, after which the phone should be back on sale.
This is a kind of publicity stunt – Xiaomi gets to announce that their phones sold out in record times as an indication of high demand, but the relatively limited availability is in large part responsible for the store running out too.
Still, at INR 14,000 ($230 / €170) the Xiaomi Mi 3 is nothing to sneeze at – it has a 5" 1080p screen, Snapdragon 800 chipset and a 13MP / 1080p camera. Note that the model being sold is the 16GB one – there's no microSD and the 64GB option is not available in India.
Xiaomi's pricing strategy for storage is very aggressive – the 64GB model was recently cut to just $50 over the 16GB model. Still, even the 16GB model cost $270 after the price cut, more than it's going for in India right now. It doesn't look like the next batch will have a 64GB option though.
?
yes its support otg and TV output
r
pls tell me where is Xiaomi Mi3 Mobile & and How much Price?