Xiaomi has permanently dropped the price of the 64GB Xiaomi Mi 4 in India. The phone was previously priced at Rs. 23,999 ($375) but is now down to Rs. 19,999 ($312). Meanwhile, the 16GB model is priced at Rs. 17,999 ($281).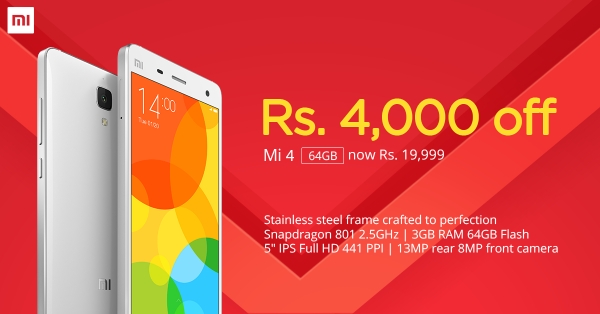 The price drop can be seen as a preemptive attack against the OnePlus One, which recently received a price drop outside India that would undoubtedly make its way to the Indian market soon.
The Mi 4 has a 5.0-inch, 1920x1080 resolution display, Qualcomm Snapdragon 801 processor, 3GB RAM, 16/64GB storage, 13 megapixel rear camera, 8 megapixel front camera, and 3.080mAh battery. Unfortunately, the Indian model does not support LTE, does not have Lollipop yet, and is only available in white.
D
Well i compared cuz both fone were priced 18k at that time..its 100% logical..u get some brain n manners....N no one asked wat you had in dinner..keep eatin it but dont tell in public cuz we humans dont eat this kinda stuff..n dont assume wat i know....
D
No one forced you to comment..so stop cryin n if dint understand wat i said then dn reply just for the sake of replyin
D
There is nothin which i need to understand..wat u r sayin is completely logical n right but is far from wat i said..i compared these fones cuz of the common price..if i hv to buy a 18k fone then which one i l choose..thatsy if xiaomi drops d price th...