User interface
The Xiaomi Mi 5 is the first MIUI smartphone to come running on Android 6.0 Marshmallow out of the box. The version of the proprietary launcher is still MIUI 7, so no surprises here.
As usual Xiaomi's customizations run very deep and replace everything including all Google services. In fact, the Mi phones sold in China don't have access to Google's services and those need to be sideloaded one way or the other (some resellers may even do that for you). The models sold officially on markets outside of China come with a preloaded Play Store app (and Play Services).
The lockscreen is the usual affair - it has the clock, two shortcuts, and no widgets. One of the shortcuts allows for quick camera access, the other one opens the Mi Remote center. If you like, you can use Daily Lock Screens - the phone will download a new picture and change your lockscreen wallpaper every 1, 3, or 24 hours.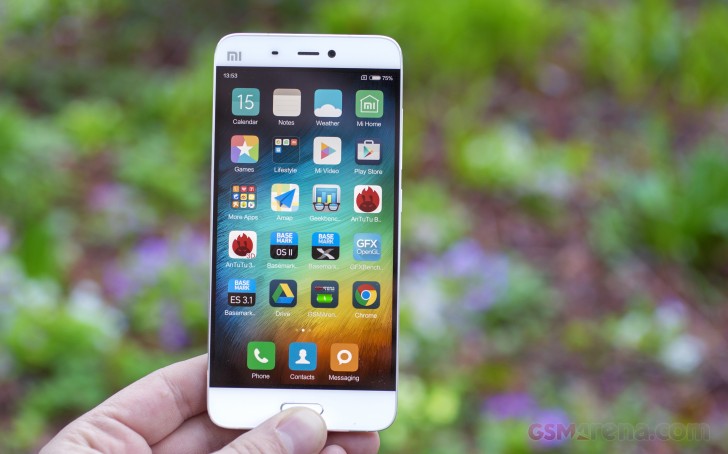 Fingerprint unlock is available and it's one of the fastest we've seen. The sensor isn't always-on, as Huawei likes to use, but the moment you click on the Home key and you are on the homescreen. Unlocking is even faster than the Touch ID v.2 on the iPhone 6s generation.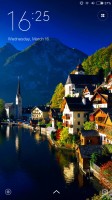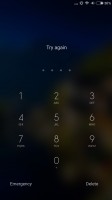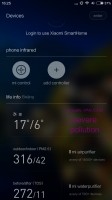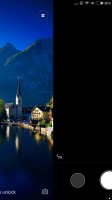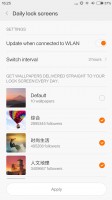 The MIUI v7 lockscreen *Settings
Beyond the lockscreen is the Android homescreen with four customizable shortcuts docked at the bottom by default, but you can dock up to five items. You can have any app there or even folders with multiple items if you will.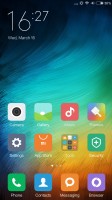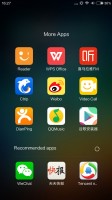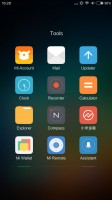 The MIUI homescreens • there is no app drawer
There is no app drawer - anything you install pops up on your homescreen, which can have an unlimited number of panes. There're no shortcuts and the usual routine of removing icons (dragging them up to a recycle bin at the top of the screen) will, in fact, uninstall the corresponding app. There is a pop-up for confirming the action though, so you can't accidentally uninstall apps.
Homescreen widgets are available, too - tap and hold on the homescreen, then choose Widgets. There are few options available, but of course, you can get even more from the Play Store.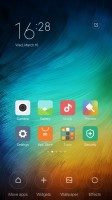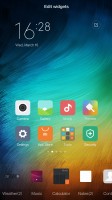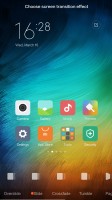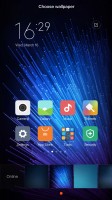 Editing the homescreens • adding widgets
Homescreen effects are available and you can change themes, too. A theme will change your homescreen wallpaper, lockscreen style, system icons, system font and the sound profile (you can disable changing the sound profile from settings).
MIUI v.7 has five default themes - MIUI, High Life, Pink Blush, Rose and Ocean Breeze. They've been handpicked by the MIUI team and you can choose your interface look right from the start, but you can always download new themes from the Mi Store.
The notification area has two semi-transparent tabs - the first one hosts all notifications, while the second one (swipe left to access) offers customizable quick toggles and a Settings shortcut.
An enhanced task switcher with Clear All option is available, too.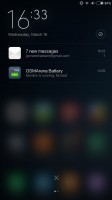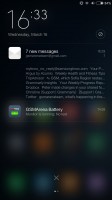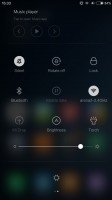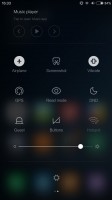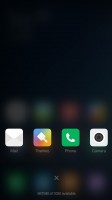 Notifications • Notifications • Toggles • Toggles • Task Switcher
By the way, Xiaomi's proprietary Search widget does a similar job as iOS's Spotlight system-wide search. You can fire it up by swiping up anywhere on the homescreen. The tool searches through your apps, music, email, settings, among others.
Xiaomi provides its own cloud service for content syncing between devices. Each Mi Cloud account is granted 5GB of free storage. You can use it to backup contacts, messages, your entire gallery, calls log, notes, settings, voice recordings, Browser content (history, tabs, webapp data) and your music library.
Xiaomi's sync and backup service shares lots of similarities with the Apple iCloud. There is even a free Cloud Messaging option that allows you to exchange messages over the internet connection instead of being billed for SMS, but that only works between Xiaomi devices.
Finally, if you signed in with your Mi Cloud account, you can opt for the Find device feature - a handy feature in case you misplace your Xiaomi Mi 5 or someone steals it.
MIUI 7 supports Child mode, which once you setup, allows a user to have limited access to the stuff and apps on your phone. This is nice if you have a kid, who likes playing with your phone occasionally and you are afraid they might delete some important data.
The Do Not Disturb mode has been enhanced too - it supports better customization and scheduling options.
We did get our review unit with pre-installed Google Play Store plus Google sync for app data, contacts, and browser data but perhaps they've been sideloaded by the reseller providing this review unit. Of course, you can sideload them yourself one way or the other if they don't come pre-installed on your unit. And once you have those, you can easily download all other Google apps such as Google Now straight from the Play Store.