Performance
All three flavors of Xiaomi Mi 5 run on the Qualcomm's latest and greatest Snapdragon 820 chip. The SoC features Qualcomm's custom built quad-core Kryo CPU. Qualcomm promises up to 2x higher performance than the Snapdragon 810.
The basic 32GB model of the Mi 5 has two Kryo cores at 1.8GHz and two Kryo ticking at 1.6GHz. The 64GB (we are currently reviewing) and the ceramic flavors are utilizing 2x Kryo running on 2.15GHz and 2x Kryo at 1.6GHz.
All three models utilize the most powerful Adreno GPU to date - the Adreno 530. The 32 and 64GB models pack 3GB of RAM, while the 128GB (ceramic) has 4 gigs of RAM at disposal.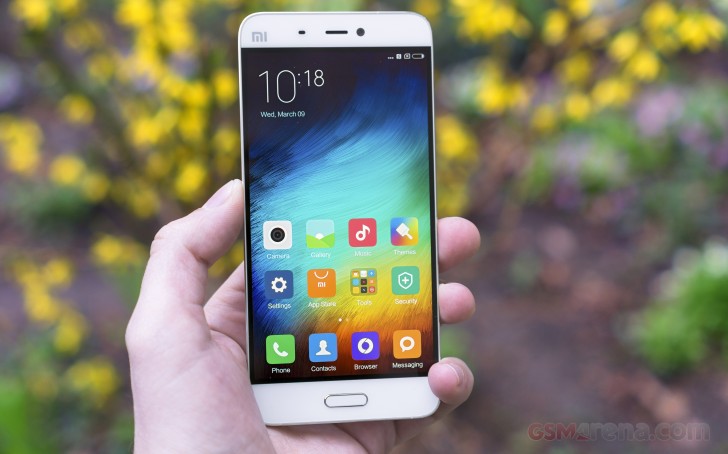 The single-core performance is where the Kryo CPU shines. It did noticeably better than any other Android competitor, including the Galaxy S7 Exynos's Mongoose core, and it indeed doubled the performance of its predecessor (the Cortex-A57 within the Nexus 6P).
The Kryo is just short of Apple's Twister core, the best performer on the market right now. But it seems Qualcomm is finally on the right track, and it should help Android ease off the number-of-cores-in-CPU race. Quality can and should be valued over quantity.
GeekBench 3 (single-core)
Higher is better
Apple iPhone 6s
2542
Xiaomi Mi 5
2305
Samsung Galaxy S7
2170
Meizu Pro 5
1545
Samsung Galaxy S6 edge
1490
Huawei Nexus 6P
1363
The multi-core performance is better than the Snapdragon 810 chips (Nexus 6P) and matches the Exynos 7420 octa-core processor inside the Galaxy S6 edge+ and Meizu Pro 5. It also edged Apple's latest A9 chip. The latest Exynos models of the Galaxy S7 series are doing better than the Snapdragon 820 chip, though, but don't forget they have additional four Cortex-A53 cores.
GeekBench 3 (multi-core)
Higher is better
Samsung Galaxy S7
6360
Meizu Pro 5
5578
Xiaomi Mi 5
5358
Samsung Galaxy S6
5215
Huawei Nexus 6P
4539
Xiaomi Redmi Note 3 (MT X10)
4537
Apple iPhone 6s
4427
Sony Xperia Z5
4017
LG V10
3607
LG G4
3509
Xiaomi Mi 4c
3321
Xiaomi Mi 4
3175
Samsung Galaxy A5 (2016)
3061
AnTuTu 6 is a compound test that gauges CPU, GPU, RAM, and UX multi-tasking capabilities. The Xiaomi Mi 5 aced the test and outed the same result as the Galaxy S7. Don't forget the AnTuTu benchmark has an onscreen 3D test which runs at Quad HD resolution on the Galaxy S7.
AnTuTu 6
Higher is better
Samsung Galaxy S7
132084
Xiaomi Mi 5
131758
Huawei Nexus 6P
89345
Samsung Galaxy S6
79038
LG V10
67547
Meizu Pro 5
67531
LG G4
60858
Xiaomi Redmi Note 3 (MT X10)
45474
Samsung Galaxy A5 (2016)
35689
The BaseMark OS II 2.0 is another compound test, which in addition to CPU, GPU, RAM, and OS, also takes in consideration the browser performance. The Mi 5 aced this test too, outing a similar score to the iPhone 6s champ and just few points on top of the Galaxy S7.
Basemark OS 2.0
Higher is better
Apple iPhone 6s
2195
Xiaomi Mi 5
2180
Samsung Galaxy S7
2128
Huawei Nexus 6P
2040
Meizu Pro 5
1837
Samsung Galaxy S6
1674
LG G4
1584
Sony Xperia Z5
1482
LG V10
1383
Microsoft Lumia 950
1281
Xiaomi Mi 4c
1233
Xiaomi Redmi Note 3 (MT X10)
1018
Samsung Galaxy A5 (2016)
833
Now, let's check the graphics out. The offscreen GFX Benchmark 3.1 Manhattan test puts the Adreno 520 (Mi 5) on par with the Mali-T880MP12 (Galaxy S7) and it's twice as good as the GPU inside the Galaxy S6 series. This means whatever version of the Mi 5 you get; the graphics performance should be equally flagship worthy.
GFX 3.1 Manhattan (1080p offscreen)
Higher is better
Xiaomi Mi 5
30
Samsung Galaxy S7
28
Sony Xperia Z5
18
Huawei Nexus 6P
17
Samsung Galaxy S6 edge+
15
Meizu Pro 5
14
Xiaomi Mi 4c
10
LG V10
10
Xiaomi Redmi Note 3 (MT X10)
4
The Quad HD resolution of the Galaxy S7 takes its toll on the onscreen test and thus the Xiaomi Mi 5 tops the chart with. If the S820's Adreno 530 was to run on the same resolution, we bet the result would turn up the same as the S7 though.
GFX 3.1 Manhattan (onscreen)
Higher is better
Xiaomi Mi 5
29
Sony Xperia Z5
19
Samsung Galaxy S7
15
Meizu Pro 5
14
Huawei Nexus 6P
11
Xiaomi Mi 4c
9.7
Samsung Galaxy S6 edge+
6.6
LG V10
5.7
Xiaomi Redmi Note 3 (Helio X10)
3.9
The Xiaomi Mi 5 tops yet another chart - it did excellent on the BaseMark X test. The Galaxy S7 is a whisker behind, which means both devices offer stellar and flagship-worthy GPU performance.
Basemark X
Higher is better
Xiaomi Mi 5
33110
Samsung Galaxy S7
32345
Samsung Galaxy S6
27169
Samsung Galaxy S6 edge+
26333
Sony Xperia Z5
23923
Huawei Nexus 6P
22825
Meizu Pro 5
20038
LG V10
15161
LG G4
15090
Xiaomi Mi 4c
12096
Xiaomi Redmi Note 3 (Helio X10)
8540
Samsung Galaxy A5 (2016)
4947
Finally, the demanding BaseMark ES 3.1 GPU bench gives the Galaxy S7 GPU's some edge over the Xiaomi Mi 5's. The iPhone still leads here.
Basemark ES 3.1 / Metal
Higher is better
Apple iPhone 6s
879
Samsung Galaxy S7
732
Xiaomi Mi 5
560
Huawei Nexus 6P
504
Meizu Pro 5
409
Samsung Galaxy S6 edge+
348
Samsung Galaxy S6
311
LG V10
297
Xiaomi Mi 4c
248
The new Snapdragon 820 chip lives up to the expectations and delivers stellar performance without depleting the battery in a flash. What's even better - the S820 is much cooler than its predecessor and won't give you headaches on games or benchmarks.
We ran the BaseMark ES 3.1 and AnTuTu, twice times each, and we found the Mi 5 to be warm, but far from unpleasant. And it cooled down in less than a minute - something impossible for the Snapdragon 810 phones.
So, you can rest assured Qualcomm has taken care of all the issues that plague the previous generation Snapdragons. It did well with the new custom Kryo cores and hopefully those will put an end to the core count race. The new Adreno 530 GPU is blazing fast and looks to be future proofed. The Snapdragon 820 is a flagship hardware worthy for the Mi 5.
Note that the 32GB Xiaomi Mi 5 runs on a down-clocked Snapdragon 820 chip and while it will affect the benchmark scores, nobody should be able to tell the difference in real life operation.