A new leak from Chinese social media platform Weibo, shows us screenshots of the unannounced Xiaomi Mi 5S' Antutu score. It also looks like whoever uploaded the photos did a pretty bad job of covering up the "S" in Mi 5S at the top of the window. But, perhaps there was another model code following that.
The Xiaomi Mi 5S scored 164,002 on the Antutu benchmarking app which shows us what the Snapdragon 821 is capable of. That's thanks to the Snapdragon 821 CPU paired with 6GB of RAM and the Adreno 530 graphics processor. While this IS a high score, benchmarks are artificial and real-world performance could be drastically different.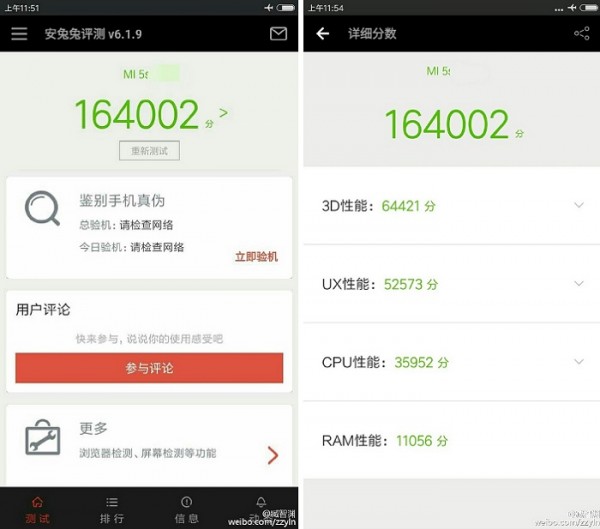 Xiaomi is expected to reveal the Mi 5S on September 27 as per the invitations that were handed out to the press. The device is said to feature a 5.1 inch display with (maybe) 3D touch support, and 256GB of internal UFS 2.0 storage. A 16MP camera is in charge of the imaging, with 4-axis image stabilization. The unit is powered by (at least) a 3,490 mAh battery which would be charged via a USB-C port.
i
no arrogance, just stating the fact yes, phones are multi usage, jack of all trades, but are they ever master of any example, phone audio quality are ok, but they are never audiophile quality, especially compare to a dedicated high resolut...
?
at least they were serious about it, who knows next year we could utilize more than 4GB?
D
hope it's not too expensive . . .