Xiaomi Mi 6 passes  the time by playing Geekbench, waiting for next week's reveal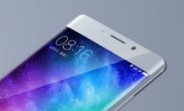 A week before launch, the Xiaomi Mi 6 has completed the grand slam of benchmarks - we saw a high score in AnTuTu, detailed specs from GFXBench and now Geekbench.
If there was any doubt, this benchmark confirms that the Mi 6 will indeed be powered by a Snapdragon 835 chipset. This particular model had 6GB of RAM, but the base model will start with 4GB. Note that choice of RAM is also tied to choice of storage.
GeekBench 4 (multi-core)
Higher is better
Xiaomi Mi 6
6438
Huawei P10
6069
Apple iPhone 7
5654
OnePlus 3T
4364
Samsung Galaxy S7 edge (S820)
4128
Xiaomi Mi 5s
3987
GeekBench 4 (single-core)
Higher is better
Apple iPhone 7
3488
Xiaomi Mi 6
2006
Huawei P10
1927
OnePlus 3T
1890
Samsung Galaxy S7 edge (S820)
1696
Xiaomi Mi 5s
1682
The unveiling will be held on Wednesday next week, but there's a chance the actual launch of the phone will not happen this month. Samsung is still trying to push out its Galaxy S8 duo, which is soaking up all available supply of Snapdragon 835 chips. There's also Sony, LG, HTC, ZTE and many others also waiting in line for Snapdragon 835 stock.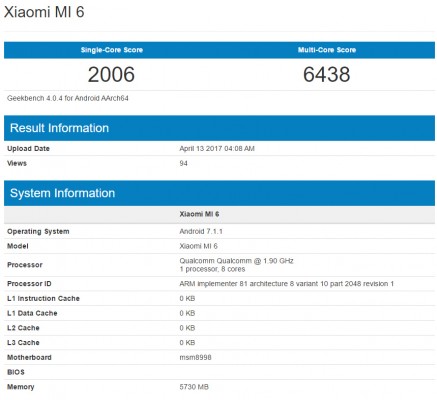 Xiaomi Mi 6 details by Geekbench
Well, regardless of when the launch is, the pre-orders should start fairly soon. Does your piggy bank have CNY 2,200 in it?
Thanks for the tip, Jonathan!
?
If there is SD card slot as well, I would consider for a 5.5" variation (Mi6 Plus?).
?
It's not a fraction of a second, you're a liar. It's quite faster than that ( see the first round), also it's ages faster in video encoding (again 1st round) , but most importantly it *never* reload apps. In most androids you have to wait ages ...