Xiaomi Mi 6 runs AnTuTu, allegedly scores record-breaking 210,329 points
Xiaomi's Mi 6 is supposedly going to be the first smartphone made by a Chinese company to sport Qualcomm's Snapdragon 835 chipset, which was just detailed at CES. The next non-phablet Xiaomi flagship device will reportedly look like a smaller Mi Note 2, while its official announcement could take place on February 6. Sales probably won't start earlier than March, however. But what about its performance?
Well, today a Weibo user in China claims to have gotten access to a screenshot showing the AnTuTu benchmark score for a prototype Mi 6, shared by a friend who has the handset. Here it is: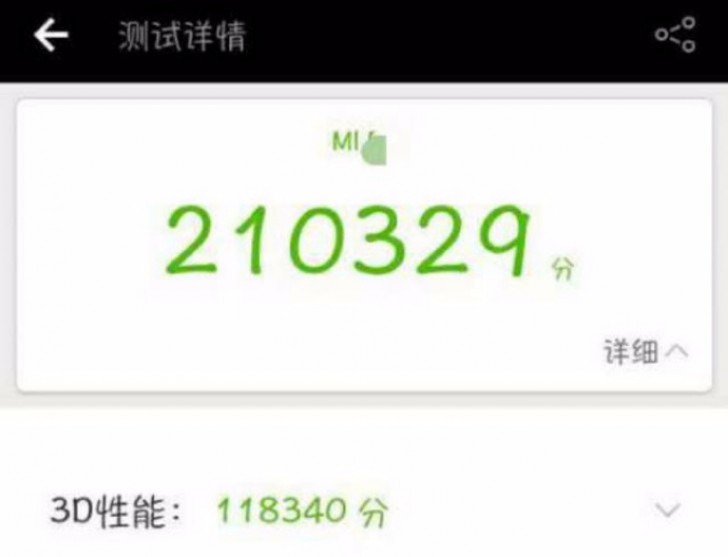 If this is true (and that's a big "if" at this point), it means that the Mi 6 is already, without even having launched, the king of AnTuTu. That 210,329 score in fact broke the earlier record set by the iPhone 7 Plus at 183,106. Clearly then, the Mi 6 (and the Snapdragon 835 powering it) will be a beast in terms of raw performance.
The best AnTuTu score for a phone powered by the Snapdragon 821 was achieved by the OnePlus 3T, but that's a measly 163,578, nowhere near the Mi 6. Obviously benchmark results never tell the full story regarding any smartphone, but it does look like the Snapdragon 835 will be a massive improvement overall compared to its predecessor, and not just when it comes to performance - Qualcomm did promise lower power consumption too after all.
ADVERTISEMENTS