Android 9 underneath MIUI 10
The Xiaomi Mi 9 Lite boots the MIUI 10 ROM based on Android 9 Pie. While lightweight and intuitive, MIUI is no vanilla Android, so it will take a couple of hours for the purists to get the handle of it.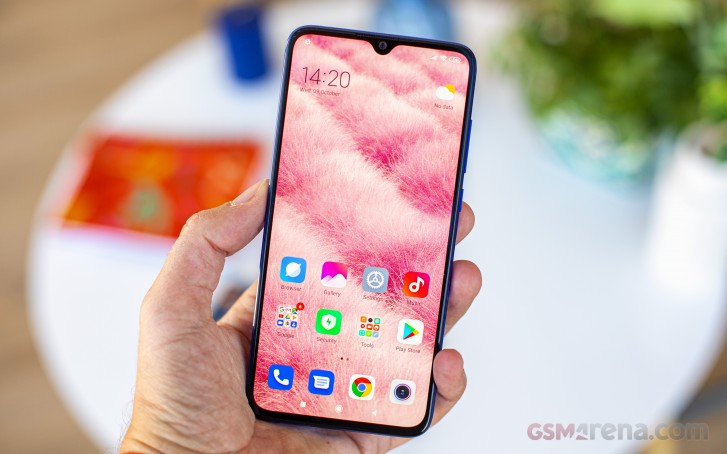 The Mi Lite supports Always-on display, and you can schedule it or leave it on/off all the time. There are various themes you can choose from and make it yours.
You can unlock the screen via the snappy under-display fingerprint scanner. The reader is easy to set up and works surprisingly fast. The accuracy is very good, too, and overall it's great for your daily unlocking.
You can also set up face unlock in addition to it - it's even faster as the Mi Lite wakes up the moment you pick it up. Note that the face unlock option may not be available in all regions and is far less secure than the fingerprint scanner.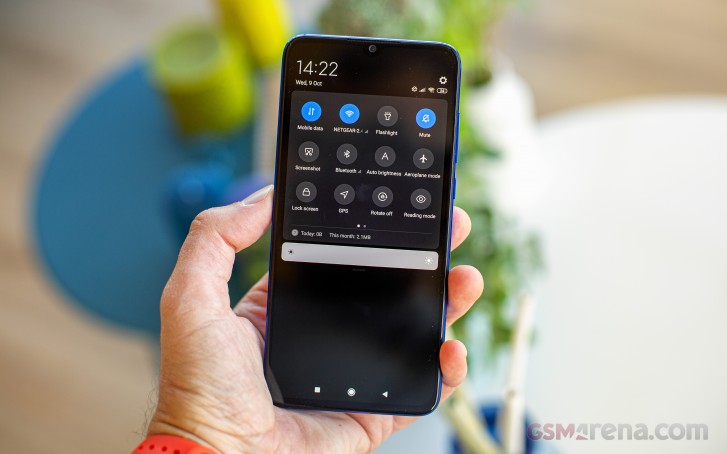 Xiaomi Mi 9 Lite has a Dark mode - it will switch all system colors from white to black, and this way, you can save some battery juice by making the best use of the power-efficient AMOLED screen. Note that not all apps support the dark mode, but the majority do.
There is no app drawer in MIUI, so all your apps are just sitting there on your homescreen, but you can still add them to folders. Of course, you can always install a third-party launcher if you miss the app drawer.
Here are the default home screens on Mi 9 Lite. There's a weather widget in the upper right corner across from a large clock widget. There is a Quick Card pane, the leftmost one. It contains different cards with relevant information - recent apps, step counter, notes, calendar events, the weather, and favorites, among others. You can configure what shows up here, or you can disable this altogether.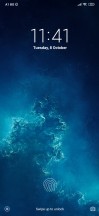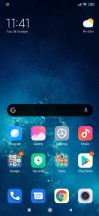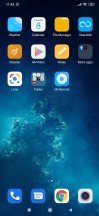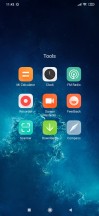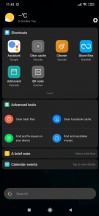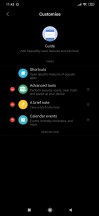 Lockscreen • Homescreen • Homescreen • Tools • Quick Card • Settings
The task switcher felt a bit awkward at first, but we've grown to like it. It shows all of your recent apps in two columns. Tap and hold on a card for the split-screen shortcut, or just swipe it left or right to close it.
Themes are supported on the Xiaomi Mi 9 Lite, but the app appears only when the phone is set to a supported region, say India.
MIUI also offers a Security app. It can scan your phone for malware, manage your blacklist, manage or restrict your data usage, configure battery behavior, and free up some RAM. It can also manage the permissions of your installed apps and allows you to define the battery behavior of selected apps and applies restrictions only to the apps you choose.
MIUI also offers proprietary Gallery, Music, and Video player. In some regions, the music and video apps include paid streaming options. An FM radio app is available, too.
The Mi 9 Lite has an IR blaster on its top, and you can install the Mi Remote app from the Play Store and configure your phone as the one remote to rule them all.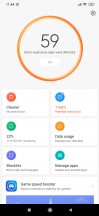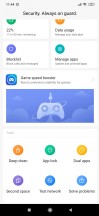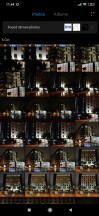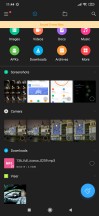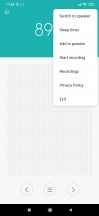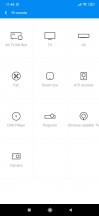 Security app • Security • Gallery • File Manager • FM radio • Mi Remote
In some markets, the pre-installed applications by Xiaomi will show ads, which is how Xiaomi is compensating for the relatively low prices of its devices. We're reviewing a global version of the Mi 9 Lite, and we noticed a couple of ads in some apps (like File Manager), but not as aggressive as if you were running on an Indian or Chinese version of MIUI.
Performance and benchmarks
The Xiaomi Mi 9 Lite is powered by the Snapdragon 710 chip - a recent and powerful midrange SoC from Qualcomm. It's built on a 10nm production process and features an octa-core CPU in a 2x2.2 GHz Kryo 360 Gold (Cortex-A75 based) & 6x1.8 GHz Kryo 360 Silver (Cortex-A55 based) configuration plus an Adreno 616 GPU. There's a single memory tier of 6GB of RAM.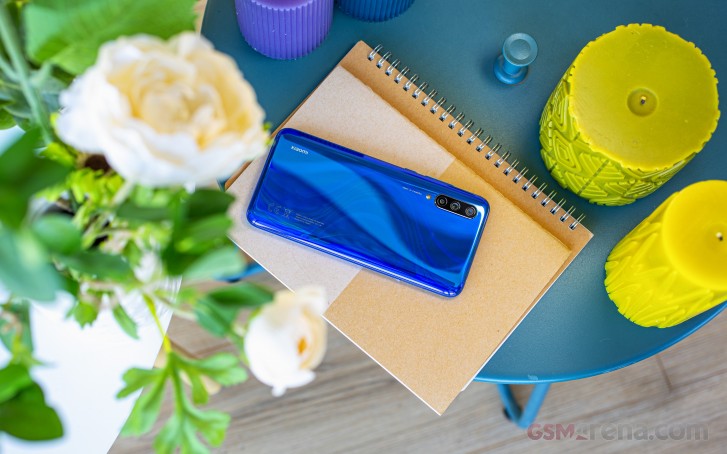 The Snapdragon 710 may have just two high-performance A75-derived cores, but those were not only enough to keep it afloat, but they also put a fierce fight against the competition and do win on a few occasions. Sure, the Snapdragon 730 within the Mi 9T is faster, but then it's not that much faster.
GeekBench 4.1 (multi-core)
Higher is better
Xiaomi Mi 9T
6863
Samsung Galaxy A70
6584
Realme XT
6102
Xiaomi Mi 9 SE
6017
Xiaomi Mi 9 Lite
5989
Motorola One Macro
5763
Xiaomi Mi A3
5686
Huawei P30 Lite (perf. mode)
5549
Samsung Galaxy A50
5396
Motorola One Action
5271
The single-core score is great, but not chart topping.
GeekBench 4.1 (single-core)
Higher is better
Xiaomi Mi 9T
2537
Samsung Galaxy A70
2391
Xiaomi Mi 9 SE
1905
Realme XT
1899
Xiaomi Mi 9 Lite
1851
Samsung Galaxy A50
1715
Motorola One Action
1604
Huawei P30 Lite (perf. mode)
1576
Xiaomi Mi A3
1531
Motorola One Macro
1393
The Snapdragon 710's Adreno 616 GPU is powerful, but if you thought the Adreno 618 in the Snapdragon 730 (Mi 9T) would be more powerful - the difference is rather insignificant. And for its price tag, the Mi 9 Lite is just acing these graphics benchmarks, pretty much on par with the other Mi 9 peers.
Note that the Mi A3 has a 720p display hence the better than expected scores.
GFX 3.1 Manhattan (onscreen)
Higher is better
Motorola One Macro
29
Xiaomi Mi A3
27
Xiaomi Mi 9T
24
Xiaomi Mi 9 SE
24
Redmi Note 8 Pro
24
Realme XT
23
Xiaomi Mi 9 Lite
21
Samsung Galaxy A70
13
Huawei P30 Lite (perf. mode)
13
Samsung Galaxy A50
13
Motorola One Action
13
GFX 3.1 Car scene (onscreen)
Higher is better
Motorola One Macro
17
Xiaomi Mi 9 SE
14
Redmi Note 8 Pro
14
Xiaomi Mi 9T
13
Realme XT
13
Xiaomi Mi A3
13
Xiaomi Mi 9 Lite
12
Samsung Galaxy A50
8
Samsung Galaxy A70
7
Huawei P30 Lite (perf. mode)
6.9
3DMark SSE 3.1 Unlimited
Higher is better
Redmi Note 8 Pro
2439
Xiaomi Mi 9T
2329
Realme XT
2284
Xiaomi Mi 9 SE
2218
Xiaomi Mi 9 Lite
1959
Samsung Galaxy A50
1353
Motorola One Macro
1257
Xiaomi Mi A3
1131
Samsung Galaxy A70
1112
Huawei P30 Lite (perf. mode)
988
In the compound AnTuTu test, the Mi 9 Lite shows that it is not as powerful as the Mi 9T, but is on par with the Mi 9 SE. The ones to take it down are the Mi 9T and Redmi Note 8 Pro, both featuring more powerful chips.
AnTuTu 7
Higher is better
Redmi Note 8 Pro
224759
Xiaomi Mi 9T
211915
Realme XT
185193
Xiaomi Mi 9 SE
180057
Xiaomi Mi 9 Lite
175478
Samsung Galaxy A70
167750
Motorola One Action
148748
Samsung Galaxy A50
144574
Huawei P30 Lite (perf. mode)
141600
Xiaomi Mi A3
140633
Motorola One Macro
139869
We are delighted with the Snapdragon 710 as a daily runner. The Mi 9 Lite has more than enough oomph for both day-to-day tasks and gaming and going for the 730-powered Mi 9T on the grounds of performance alone doesn't seem warranted if that's your dilemma.