Design, build quality, handling
Every Android device maker is now playing with colors, accents, shades, and various effects that show up depending on how light hits a phone's back. The Mi 9T Pro stands out even so, with its very unique pattern on the rear. It's black in the middle, and then blue or red towards the sides, and it all feels very dynamic when you look at it. Like fire. Red fire or blue fire. The design turns heads on the street, literally, and it's been a long time since we had that happen for any smartphone. And dare we say it - the back's design it's so mesmerizing that we found ourselves simply glancing at it for a few minutes every now and then, even if that meant taking the phone out of a case. It's just plain pretty, and if you move it around in your hand the blue-ish lines that go towards the black center just look like they're... dancing, somehow.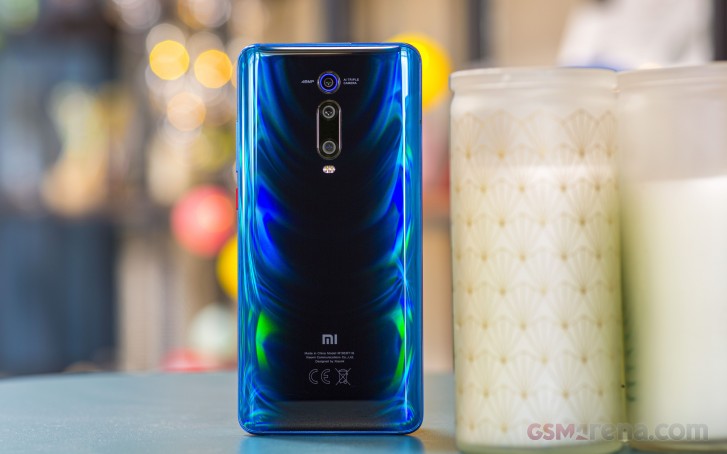 That's probably the most striking feature of the Mi 9T Pro, design-wise, because otherwise, it's a pretty safe package. It's a glass sandwich like many others, slippery as you'd expect - including the metal sides, which are painted blue or red to go with the rest of the colorway you have. To this reviewer's decidedly big hands, it never felt uncomfortable to use; we never thought it was too big. It is hefty though, and just top-heavy enough that you'll notice.
The red power button in our blue review unit is a nice touch that we've appreciated every day, it creates a nice contrast to how blue everything else is around it. The volume rocker is right above, but there were no issues telling which is which, as when hunting for the power button by touch, we'd start from lower and then stop when we hit it.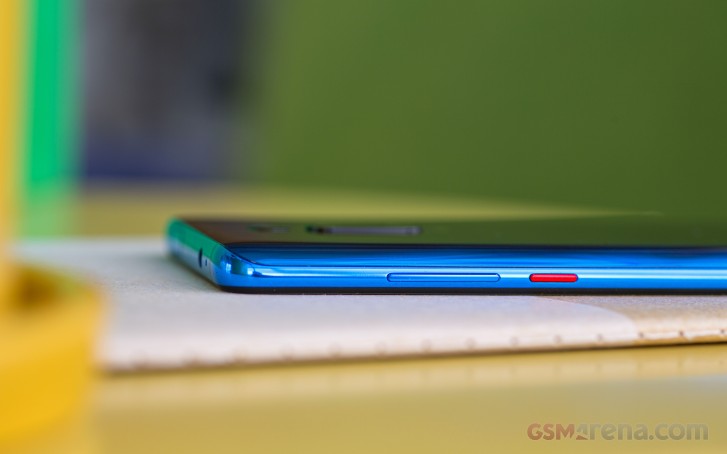 The bare left side is interesting, as it looks like the trend of dedicated physical buttons for virtual assistants is finally dying down. The SIM tray's position on the bottom side interestingly means you can insert or remove a SIM without having to take off the case that Xiaomi includes in the box with this phone. Speaking of, while it's not very thick, it's a very nice case that has a matte finish on the back that is the opposite of the glass on the handset's rear, when it comes to slipperiness.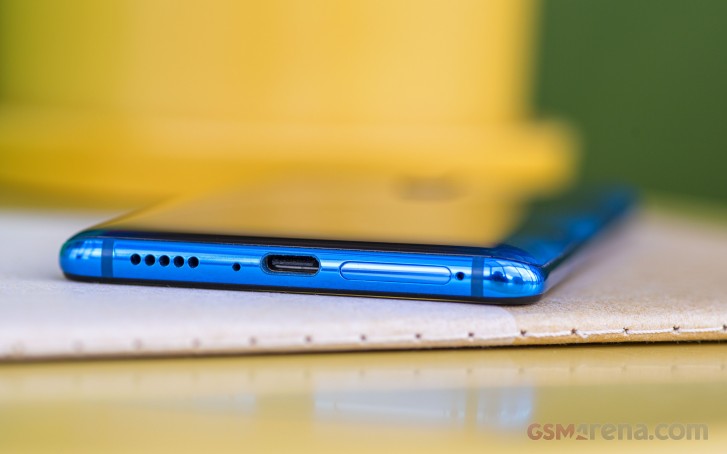 The case still picks up fingerprints, though. It's refreshing to see a bundled case that isn't transparent, and one that feels high quality, but the irony is that this is perhaps the one phone for which you'd really want a transparent case, given how pretty the back is. And if you use the included case, you're missing out on that. You win some, you lose some.
The pop-up selfie camera is itself a unique design element, even though these are starting to be used more and more by various companies. The fact that the lights inside this enclosure work as a notification LED that shows up as a circle at the top of the module is really neat, and a creative way to solve that problem, since they're probably wasn't room for a standalone notification light in any of the screen's tiny bezels.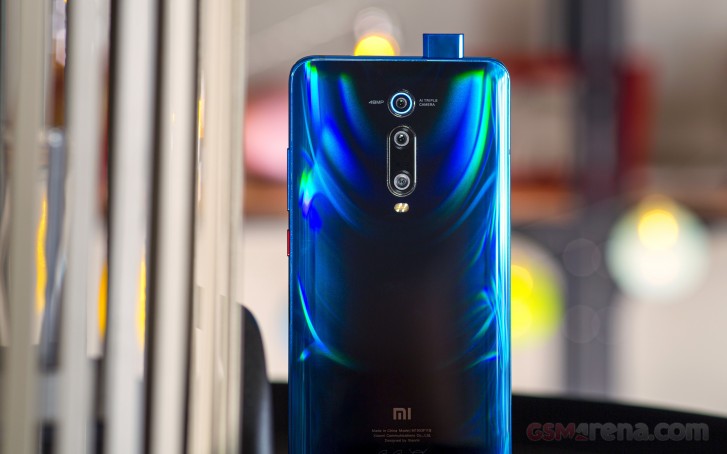 So while this notification LED that is on the top side isn't in the most useful position ever (since it's not on the front somewhere), it's still there. As, by the way, is a 3.5mm headphone jack. Other Mi 9 models may not have it, but the 9T Pro does, because this handset seems to live by the ethos of giving you as many options as possible.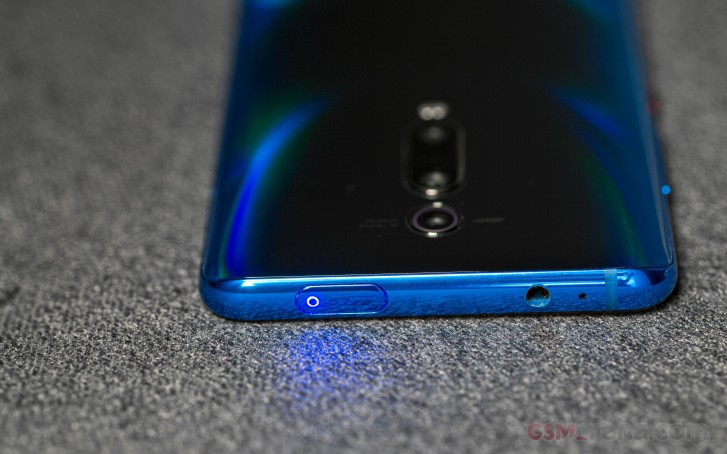 There's a camera bump at the rear, but it's incredibly small and doesn't make the phone wobble at all when it's sitting on a desk, and you type on it. While the device is thicker than others at 8.8mm, that means it can accommodate a 4,000 mAh battery, which we're really appreciate.
The single bottom-firing speaker is passable, but could have been louder, and seems to distort the high-end at high volumes. Its position also means that you might need to 'cup' the phone in your hand to make the sound bounce off more in your direction.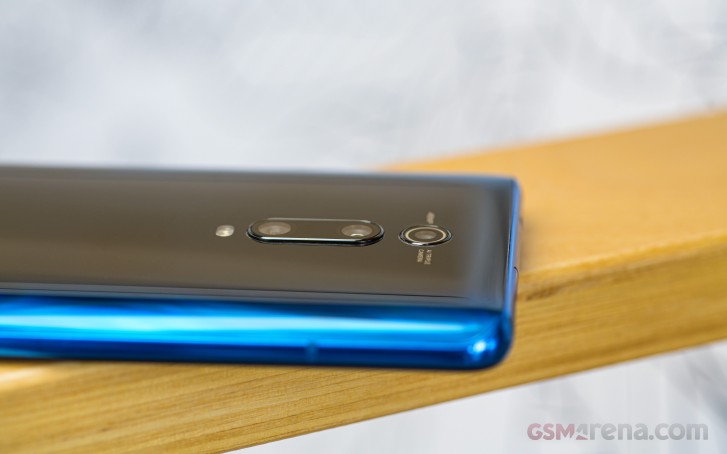 Overall, the Mi 9T Pro is a very well designed phone, and it's also flawlessly built. The pop-up selfie camera introduces moving parts into the package, and that might be worrying for you if you want to keep this phone for many, many years. We can't judge the resilience of the module, but our guess is it should last quite some time.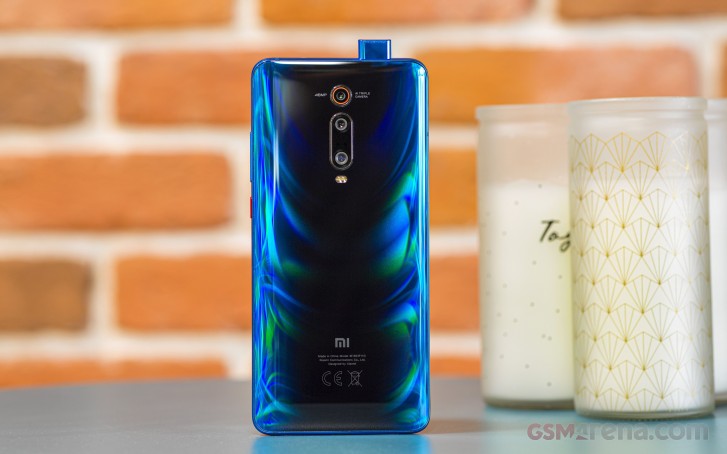 This handset is easy to handle (unless you have small hands, we assume), it's hefty but not too heavy, its size is what most people would expect nowadays, and it brings you some options you simply don't get in other high-end devices anymore - like a 3.5mm headphone jack and a notification LED. On the other hand, you don't get a microSD slot for storage expansion, so you may want to pick a model with 128 or 256GB of storage, just to be on the safe side.
Display
The Mi 9T Pro has a notchless screen, which is pretty great. The bezels are tiny on all sides, although as usual, the bottom one is bigger than the rest. Not by much, though, and unless you're really OCD you'll stop noticing the size difference within a couple of hours of using the phone.
What you won't stop noticing is how good it is to have a phone that's practically all-screen in your hands, one day after another. The panel is HDR capable, and Xiaomi has a few contrast and color settings you can play with to get things looking just the way you like them. For reference, we went with Automatic contrast, because that's supposed to optimize the display for the available light, and picked Warm colors, because the other two options result in absurdly bluish whites. The Warm setting feels like it skews a little bit too much towards yellow, but there's a color wheel you can play with if you are so inclined.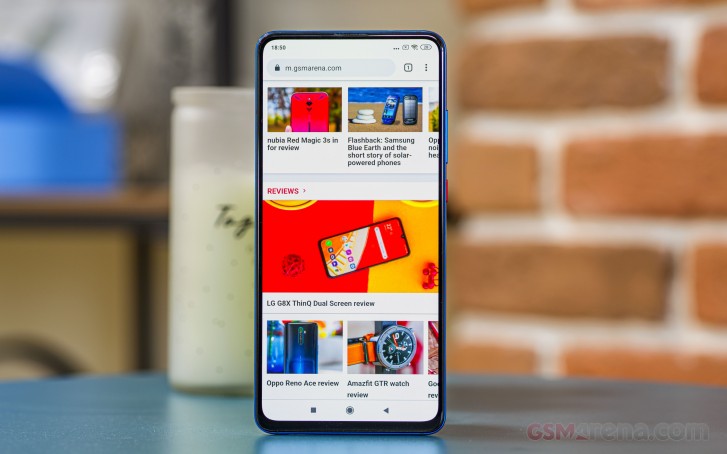 The display is 1080p+ only, but we're willing to bet you'll never ever spot individual pixels unless you go in really close and try to pixel peep. It's a good quality screen, and Xiaomi has been using 6.39-inch 1080p+ panels for quite a while now, in quite a number of devices already, so it does have some experience with that.
Brightness is high enough in Auto mode to make the display visible even in the harshest sunlight, even if the levels aren't record breaking. That said, we do feel like the screen could have gotten dimmer at night, on the lowest setting that it reaches when Auto brightness is on. This isn't actually the 'bottom' of the slider, it's always a bit more than that, even in pitch darkness. If you then manually drag the slider all the way to the left it does get dimmer, but we feel like a lot of competitors do go further in making things easier on the eyes at night.
To make things confusing, there's a "Night mode" setting that is incredibly vague. You'll see it in Display > Brightness level, and you can adjust two sliders there: Night mode brightness, and Night mode color temperature. The only instructions you get are this: "To turn Night mode on, minimize screen brightness in low light conditions". OK, but why isn't this something that happens automatically? Night mode may, in fact, be why the brightness slider never goes all the way down by itself because it's waiting for you to manually enable Night mode by taking it to the left. It's a strange UX decision, this, and what we said above about the screen feeling just a tad too bright on the lowest setting applies even when "Night mode brightness" is set to the minimum.
Also a MIUI specific 'feature' is that you can't just tap the brightness slider to indicate where you want it to go, you have to swipe from left to right or right to left, even a little. You'll get used to this, but it's one of those things that feel different just for the sake of being different. Like with any other modern Android smartphone, the Auto brightness system should learn from your manual adjustments in time, so there will be less and less need for them after a while.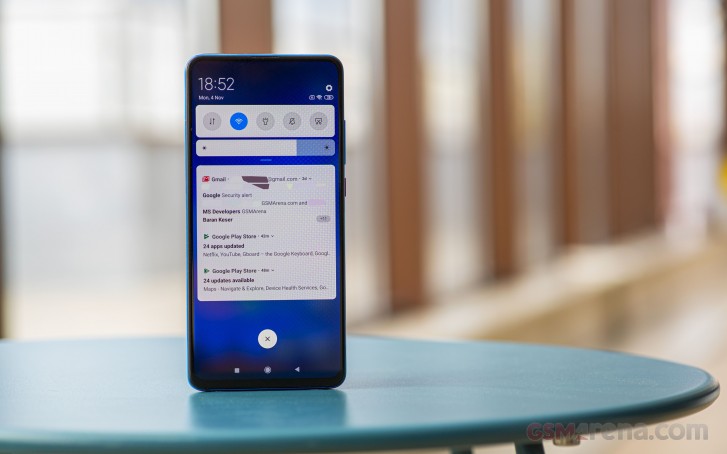 There's an always-on Ambient display which shows you the usual - time, date, notifications - and can be scheduled to come on and turn off at specific times, which is very handy if you sleep in a very dark room and don't want any trace of light to disturb you. Xiaomi's blue light filter, called Reading mode, does its job well, but we do feel it skews a little too much towards yellow (as opposed to orange). Anyway, this effect is adjustable via a slider, and the feature is schedulable, too.
While we're on the topic of software features related to the screen, DC dimming is there too. Turning this on means the panel won't be dimmed by using pulse width modulation (PWM), but by directly lowering voltages. As some people are really sensitive to PWM, this means they basically get a reprieve and can use the phone as everyone else. This feature is called Anti-flicker mode, because DC dimming does not involve flickering at low brightness levels, unlike PWM, but color reproduction might be affected if you use DC dimming, so if you don't get eye strain from the default PWM, then just leave things as they are.
Fingerprint sensor
The Mi 9T Pro's in-display fingerprint sensor is of the optical variety, like most out there, and these have gotten incredibly good recently. Is this sensor as fast as the fastest capacitive ones (which, incidentally, Xiaomi itself still uses for some lower-priced phones)? No, but it's so close that we're willing to bet you'll only be able to notice a difference if you happen to have the two technologies side by side.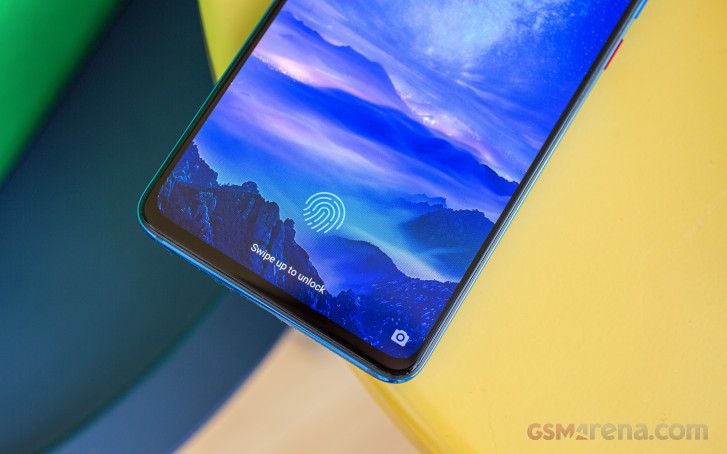 In our extended use, it felt around 99% accurate as well, which is high praise for an in-display unit. Samsung is still struggling with its ultrasonic sensors, while the first generation optical ones were... very far away from where we're at now.
There's a setting that will make the fingerprint image appear on the always-on display when the phone senses it's being moved, so unlocking is made as painless as possible as there's no necessity to press any side-mounted buttons before placing your finger on the sensor.
Face unlock is available but rather pointless to use because the fingerprint recognition is much faster than the time it takes you to wait for the selfie camera to pop up and recognize your face. This version of face unlock only uses the camera, so it's also much less secure than the fingerprint sensor, which is why we only used it a couple of times to confirm that it works, and then simply stuck with the fingerprint scanner, as that felt like the logical choice.