Software
MIUI has been around for a long time - before there were even any Xiaomi phones. The skin is one of the heaviest out there, it modifies seemingly everything about the stock Android experience when it comes to looks and sometimes messes with functionality too. All this said, MIUI is incredibly popular, and that might be because it strikes a good balance between looking great, bundling a ton of options and choices, and being a champ when it comes to performance.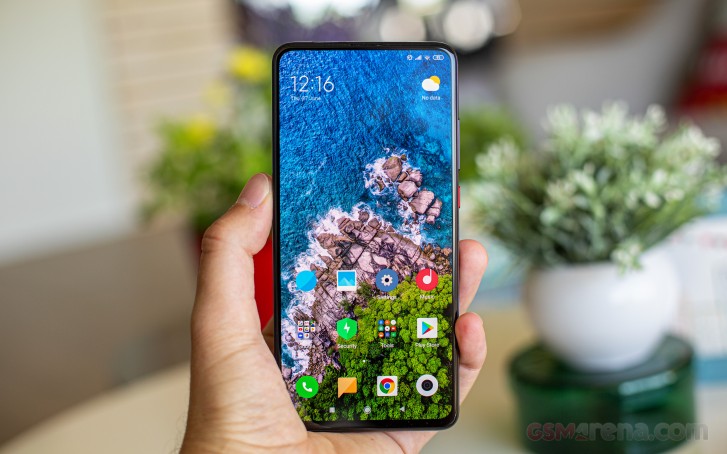 It's bloated, for sure, but it's so fast that you're going to stop using "bloated" as a synonym for "slow." We're talking about MIUI 10 here, which is based on Android 9 Pie. At the time when this review process was finalized, the Mi 9T Pro is running MIUI 10.3.4, the global version, with the September 1, 2019 security patch level.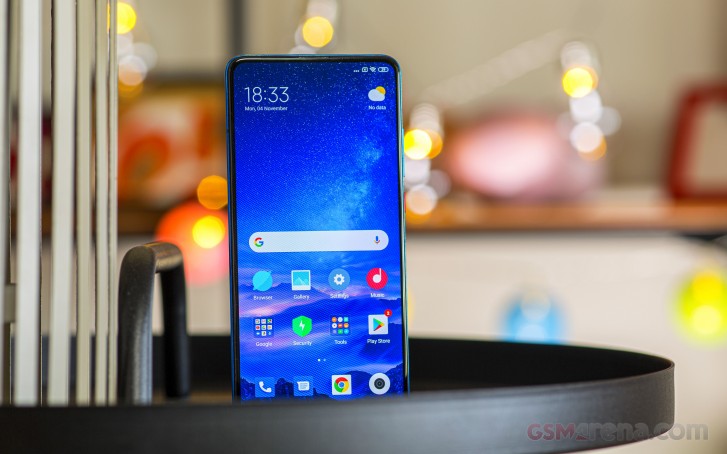 That is pretty bad considering we're already in November, but on the other hand, Xiaomi has sent out quite a few updates to the Mi 9T Pro while we were using it for this long-term review. Not only that, but the update to MIUI 11, based on Android 10, might arrive at some point by the end of the month. We didn't have access to the finalized version of that for this review, so all of our thoughts on software are based on the experience that MIUI 10 provides.
The lack of an app drawer in the default launcher is easily fixable (if you're like us and can't live without one) by installing the Poco Launcher from the Play Store - that is, if you want to stick with software made by Xiaomi. We thought it would be fitting to use for that reason. It's also a very good, very fast, and practically bug-free launcher that's simple and doesn't have a million different options, and yet it still supports icon packs and many types of wallpapers.
Since it's developed by Xiaomi as well, the Poco launcher supports the App Vault - which is that 'shelf-like' panel that appears to the left of your leftmost home screen. You can turn App Vault off, by the way, if you don't find any use for it. App Vault is yet another of those things that manufacturers have developed as a response to Google doing something, in this case, the Discover Feed (or whatever it's called today).
Xiaomi's gesture navigation system is, in our subjective opinion, the best one out there, along with Huawei's, which is very similar. Unlike Huawei's, Xiaomi's also offers an option to quickly switch to the previously used app - you have to enable this first, for whatever reason, but if you do you can swipe from the sides as if to go back, and then swipe inwards a bit more. You'll know when to 'release' because the icon of the previously used app will show up.
Unsurprisingly, you swipe from the bottom to go home, and pause to invoke the app switcher. And yes, you swipe from the sides to go back, the lower 75% that is. Swipe higher than that, and you'll trigger the hamburger-style navigation if the app has one. This is an easy way to fix the conflict between going back and bringing up the drawer, something that Google has chosen to needlessly complicate in the gestures it baked into Android 10.
The Recent apps menu is unique in MIUI because the app thumbnails are vertically arranged in two columns. This makes switching faster as more apps are in view at any one time, but it might take some getting used to since most other companies have settled for a horizontal list with one app being in focus at any time.
The notification management is closer to what one would call stock Android now, but still not quite there. To dismiss a notification you can't swipe both ways, only to the right. When you swipe a notification to the left, you'll get the options menu. Also, the quick actions for notifications have a very small font compared to what other manufacturers show.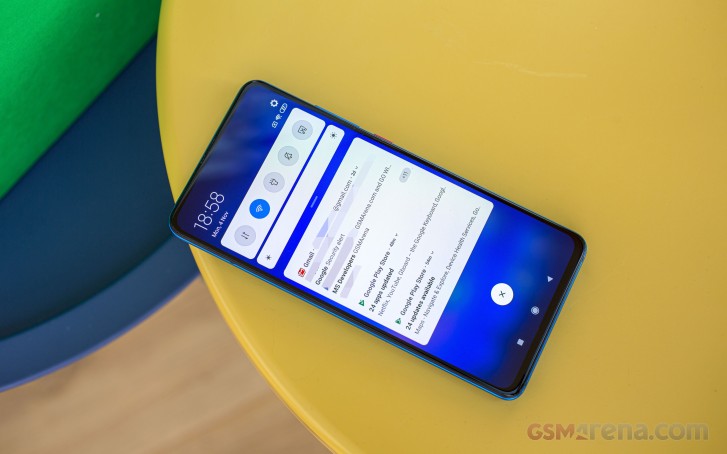 Oh, and MIUI does this too: if your screen is locked and you get a notification from an app, and you then unlock and simply ignore it, the notification will never again be shown on the lock screen, even though it's still there in the notification pane when you swipe it down. This might not affect your user experience in any way, especially if you're coming from a device that did things the exact same way, but we still wish there was a setting to alter this behavior.
Additionally while we're nitpicking, Gmail pop-up notifications (that show at the top of the screen when you're using other apps) only tell you the sender - and not the subject of the email, not to mention the first line or two of the contents.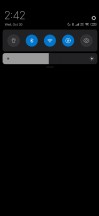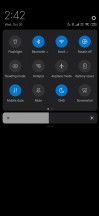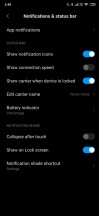 Notification area and Quick Settings
The Quick Settings area is quite far removed, design-wise, from anything resembling stock Android, but it works. We're slightly disappointed that upon the first swipe down you only see five Quick Settings icons, whereas most other companies show six.
MIUI 10 has a Dark Mode, which you can enable in Display settings, and it does what you'd expect it to. Since this year both Apple and Google have finally discovered the concept of a dark theme, more and more app developers can be expected to support the feature. Already Google is busy updating its apps, and a few of them have automatically started to show dark themes while we were using the Mi 9T Pro with the Dark mode enabled.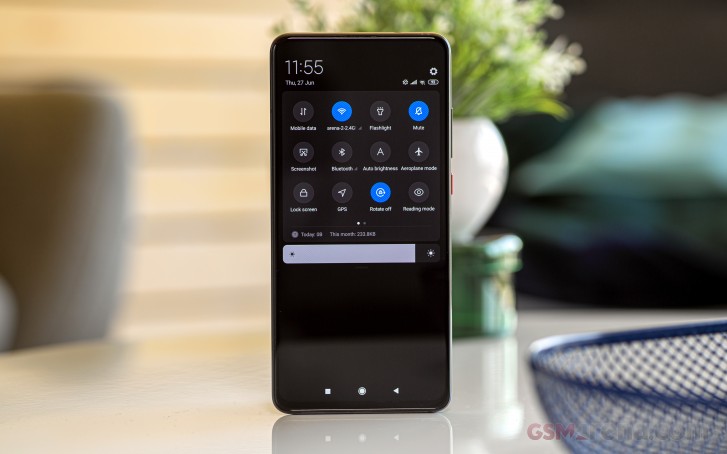 MIUI is still a control freak about what's going on in the background, which means that some apps that require being allowed to work at all times will misbehave. We haven't seen notifications get delayed (by more than a couple of minutes), so as a general rule, the default settings should be fine for most people. We do have to note that we had to take some extra steps to ensure that the Garmin Connect app (which is what you use when you have one of the company's smartwatches) will work as intended.
That meant digging through Settings to find where to grant it more permissions, including to auto start, and start in the background, and then change the Battery saver option in the Manage apps section to "no restrictions" so it wouldn't try to constantly kill the app. This is unfortunately still a very convoluted process, but thankfully you aren't likely to need to do this for 99% of the apps you use.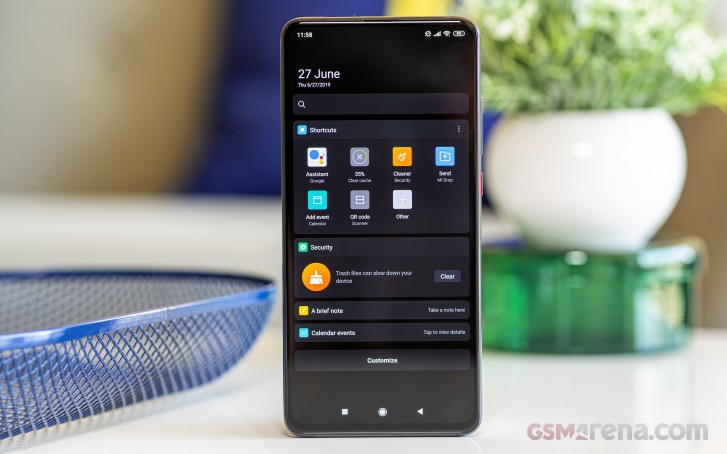 Xiaomi provides a handful of built-in apps, some of which duplicate the functionality of the bundled Google apps (Gallery comes to mind, for example). The company also has its own cloud backup solution called Mi Cloud, although this is limited to 5GB of storage for free accounts (which reminds us of Apple's iCloud, to be honest). The phone will nag you to sign into (or create) your Mi account, which feels a bit redundant if you already have a Google account. On the other hand, you may enjoy Xiaomi's offering better.
A final note about MIUI and ads: we are aware that in certain parts of the world the skin throws ads at you more or less incessantly, but we can't comment on that part of the user experience because we've been using the phone in Eastern Europe and have not seen any ads whatsoever - aside from inside some of the built-in apps. Those, however, are the least intrusive of the bunch.