Xiaomi Mi CC9 to feature Mimoji, Meitu Custom Edition's low-light prowess shown off in a video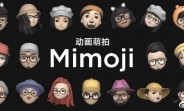 The Xiaomi Mi CC9 arriving on July 2 will be coming with a feature called Mimoji which is similar to Apple's Animoji, Samsung's AR Emoji, Huawei's Qmoji, and Oppo's 3D Omoji.
Xiaomi says that Mimoji comes with 165 different hairstyles, faces and accessories to choose from, and it supports both still pictures as well as video recording. You can check out the sample photos down below, and click here to see the video.
The Mi CC9 Meitu Custom Edition which will be joining the CC9 on next Tuesday is already confirmed to come with an AI-powered portrait mode for impressive low-light photography. And now, the company has released a video comparing the phone's 32MP selfie camera with an iPhone in dim lighting.
The handset in the left hand of the Xiaomi employee in the video is the CC9 Custom Edition, and the one in the right is the iPhone.
The selfie taken with the CC9 Meitu Custom Edition does look better than the one captured with the iPhone, but we will reserve our final judgment until we get our hands on a unit and test it ourselves.
You can head this way to check out the images and specs of the Mi CC9 Meitu Custom Edition which surfaced yesterday.
?
Ok, grandpa. Keep waiting for those old technologies to make a comeback. Next, laptops with floppy disk drives and phone line modem sockets. Meanwhile, the people who keep up with times, enjoy wireless headphones and bluetooth connections. And s...
ADVERTISEMENT