MIUI 9.5, on top of Android 8.1
Even though it's based on a very recent Android 8.0 Oreo core, the Mi Max 3 still runs MIUI 9.5. Xiaomi's software team seems to be hard at work on MIUI 10, at the moment as they aim to release it to a wider assortment of its devices. If history is anything to go by, a large chunk of users, even those on older devices, should, eventually, reap the benefits of the new version of one of the most popular Android skins. It's just that these things take time.
We can't really be too cross with Xiaomi for not delivering the latest and greatest UI, at launch. That being said, we do realize the importance of the MIUI version, since that comprises the main chunk of the actual user UX. Xiaomi does a very good job of creating a platform of its own, hiding away the Android core.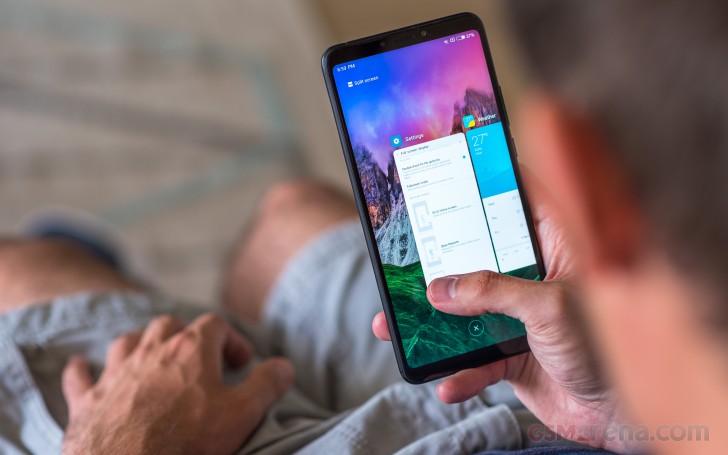 As per usual with Xiaomi devices, we will mention the existence of at least a couple of official software branches and quite a few custom seller modifications of the OS. Our review unit is current on an official Chinese ROM, which means Google Play services do have to be downloaded separately. Xiaomi has a handy app for that on its store.
When you are getting the phone, you do need to pay attention to the particular ROM you are running, however, if you are keen on getting frequent updates. Some branches, especially seller custom MIUI builds often get left behind. Luckily, Xiaomi provides bootloader unlocks and there are easy tools out there to flash over to a proper official ROM (if and when one is available, of course).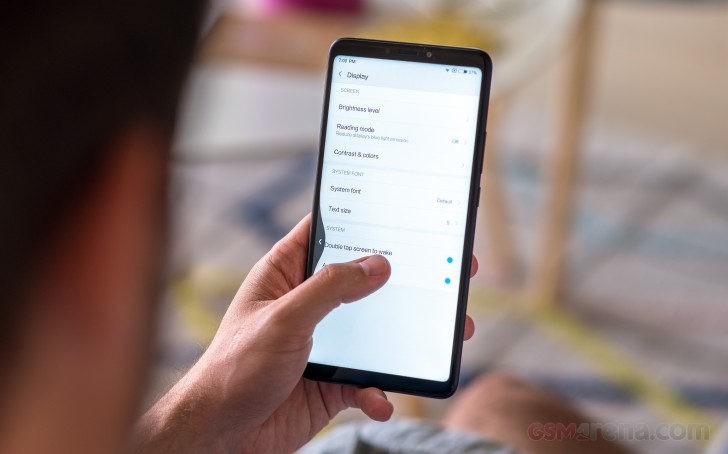 Anyway, MIUI users or will feel right at home here. MIUI is traditionally big on feature conservation and continuation. One fairly recent significant addition to the mix is the gesture navigation. Although, it is still an optional thing.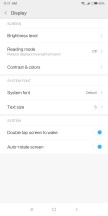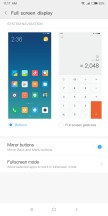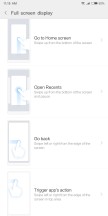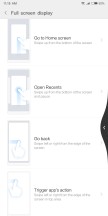 Display settings • Full screen • Gestures
There's an entire Full screen display menu where you get options for gesture navigation. You can replace the navigation bar with a set of swipe actions - swipe up from the bottom for Home, swipe up and hold for the task switcher, and swipe in from either edge to go back. And if you think that last bit would interfere with apps that use the swipe in gesture to access a drawer menu, it doesn't - just swipe in a little higher and you'll get the drawer.
Xiaomi is no stranger to advanced biometric authentication. However, the full-featured hardware scanning tech is still limited to the flagship Mi 8. The Mi Max 3 gets a simpler, although still pretty effective, camera-based facial recognition system. It works well enough in good light. Naturally, accuracy and speed deteriorate with low light.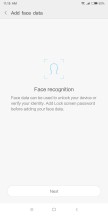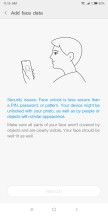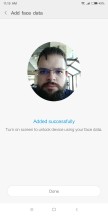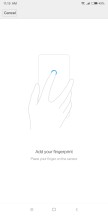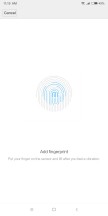 Facial recognition and fingerprint reader
The Mi Max 3's face recognition isn't as secure as fingerprint recognition, so it's a good thing then that the phone has that too. The sensor is on the back, enrollment is quick, and unlocking is nearly instantaneous.
Once you unlock the phone, you are greeted by a familiar home screen, which is where all your apps live. MIUI adopts a home-screen only approach to Android, opting out of the app drawer. The quick toggles and notification area have remained unchanged in MIUI for quite some time, unlike Google's own which get a redesign for every version. Recent apps look very much like the iOS app switcher. Apps are aligned next to each other, and you flick them up to close them. The split-screen toggle resides here as well.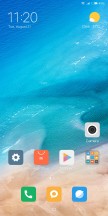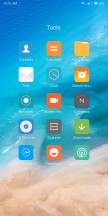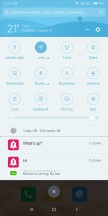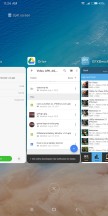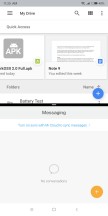 Home screen • Folder UI • Notification shade • Recent apps • Split-screen
A swipe to the right reveals the App vault pane (also called Guide) with shortcuts to frequently used apps, and a peek at Mi Notes and upcoming calendar events. According to MIUI forums, this page can only be disabled on the Chinese version of the ROM. Since ours is the Chinese version, a bunch of the default cards is rather... foreign to us. Translations aren't great overall in this part of MIUI, but we are happy to report that this is an isolated occurrence.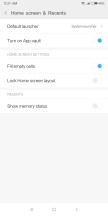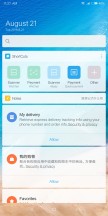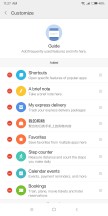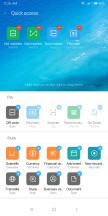 Home screen settings • App vault • App vault settings • Add new shortcut to App vault
The Security app is a hub that offers you options to scan your phone for malware, manage your blacklist, manage or restrict your data usage, configure battery behavior, and free up some RAM. It can also manage the permissions of your installed apps and allows you to define the battery behavior of selected apps and applies restrictions only to the apps you choose. It's all pretty in-depth, yet quite convenient. We particularly appreciate the shortcuts to the app, positioned within the settings menu.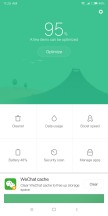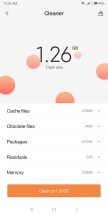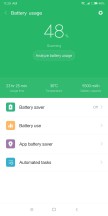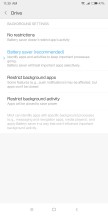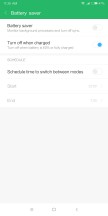 Security app • Cleaner • Battery management • Managing a single app • Battery Saver
Some other advanced features, include second space, as well as dual apps, depending on whether you need a whole other environment or just a second instance of an app. App lock is pretty self-explanatory. There is also an MIUI lab menu for testing certain features that are not necessarily ready for prime time just yet.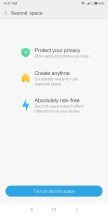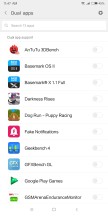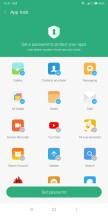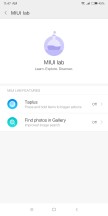 Second space • Dual apps • App lock • MIUI lab
MIUI like to keep things pretty well organized and simple on the surface, which we can appreciate. If you do feel like digging a bit deeper into the accessibility options and a few other secluded corners of the settings menu, there are quite a few other features to explore.
Gestures and the Game booster are pretty self-explanatory and universally applicable. Then there is also Mi AI. It seems to be something of a requirement to at least dip your toes into the AI realm in 2018. Unfortunately, we really can't comment on how well Xiaomi's solution currently works and what it is capable of since it is only limited to Mandarin.
MIUI also offers proprietary Gallery, Music, and Video player. If you are running on a Chinese ROM, then the Music and Video app will also allow access to local (paid) streaming services. A ton of handy apps come pre-loaded too - voice/screen recorders, barcode/document scanner, compass/level, file manager, notes.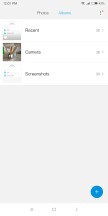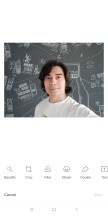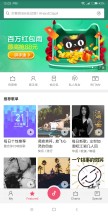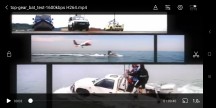 Gallery • Image editor • Music player • Video player
In the case of the Mi Max 3, in particular, there is an FM radio app and the excellent Mi Remote app, with its extensive code database.
Synthetic benchmarks
The Mi Max 3 might be standing, proudly wearing the "Mi" logo (Well, not literally, anymore), but, on the inside, it is actually a Redmi on steroids. The internals appear to be mostly borrowed from the Redmi Note 5, in particular.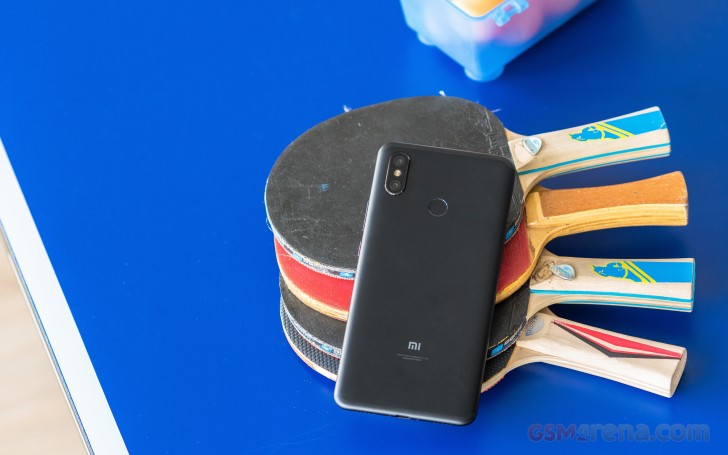 That means a Qualcomm Snapdragon 636 chipset with an octa-core CPU at 1.8 GHz, coupled with either 4GB or 6GB of RAM. Our review unit is the basic tier. While not really a criticism in any way, this choice of internals does necessitate a proper expectation adjustment. As in, we can't really expect flagship performance out of the Mi Max 3, regardless of its massive size.
Picking out competitors to pit the Mi Max 3 against is no easy task. If we take into account the size aspect of things. It really is in a size category of its own. However, on a pure specs basis, there are a few main chipset alternatives and phones to explore, at a similar price point. Huawei has the Kirin 659, found in a plethora of devices and even the Kirin 970 might be within reach, thanks to falling prices.
The Snapdragon 630 and 660 are definitely worth throwing in the mix, as a point of comparison. The same goes for the new Snapdragon 710 and the older flagship 835.
Kicking things off, we have GeekBench and its pure-CPU loads. And, can we just say, that's a nice and consistent set of results if we ever saw one.
GeekBench 4.1 (single-core)
Higher is better
Motorola Moto Z2 Force
1915
Huawei Honor View 10
1902
Xiaomi Mi 8 SE
1890
Xiaomi Mi Max 3
1331
Nokia 6.1 Plus
1331
Xiaomi Redmi Note 5 AI Dual Camera
1329
Xiaomi Redmi Note 5 Pro
1327
Huawei P20 Lite
938
Huawei Mate 10 Lite
913
Motorola Moto G6 Plus
882
Xiaomi Mi Max 2
824
The single-core chart shows the Snapdragon 363, inside the Mi Max 3 fall perfectly in-line with other, similarly equipped devices, like the Nokia 6.1 Plus and the Xiaomi Redmi Note 5. Lagging slightly behind - Huawei's older 659 and a couple of Qualcomm packages, also showing their age. On top - the Snapdragon 835, pretty much matched by the exciting new Snapdragon 710.
GeekBench 4.1 (multi-core)
Higher is better
Huawei Honor View 10
6738
Motorola Moto Z2 Force
6629
Xiaomi Mi 8 SE
5908
Nokia 6.1 Plus
4929
Xiaomi Redmi Note 5 AI Dual Camera
4918
Xiaomi Mi Max 3
4907
Xiaomi Redmi Note 5 Pro
4696
Motorola Moto G6 Plus
4160
Huawei P20 Lite
3756
Huawei Mate 10 Lite
3603
Xiaomi Mi Max 2
2445
The multi-threaded synthetic runs seem to paint an almost identical picture, with only the Snapdragon 835 flexing a bit more muscle over the Snapdragon 710.
Moving on to more compound loads and AnTuTu, it's pretty much the same story. We just love it when silicon actually performs as it is intended by market segmentation.
AnTuTu 7
Higher is better
Huawei Honor View 10
212708
Motorola Moto Z2 Force
209779
Xiaomi Mi 8 SE
170218
Xiaomi Mi Max 3
119229
Nokia 6.1 Plus
115571
Xiaomi Redmi Note 5 AI Dual Camera
115195
Xiaomi Redmi Note 5 Pro
107737
Motorola Moto G6 Plus
90263
Huawei P20 Lite
87431
Basemark OS 2.0 appears to be having a bit more difficulty placing certain devices on a scale. Then again, it is an older benchmark. Plus, the overall conclusion, regarding the Snapdragon 636, inside the Mi Max 3 is pretty much the same - a solid 2018 mid-ranger.
Basemark OS 2.0
Higher is better
Motorola Moto Z2 Force
3609
Huawei Honor View 10
3164
Xiaomi Mi 8 SE
2658
Xiaomi Redmi Note 5 Pro
2030
Xiaomi Mi Max 3
2013
Nokia 6.1 Plus
1951
Xiaomi Redmi Note 5 AI Dual Camera
1925
Motorola Moto G6 Plus
1525
Huawei P20 Lite
1455
Huawei Mate 10 Lite
1408
Xiaomi Mi Max
1362
Xiaomi Mi Max 2
1107
Graphics on the Snapdragon 636 and consequently, the Mi Max 3 are handled by an Adreno 509 GPU. It is designed to fluently handle FullHD+ resolutions, meaning it should feel right at home driving the massive 6.9-inch, 1080 x 2160 pixel panel.
GFX 3.0 Manhattan (1080p offscreen)
Higher is better
Huawei Honor View 10
65
Motorola Moto Z2 Force
61
Xiaomi Mi 8 SE
33
Xiaomi Mi Max 3
16
Xiaomi Redmi Note 5 AI Dual Camera
16
Nokia 6.1 Plus
16
Xiaomi Mi Max
15
Motorola Moto G6 Plus
14
Xiaomi Mi Max 2
9.9
Huawei P20 Lite
8.7
Huawei Mate 10 Lite
8.1
GFX 3.0 Manhattan (onscreen)
Higher is better
Huawei Honor View 10
55
Motorola Moto Z2 Force
40
Xiaomi Mi 8 SE
30
Xiaomi Mi Max
15
Xiaomi Mi Max 3
15
Xiaomi Redmi Note 5 AI Dual Camera
15
Nokia 6.1 Plus
15
Motorola Moto G6 Plus
13
Xiaomi Mi Max 2
9.9
Huawei P20 Lite
8.1
Huawei Mate 10 Lite
7.9
Numbers seem to back this up as well. In the grand scale of things, ARM has been advancing so rapidly in performance lately, especially in the top end, that you can easily expect around half of the raw GPU power on a modern midranger, compared to a flagship.
GFX 3.1 Manhattan (1080p offscreen)
Higher is better
Motorola Moto Z2 Force
42
Huawei Honor View 10
38
Xiaomi Mi 8 SE
23
Xiaomi Mi Max 3
10
Xiaomi Redmi Note 5 AI Dual Camera
10
Nokia 6.1 Plus
10
Motorola Moto G6 Plus
9.8
Xiaomi Mi Max
9.4
Xiaomi Mi Max 2
6.4
Huawei P20 Lite
5.1
Huawei Mate 10 Lite
4.8
GFX 3.1 Manhattan (onscreen)
Higher is better
Huawei Honor View 10
35
Motorola Moto Z2 Force
22
Xiaomi Mi 8 SE
22
Xiaomi Mi Max 3
9.8
Xiaomi Redmi Note 5 AI Dual Camera
9.7
Nokia 6.1 Plus
9.6
Xiaomi Mi Max
9.4
Motorola Moto G6 Plus
9.3
Xiaomi Mi Max 2
6.4
Huawei P20 Lite
4.9
Huawei Mate 10 Lite
4.6
The sheer variance in numbers is definitely smaller when it comes to CPU operations. That being said, however, you have to keep in mind the enormous amount of optimization work that goes into today's mobile games. Unless you plan on hitting the Mi Max 3 with heavy moba or battle royal titles, expecting to get a massive advantage out of the big display, you should be fine. Casual games run smooth and with no issues.
GFX 3.1 Car scene (1080p offscreen)
Higher is better
Motorola Moto Z2 Force
25
Huawei Honor View 10
22
Xiaomi Mi 8 SE
13
Xiaomi Mi Max 3
6.3
Xiaomi Redmi Note 5 AI Dual Camera
6.3
Nokia 6.1 Plus
6.3
Motorola Moto G6 Plus
5.6
Xiaomi Mi Max
5.5
Xiaomi Mi Max 2
3.5
Huawei P20 Lite
3.1
Huawei Mate 10 Lite
2.9
GFX 3.1 Car scene (onscreen)
Higher is better
Huawei Honor View 10
20
Motorola Moto Z2 Force
15
Xiaomi Mi 8 SE
12
Xiaomi Mi Max 3
6
Xiaomi Redmi Note 5 AI Dual Camera
6
Nokia 6.1 Plus
5.9
Xiaomi Mi Max
5.4
Motorola Moto G6 Plus
5.2
Xiaomi Mi Max 2
3.5
Huawei P20 Lite
2.8
Huawei Mate 10 Lite
2.7
Unlike the fresh and modern CPU setup, the Adreno 509 isn't exactly new and has started showing its age. A point perfectly illustrated by BaseMark X and the odd fact that the original Mi Max, from 2016, has more graphics oomph to offer from its Adreno 510.
Basemark X
Higher is better
Motorola Moto Z2 Force
38615
Huawei Honor View 10
33499
Xiaomi Mi 8 SE
27560
Xiaomi Mi Max
15487
Xiaomi Mi Max 3
14950
Nokia 6.1 Plus
14903
Xiaomi Redmi Note 5 Pro
14897
Xiaomi Redmi Note 5 AI Dual Camera
14799
Motorola Moto G6 Plus
14357
Xiaomi Mi Max 2
10482
Huawei P20 Lite
9090
Huawei Mate 10 Lite
8721
So, if you plan on getting the Mi Max 3 as a budget alternative to a Nintendo Switch, the GPU might not be able to keep up with your demands. In that case, a budget of around EUR 300 can definitely be better spent.
If that is not the case, it's kind of hard to beat the sheer size of the Mi Max 3's massive panel and the real estate it provides for general productivity tasks.