Familiar MIUI 8.5 on top of Android Nougat
It's hard to really complain about MIUI, considering it is actually one of the better maintained custom Android builds out there. Xiaomi also has a solid track record of supporting older devices. That being said, we will note that MIUI development has been on the slower end lately.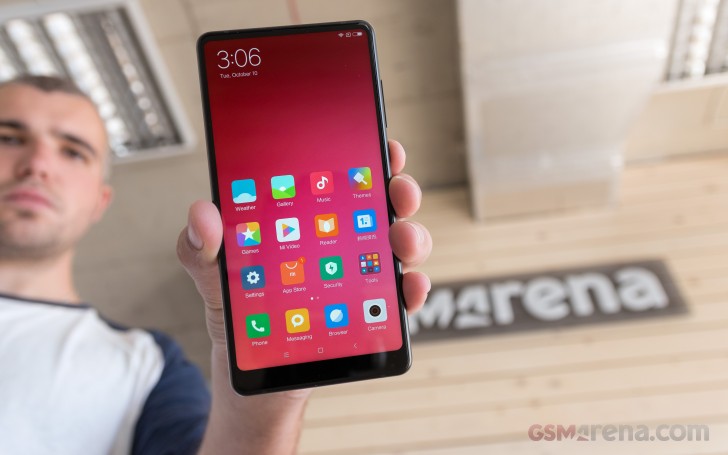 As of writing this review, there is only one Official Global ROM available for the device - V8.5.1.0.NDEMIEF (MIUI8), based on Android 7.1.1 Nougat. It was only made available recently, a few days after the Mix 2 hit the Indian market.
We received a second review unit just hours before this review was due for publishing, and, surprisingly, it came with MIUI 9 ver. v7.9.21. The version of Android was the same - 7.1.1 and since most of the changes in MIUI 9 are under the hood, there weren't many differences we were able to spot right away. Of course, the icons had more modern looks and there are some new feature or two such as split screen view.
With that said, make note that this review is based on the review unit with MIUI 8.
You can check out our MIUI 9 Beta impressions here.
MIUI 8 is an already familiar launcher with lots of features and UI tweaks. Its aesthetics are just a minor part of the way MIUI is different from stock Android, though.
Dual Apps and dual spaces are some of the highlights in MIUI. Dual Apps means you can have two instances of the same app on your device. This allows you to do things like have two WhatsApp accounts on the same phone, one for each SIM. You can enable dual-app functionality on almost every app.
Dual spaces lets you have two different workspaces on your device, each with its own set of apps, customizations, and image gallery, and you can enter a custom passcode or a different fingerprint to enter either space.
The lockscreen is rather trivial (time, notifications, a couple of shortcuts), but once you set up the fingerprint reader, you'll rarely see it anyway. Still, the Wallpaper Carousel can put beautiful images on the lockscreen every 15 minutes.
The always-on fingerprint sensor is accurate and can take the phone from sleep to the homescreen in a flash (the lockscreen is bypassed). The reader is also very accurate and dependable.
Like many other Chinese Launchers, MIUI skips on an app drawer and puts everything on the home screen - shortcuts, widgets and drawers. You get a docked menu for the most commonly used apps, of course. The homescreen also supports a wallpaper carousel, so you can enjoy different beautiful wallpapers all the time.
The notification shade has a consolidated list of quick toggles, notifications, and a weather panel at the top that changes color and animation according to the weather - a nice little touch.
The app switcher feels like it came out of iOS - apps are either represented by their icons, in a single horizontal row, or by appropriate thumbnails in the same manner.
The MIUI launcher also has extensive theme support. You can tweak practically any aspect of the interface. A few options are available out of the box and more can be downloaded for free as well. Tweakable elements include your wallpapers, lockscreen style, system icons, font, and sounds.
If you find yourself struggling with the ultra-wide aspect ratio of the Mi Mix 2, you can give the Quick Ball a try. It can store up to 5 shortcuts and you can put pretty much anything here - from Android actions to app shortcuts. The Ball can also hide automatically on chosen apps, and move aside when you are running a fullscreen app.