Xiaomi Mi Mix 2 running MIUI 9 Global ROM
In the software section of this review we already touched upon the topic that our first Mi Mix 2 review unit arrived running MIUI 9 from the Chinese Beta channel. It is still the only officially available MIUI 9 build for the device. It, however, lacked Google Play Services and had plenty of pre-installed bloatware (in Chinese!). It was a good fortune that a Global ROM surfaced online soon after the Mix 2 was released in India. The new software had less pre-installed apps and had 100% more Google Play services. It was also supplied under the "stable release" channel so we commenced our review process as soon as we flashed it on our test device. The only downside was that it came with the older MIUI 8 on top of Android 7.1.1 instead of the newer MIUI 9 beta.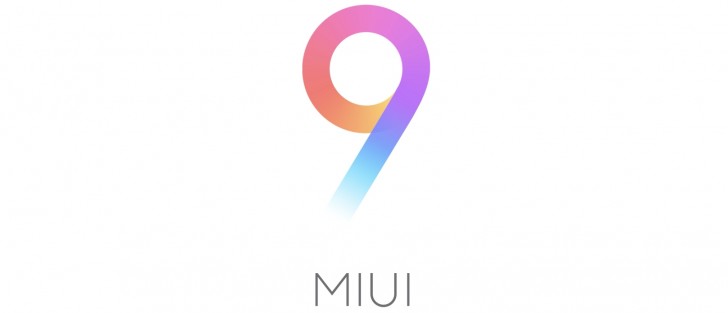 And then, only a few hours before this review was due to go love, a second Mi Mix 2 unit arrived running a mysterious MIUI 9-based Global ROM. This ROM is not advertised as being part of the "stable release" channel. It's not Android Oreo either, but the same Android 7.1.1 core. Our first guesses were this might be a customized ROM with the bloatware stripped - something along the line of the ROMs offered by Xiaomi.eu (the Xiaomi modding community in Europe). However, browsing through their weekly releases, the Mi Mix 2 ROMs used MUI 9 v ersion 7.10.12 and up, while the version we had was MIUI 9 v.7.9.21. It was clear Xiaomi provided us with a clean Global ROM, which was not available anywhere online.
We reached out for a comment on this, asking when this sort of firmware would be publicly available. The only time frame we got was "in the near future". In the meantime, Global units will apparently continue to ship with a MIUI 8 ROM. Regardless, we decided to start exploring new MIUI 9 features and performance differences.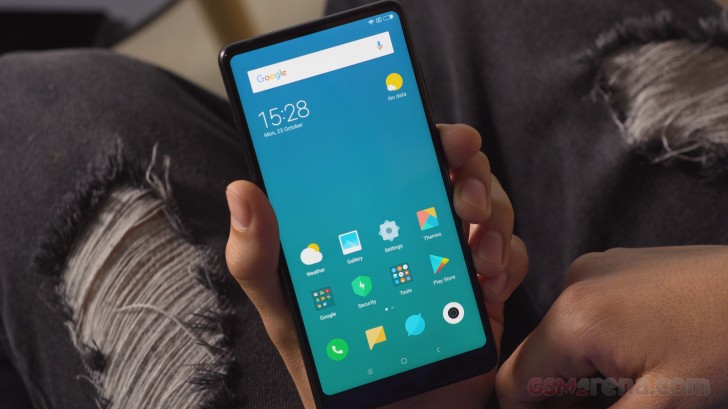 Okay, first off, this particular ROM comes with Google Play Services, a full set of Google Apps and practically no bloatware or pre-installed Chinese applications. As for added features, MIUI 9 has several interesting new ones compared to its predecessor. However, some of them appear to be limited to Chinese ROM releases and weren't present on our review unit. One of the more notable ones is Smart Assistant - Xiaomi's own horse to enter into the AI race. Judging from screenshots and descriptions, it seems to sport a Google Now sort of feed interface, giving you access to all your most important information from one place. The AI part comes in the shape of the advanced search for photos, text messages, email, notes and the web.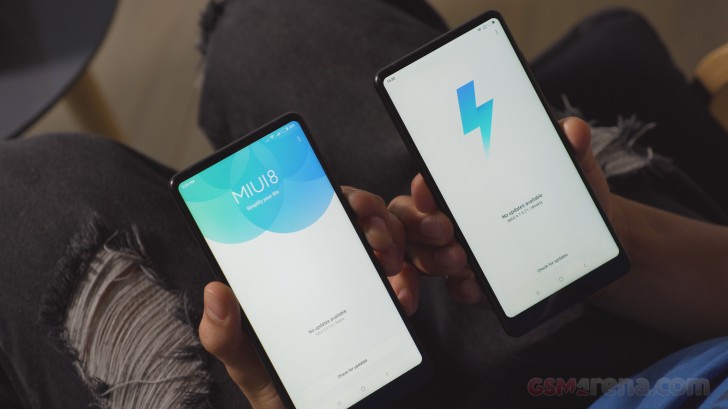 Another no-show is the Smart App Launcher. It is reminiscent of Google Now On Tap since it can analyze the contents on screen and then show you relevant information and suggest app deep links. We can only assume both of these features are pretty language-dependant, which is likely part of the reason why they are positioned as China exclusives at the moment.
On to things we did find on our MIUI 9 Mi Mix 2 unit. Starting from the lock screen, there is a new interface that shows all your currently connected Xiaomi devices. It is a nifty idea and one that further proves our theory that Xiaomi is learning straight from Apple when it comes to ecosystem integration. However, despite our best effort, we couldn't get the Mix 2 to show some of our Xiaomi devices, like a few Mi Android boxes, routers, and Miija electric scooters. They do show up in Mi Home and Mi Remote, so, perhaps, it's a regional issue. What we got from the interface was only a flashlight shortcut.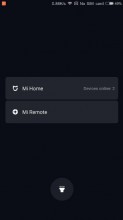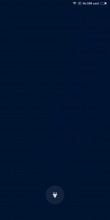 New lockscreen shortcuts interface
A few other significant functional novelties in MIUI 9 have to do with notifications. Xiaomi's popular skin finally has Quick Reply. The interface is triggered by swiping down with two fingers on a supported notification. Most instant messengers already implement the required interfaces. The text input widow that appears is invisible and frankly almost looks broken. Especially looking at the odd send button, complete with a grey background. Still, it works well, and we are pretty sure Xiaomi will fix up its style eventually.
Then there is the new Notification Filter. It is essentially a group to classify types of notifications under. All future notifications in this category get automatically grouped into one notification, tagged "Unimportant." This is a real space-saver, especially for busy people, who want to keep up with important things during the day, without necessarily swiping away and removing cookie-clicker promotions and awards.
On to the Home screen, where Xiaomi added a few stylistic changes. MIUI 9 is said to have three new default themes, but our unit didn't get those. Not a big deal since MIUI 9 already looks modern and slick out of the box and the Theme store is alive and well, filled to the brim with interesting options. While on the topic of looks, MIUI 9 introduces opening and closing animations for apps.
The home screen editor interface is just a bit different this time around as well. Widgets are now listed in a vertical scrolling interface. The launcher settings menu has a few new entries as well, you can now lock a home screen and change the default launcher straight from this interface.
Split Screen multitasking is probably the most prominent new feature MIUI 9 brings. However, that is not to say it is not shrouded in misconception. Quite a few users in the MIUI forum are referring to it as picture-in-picture, which is a different thing, altogether. Google did add picture-in-picture APIs in Android 8 Oreo, but we are yet to see Xiaomi make a move in that upgrade direction.
Xiaomi's split screen can be used to place two supported apps side by side. It fits right in with the 18:9 aspect ratio and the large display on the Mi Mix 2. To trigger it you have to open the recent apps screen, press a toggle and then drag the first app to the top of the display. Exiting the mode requires tapping an on-screen control or the back button.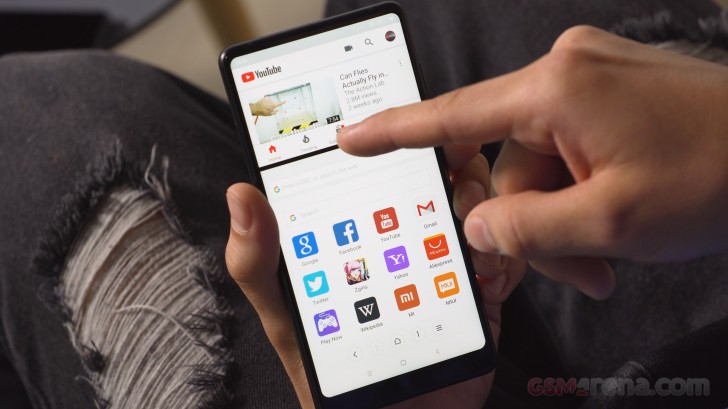 It is not the most convenient setup we have seen, but it works well.
The Security app has a few UI and feature tweak in MIUI 9. It remains a convenient central location for managing the Mi Mix 2.
The camera app is slightly restyled as well, but nothing too drastic. No functional changes have been implemented either.
This is all great, but none of these features are really all that ground-breaking. According to Xiaomi, the most impressive MIUI 9 improvements are under the hood. Things like a new file system, cache management, dynamic resource allocation and automatic cleaning, all sound great and look equally well on a presentation slide. Unfortunately, most of them don't lend themselves to testing. Not in an easy way, that is.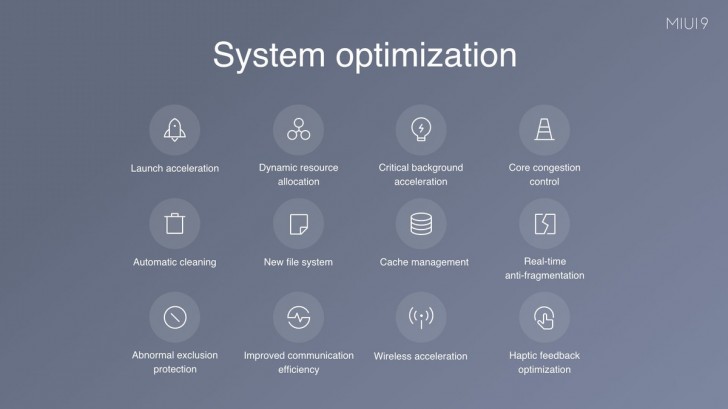 Still, we re-ran our typical benchmarks on the new unit, and the results turned out mostly as expected. Any small deficiencies the Mi Mix 2 was showing, compared to other Snapdragon 835 devices, while running on the older ROM seem to be ironed out by the new one. Now, we can safely say the Mix 2 performs on par with its flagship competitors.
Looking at the GeekBench score, it is clear that MIUI 9 makes better use of the Snapdragon's multi-threaded capabilities than MIUI 8 did. While this does not translate into any noticeable real-world performance difference, the boost in numbers is enough to show through.
GeekBench 4.1 (multi-core)
Higher is better
Xiaomi Mi Mix 2 (MIUI 9 Beta)
6593
Xiaomi Mi Mix 2
6234
GeekBench 4.1 (single-core)
Higher is better
Xiaomi Mi Mix 2
1924
Xiaomi Mi Mix 2 (MIUI 9 Beta)
1919
GeekBench 4 (multi-core)
Higher is better
Xiaomi Mi Mix 2 (MIUI 9 Beta)
6372
Xiaomi Mi Mix 2
5966
GeekBench 4 (single-core)
Higher is better
Xiaomi Mi Mix 2 (MIUI 9 Beta)
2013
Xiaomi Mi Mix 2
2007
There is not much OS-level optimizations can do for single-threaded performance, so no surprises in this department.
AnTuTu and BaseMark OS 2.0 also seem to give MIUI 9 an edge over MIUI 8. Both, however, are compound benchmarks and take many performance metrics into account. Hence, it is probably important to note that our initial batch of test was carried out on a 64GB storage chip, whereas the new unit is equipped with a 256GB one. There is surely some difference in the storage read and write speeds there, since in the world of solid state storage, larger typically means faster, if nothing else.
AnTuTu 6
Higher is better
Xiaomi Mi Mix 2 (MIUI 9 Beta)
181570
Xiaomi Mi Mix 2
160319
Basemark OS 2.0
Higher is better
Xiaomi Mi Mix 2 (MIUI 9 Beta)
3612
Xiaomi Mi Mix 2
3578
Graphics performance has a few variances scattered here and there, but nothing surprising or unexpected.
GFX 3.0 Manhattan (1080p offscreen)
Higher is better
Xiaomi Mi Mix 2
54
Xiaomi Mi Mix 2 (MIUI 9 Beta)
53
GFX 3.0 Manhattan (onscreen)
Higher is better
Xiaomi Mi Mix 2
50
Xiaomi Mi Mix 2 (MIUI 9 Beta)
49
GFX 3.1 Manhattan (1080p offscreen)
Higher is better
Xiaomi Mi Mix 2 (MIUI 9 Beta)
42
Xiaomi Mi Mix 2
37
GFX 3.1 Manhattan (onscreen)
Higher is better
Xiaomi Mi Mix 2
32
Xiaomi Mi Mix 2 (MIUI 9 Beta)
32
We can assume most of these are within the margin of error.
Basemark X
Higher is better
Xiaomi Mi Mix 2 (MIUI 9 Beta)
38474
Xiaomi Mi Mix 2
38349
Basemark ES 3.1 / Metal
Higher is better
Xiaomi Mi Mix 2 (MIUI 9 Beta)
742
Xiaomi Mi Mix 2
739
For the sake of thoroughness, we ran out standard battery tests once again on the new Mi Mix 2 unit, just to see if MIUI 9 has any noticeable impact on endurance. The differences came out negligible and well within the margin of error.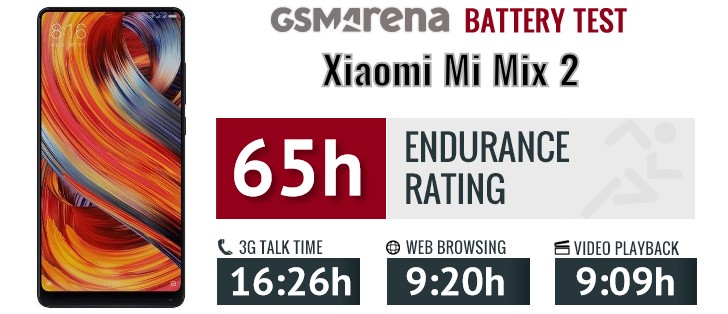 The second unit lasted just a bit less in a call, but on the flip side, it handled its standby consumption a little bit better. This ultimately resulted in the exact same 65 hour endurance rating - good, but not really impressive in any way.