Android Pie and MIUI 10
Xiaomi Mi Mix 3 runs on the latest MIUI 10 launcher on top of Android 9 Pie. MIUI 10 improves further the system looks, gestures, and performance, though introduces no major changes to the MIUI logic and any returning users would feel right at home. But while lightweight and intuitive, MIUI is no vanilla Android, so it will take a couple of hours for the purists to get the handle of it.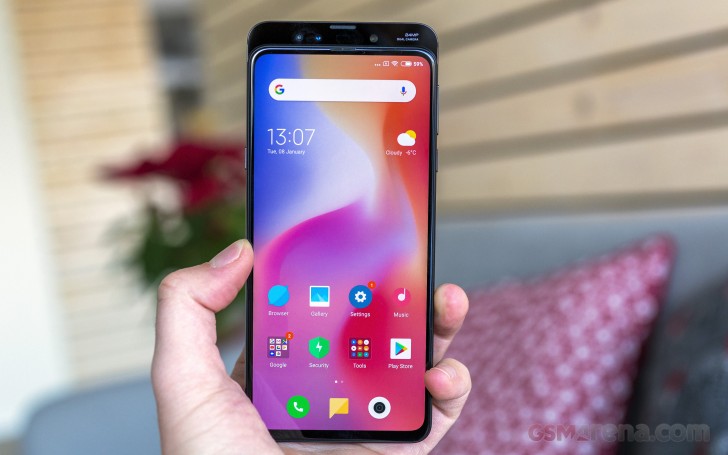 The most notable visual changes in MIUI 10 include refined system icons, Android Pie-styled volume sliders and brightness sliders, notification shade, and quick shortcuts.
MIUI 10 also brings a few functional additions - native support for navigation gestures, a brand new Recents menu - also with gesture support, Picture-In-Picture mode (for certain compatible apps), native autofill support, enhanced AI (but of course!), improved screen recording and better app management.
We've already seen those system navigation gestures - swipe for Home, swipe and pause for Recents, swipe from the edge for Back. You can also swipe and hold from the edge to go back to the previous app. Those work buttery-smooth on MIUI 10, sure, but most of us still prefer the onscreen keys. Still, if you like them, they are on the Mix 3.
Another new feature - the Picture in Picture mode - has to be enabled for each compatible app from the Additional Privacy Settings. Currently it works on Google Chrome, Movies, Maps, YouTube, Duo, and VLC.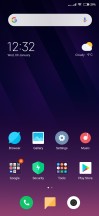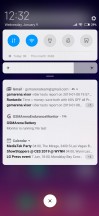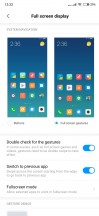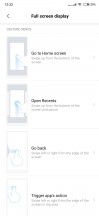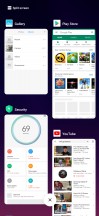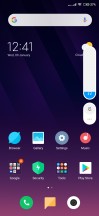 New icons • Notification shade • Gesture settings • Gestures • Recents • Sound scrubber
There is no app drawer in MIUI, and there's never really been one except for a few custom themes that offer the shortcut. Of course, you can always install a third-party launcher if you really miss the app drawer.
You can unlock the screen via the rear-mounted fingerprint scanner - it's always-on, blazing-fast, and accurate. There is no Face Unlock option on the Mix 3.
Here are the default home screens on Mi Mix 3. There's a weather widget in the upper right corner across from a large clock widget. There is a Quick Card pane, the leftmost one. It contains different cards with relevant information - recent apps, step counter, notes, calendar events, the weather, and favorites, among others. You can configure what shows up here, or you can disable this altogether.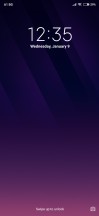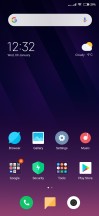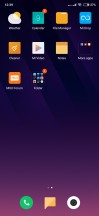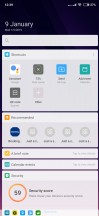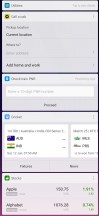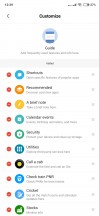 Lockscreen • Homescreen • Homescreen • Quick Card • Quick Card • Settings
The brand-new task switcher felt a bit awkward at first, but we've grown to like it. It shows all of your recent apps in two columns. Tap and hold on a card for the split-screen shortcut, of just swipe it left or right to close the app.
Themes are supported on the Xiaomi Mi Mix 3, but the app appears only when the phone is set to a supported region, say India.
MIUI also offers a Security app. It can scan your phone for malware, manage your blacklist, manage or restrict your data usage, configure battery behavior, and free up some RAM. It can also manage the permissions of your installed apps and allows you to define the battery behavior of selected apps and applies restrictions only to the apps you choose.
MIUI also offers proprietary Gallery, Music, and Video player. In some regions the music and video app may include paid streaming options.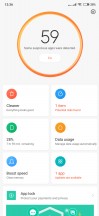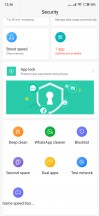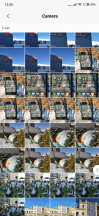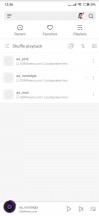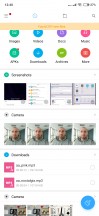 Security app • Security app • Gallery • Music • Video • File Manager
Slider options
The basic function of the slider is to bring out the dual front-facing cam so you can snap a selfie - the camera launches automatically. If you are not that keen on selfies, you can assign a different function to the slider - open a certain app, show the so-called Tools menu with various shortcuts to helpful apps, or just do nothing.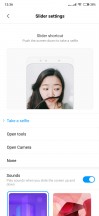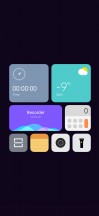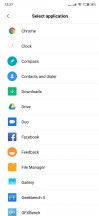 Slider settings • Tools menu • Open an app
There is also another thing you can do with the slider - if your phone is ringing, you can slide it up to answer and then close it down to hang up.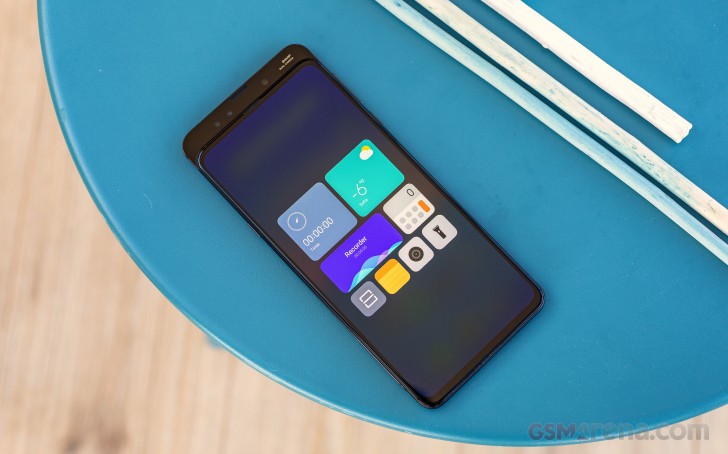 The phone plays sound effects as you open and close the phone. You can choose between five sound schemes or just mute it.
Performance and benchmarks
The Xiaomi Mi Mix 3 is powered by a Snapdragon 845 chip. It is still top of the line but not for long - devices that will utilize the 7nm Snapdragon 855 chipset are just around the corner. Anyway, the Snapdragon 845 is a highly capable chipset and we're quite familiar with its performance. The unit we have here is Mi Mix 3 with 6GB RAM and 128GB storage, though there is a model with 8GB RAM and 256GB storage, too.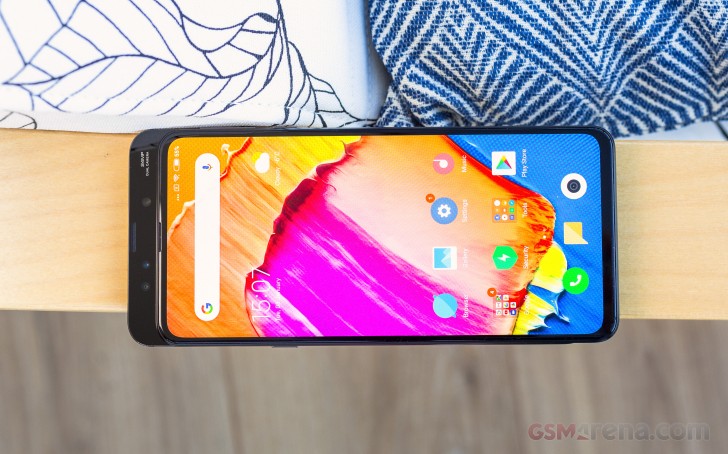 First, as usual, we ran Geekbench. In its processor tests, the Mi Mix 3 scored in line with its S845 peers. The Kryo 385 core is among the top performers on the market right now, bested only Samsung's Mongoose M3 and Apple's Vortex.
GeekBench 4.1 (multi-core)
Higher is better
Apple iPhone XS Max
11432
Honor Magic 2
9887
Huawei Mate 20 Pro
9712
vivo NEX S
9160
Xiaomi Mi MIx 2S
9158
Xiaomi Mi Mix 3
9065
Samsung Galaxy Note9
9026
Xiaomi Pocophone F1
9003
OnePlus 6T
8977
Sony Xperia XZ3
8607
LG V40 ThinQ
8568
Xiaomi Mi 8
8494
Google Pixel 3
8146
Oppo Find X
8018
Xiaomi Mi Mix 2
6234
GeekBench 4.1 (single-core)
Higher is better
Apple iPhone XS Max
4777
Samsung Galaxy Note9
3642
Honor Magic 2
3316
Huawei Mate 20 Pro
3291
Sony Xperia XZ3
2486
Xiaomi Mi MIx 2S
2468
vivo NEX S
2466
Xiaomi Pocophone F1
2438
Xiaomi Mi 8
2431
OnePlus 6T
2431
Xiaomi Mi Mix 3
2429
LG V40 ThinQ
2408
Google Pixel 3
2377
Oppo Find X
2322
Xiaomi Mi Mix 2
1924
The Adreno 630 GPU, just like the processor, is also among the best mobile GPUs right now, handling everything effortlessly. The Mix 3 has an edge over the 1440p phones with its 1080p screen.
GFX 3.1 Car scene (1080p offscreen)
Higher is better
Apple iPhone XS Max
60
Xiaomi Mi Mix 3
35
Xiaomi Mi MIx 2S
35
Xiaomi Pocophone F1
35
vivo NEX S
35
Google Pixel 3
35
Sony Xperia XZ3
35
OnePlus 6T
35
Oppo Find X
35
LG V40 ThinQ
34
Xiaomi Mi 8
33
Honor Magic 2
30
Huawei Mate 20 Pro
29
Samsung Galaxy Note9
28
Xiaomi Mi Mix 2
25
Xiaomi Mi Mix
18
GFX 3.1 Car scene (onscreen)
Higher is better
Apple iPhone XS Max
47
Xiaomi Mi MIx 2S
34
vivo NEX S
34
Xiaomi Mi 8
33
Google Pixel 3
33
Xiaomi Pocophone F1
31
OnePlus 6T
31
Xiaomi Mi Mix 3
30
Oppo Find X
28
Honor Magic 2
26
Xiaomi Mi Mix 2
24
Sony Xperia XZ3
19
Xiaomi Mi Mix
17
Huawei Mate 20 Pro
17
LG V40 ThinQ
16
Samsung Galaxy Note9
15
Antutu is among the more popular tests as a single tell-all number, and in our run the Xiaomi Mi Mix 3 scored the same as the OnePlus 6T and they share the first spot among the whole Android gang.
AnTuTu 7
Higher is better
Apple iPhone XS Max
353210
OnePlus 6T
293994
Xiaomi Mi Mix 3
292353
vivo NEX Dual Display
292042
Oppo Find X
291218
vivo NEX S
287081
Sony Xperia XZ3
284555
Honor Magic 2
274466
Huawei Mate 20 Pro
273913
Xiaomi Mi MIx 2S
270814
Xiaomi Pocophone F1
265314
LG V40 ThinQ
254304
Samsung Galaxy Note9
248823
Google Pixel 3
233699
Xiaomi Mi 8
217298
As it often happens with Xiaomi phones, we have only praises for the Mi Mix 3's superb sustained performance. MIUI is well optimized and doesn't bog down Android since it is lean and smooth. Running a benchmark repeatedly doesn't slow the phone at all.
The Mix 3 has the fastest chip available today and even though it's soon to be dethroned from its class-leading spot, the Snapdragon 845 is still a future-proof hardware worthy of having. The Mix 3 runs smooth and lag-free, the interface is snappy, and there is no throttling and overheating.