Xiaomi began selling accessories through the its official website. Going forward, users in the country can order headsets and cases for their smartphones directly from the manufacturer.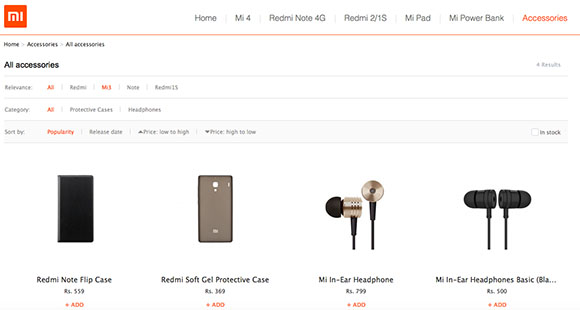 Xiaomi has been selling handsets online in India through an exclusive partnership with Flipkart. But on its home turf, Xiaomi hosts the fancy flash sales on its own website.
Basically, the Mi online store for India is slowly turning into an online store of its own, though its doesn't offer smartphones just yet. Last month, we reported about Xiaomiís plans to follow the same strategy in the US market.
o
Ooh I almost forget, i have ordered three of these, i give the other 2 to may siblings and kept mine for my daily driver for now. The mids is where this earphone shines, the bass is there. The highs is bit sharp at times and it lacks energy, but not ...
i
I guaranty you that the sound is amzing for its price. The bass is prominent but not overpowering the mids and highs. Xiaomi Pistons v2 got a very positive reviews on head-fi.org, and some of these reviews came from audiophile (you know they are very...
D
Ordered 3 power banks already .. those small cheap batteries are actually worth every penny