When Xiaomi had a launch last week, we all expected the Mi Mix 4 with 5G capabilities alongside the Mi 9 Pro 5G. Well, Lei Jun surprised everyone and only introduced the concept Mi Mix Alpha with wrap-around screen.
Some self-appointed leaksters kept suggesting Mi Mix 4 is coming, including with dubious screenshots, while other just kept bombarding Xiaomi executives with questions about more phones, so one company executive took it to Weibo to clear up the situation.
The Xiaomi brand promotion manager directly said there is only Mi Mix Alpha and no other Mi Mix smartphone on its way. And for the disgruntled fans that there were only two smartphones, he added that on the scene we also saw the official introduction of MIUI 11 and another TV set.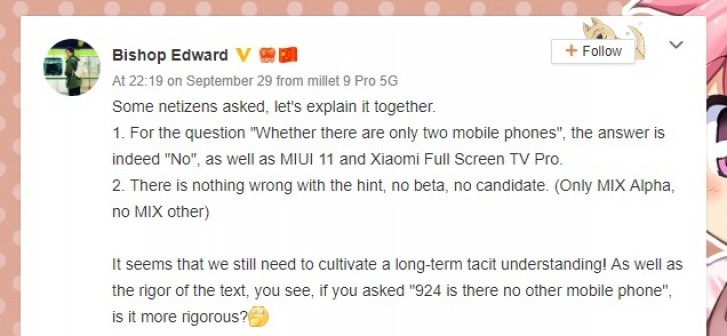 The post by the Xiaomi executive, translated with Google Translate
Xiaomi has always used the Mix lineup to introduce its breakthrough technology - from the first Mi Mix without bezels on three sides and piezoelectric speaker, to the Mi Mix 3 with the slider design that eventually expanded to Europe with a 5G modem. It isn't exactly a surprise that the Mi Mix Alpha is also a revolution with its unique 108 MP camera and 180% screen-to-body ratio.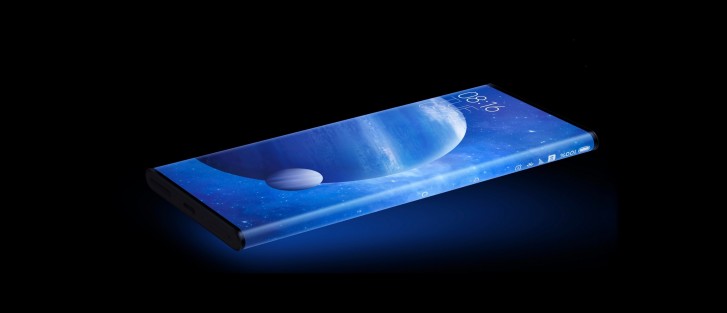 Xiaomi Mi Mix Alpha
However, fans of the lineup across the world would definitely be disappointed with the new phone's price tag of CNY20,000 (just over $2,800/€2,500), meaning not many would be able to afford it. After all, Huawei Mate X lets you use the whole screen real estate when you unfold it. On top of that, it costs cheaper and is in a similar state of "launching soon".
T
There are situations that a tablet is more helpful: Lack of funds to purchase anything more expensive or you simply don't need something as expensive and powerful to do said task ( our firm uses a bunch of cheap Lenovo tablets for handling invoicin...
?
no, It Will be a limited edition and probably Will be sold out in minutes.
?
Tablets are just redundant. Combination of phablet and detachable laptop makes them irrelevant.
ADVERTISEMENTS