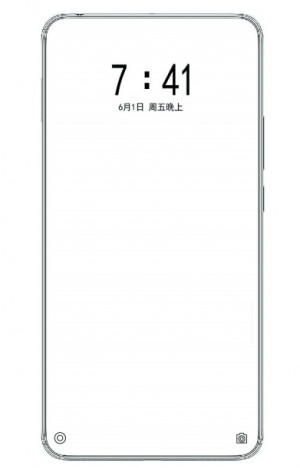 Just last week, a report surfaced that Samsung is working to begin mass production of cameras specially designed to work through a display. The truth is that Samsung isn't the only one working to make an in-display camera a reality. Xiaomi first teased its plans for in-display cameras a few months ago on Twitter – this followed shortly after Oppo announced its plans for similar technology.
The latest report comes from TigerMobiles regarding Xiaomi's latest patent for in-display camera technology. The patent was granted on September 30 by the CNIPA (China National Intellectual Property Administration) and shows designs for a smartphone with dual cameras under the display.
With smartphone makers delving into this kind of solution, there would no longer be a need for smartphone makers to design notches, hole punches, or pop-up modules to maximize screen-to-body ratio.
In its current state, this technology works through a transparent display, but phone makers are trying to figure out how to maximize camera quality since the image is slightly affected by the obtrusion of the display panel. The technology is still pre-mature, and we expect to start seeing in-display cameras in middle and lower range smartphones before they appear on higher-end flagships.
What do you think about an in-display camera? Would you like the notch or pop-up camera to be solved once and for all?
r
while you're on the topic of blocking the camera, I just want to give a shout out the the Purism Librem 5. Really cool stuff is happening over there. It's a REAL Linux distro on a phone. Things will be even more exciting next year when GTK4 rel...
r
Honestly, I liked the design of the Samsung Galaxy S9. It had a bit of bezel on the top and bottom and didn't obscure much content. I'd love to see an active version of the Galaxy S9 that didn't have curved edges. While I'm talking about the S9, I ju...
ADVERTISEMENTS