Xiaomi is bringing its affordable Redmi 2 smartphone to Singapore this month. You'll be able to buy it from March 17 at a retail price of S$169, which translates to $122 by the current rates.
Don't let the price tag fool you though, because the Xiaomi Redmi 2 is a more competent package than it suggests. For starters, you get a 4.7-inch IPS display of 720p resolution, which our review of the Redmi 2 showed to be sharp and quite bright, even if not acing the sunlight legibility department.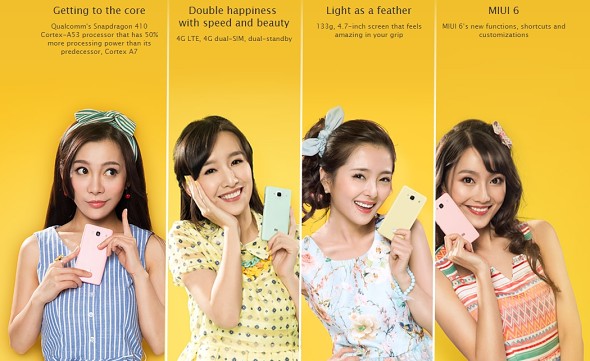 Qualcomm's entry-level 64-bit Snapdragon 410 is in charge of providing computing power, and is joined by a single gig of RAM and 8GB of expandable storage. For the moment, that's the model that will be available in Singapore, and not the better equipped 2GB/16GB version.
Even so, the Redmi 2 comes with Cat.4 LTE connectivity for download speeds up to 150Mbps, and a couple of SIM card slots for dual-standby capability. While 2200mAh may now sound like much, our findings proved the battery in the Redmi 2 performs adequately.
The Xiaomi Redmi 2 will be available for order from noon on March 17 in white only, but you can hit Xiaomi's website now and get acquainted with the smartphone's features.
D
loosing patience xiaomi wen redmi 2 will be released....i gt my first phone ..redmi 1 i lose it a month back keep waiting for redmi 2 and no news abt redmi 2 releasin in india wat abt the 2gb version y al ur news regardin redm 2 is hidden for india
S
And again, no word about 2GB version. My patience is expiring, they said it will be available by the end of February. It was my first choice, but hey, there are other options as well...
M
1 GB Ram...when already 2 GB is available...Xiomi what u people doing....Shame on you..