Blue-plate special
Xiaomi Redmi 4 review: Blue-plate special
MIUI 8 is the same across all Xiaomis
The Redmi 4 boots Android 6.0.1, which frankly, is an Android version which is already a bit long in the tooth. This fact is one of our main beefs with the phone. Though, in all fairness, the Redmi 4 has been out for a couple of months now, and it launched when the OS wasn't yet two years old. In any case, you wouldn't know what exactly Android you have on board as MIUI looks the same no matter the device. MIUI 8 is what you're getting on the Redmi 4. Here's a taste.
To sweeten the deal even further, the Redmi 4 can make use of Xiaomi's powerful Theme engine. This allows you to tweak pretty much every UI detail to your liking, and grants access to the rich online Theme repository.
Granted, the LCD on the Redmi 4 is hardly the perfect canvas to enjoy a pretty UI on, but despite its limitations, Xiaomi has actually provided users with quite a bit of control to improve the overall visual experience. You can play around with the color profile out-of-the-box, as well as the font size. Xiaomi has even thrown in a trendy and full-featured Reading mode. There's a one-handed mode that seems redundant on a 5-incher, but hey, you can always not use it.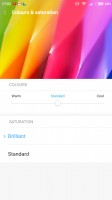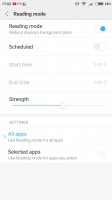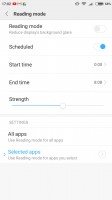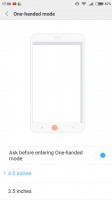 Display settings • Reading mode • One-handed mode, on a 5-inch phone
We find a similarly surprising feature-depth in almost every corner of the OS. The status bar, quick toggles, and notification shade can all be customized quite a bit. Battery percentage and data transfer indicators are some of the opt-in status bar elements and there is even a pair of visualization options for app notifications to choose between. As for the toggles and notifications, they can be separated out into panels, if that seems more convenient to you, or left in the same shade, as by default.
Speaking of notifications, MIUI 8 offers in-depth control over each type of notification it supports on a per-app basis. This feature ties in really well as part of the automated Xiaomi security center. It is a no-frills, one-stop spot for cleaning your phone, protecting your data and preventing battery drain. Naturally, that includes a detailed permission manager too.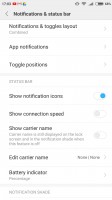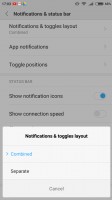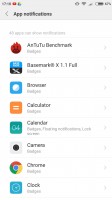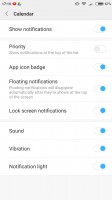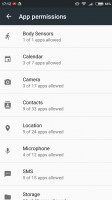 Easy Notification and permission managers
Thanks to MIUI 8, the Redmi 4 is also surprisingly well-equipped to handle sensitive data, protect business assets and even facilitate multiple communication channels. You can password-protect apps, or hide them altogether from kids with Child mode.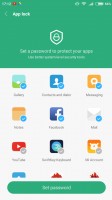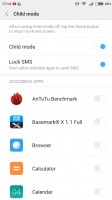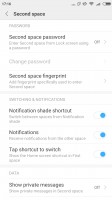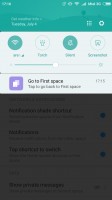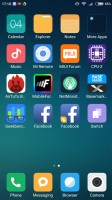 App lock • Child mode • Second Space settings • Switch shortcut • Dual apps
Besides locking things up, you can branch out and quickly organize even more data and communications. The Redmi 4 supports both the Second space feature, for handling multiple independent workspaces, as well as Dual apps - particularly useful for logging on to two social accounts at the same time.
Frankly, as you can see, it's very easy to get carried away exploring the delightfully rich settings menu of the Redmi 4, which kind of clashes with the intentions we had with the brief review format. Just to add a few finishing touches to the already impressive UX picture, we can't fail to mention Lite mode, with its big and clean UI.
The default app pack might be a bit extensive, but we think it complements the included Google suite pretty well. The Mi Remote app is a particular favorite of ours, mainly for the streamlined way it handles setting up and sending IR commands from the Redmi 4.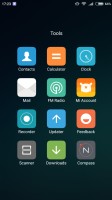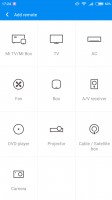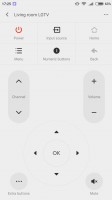 Plenty of tools come pre-installed • Mi Remote app
Loudspeaker
The Xiaomi Redmi 4 has a single down-firing loudspeaker. The decibels it pumps out rank it in the Average category in our tests - that's where most recent small Redmis fall. The old Redmi 2 was significantly louder. On the upside, even at maximum volume, the sound from the Redmi 4 is clean, with no distortion.
| | | | | |
| --- | --- | --- | --- | --- |
| Speakerphone test | Voice, dB | Pink noise/ Music, dB | Ringing phone, dB | Overall score |
| Sony Xperia XA | 61.6 | 66.2 | 68.3 | Below Average |
| Xiaomi Mi 4i | 63.7 | 65.7 | 68.0 | Below Average |
| Sony Xperia E5 | 62.0 | 67.5 | 69.4 | Below Average |
| Xiaomi Redmi 4 Prime | 63.1 | 67.3 | 71.3 | Average |
| Xiaomi Redmi 4a | 62.8 | 67.5 | 72.1 | Average |
| Sony Xperia XA1 | 61.7 | 69.7 | 71.8 | Average |
| Xiaomi Redmi 3s Prime | 63.1 | 69.5 | 72.3 | Average |
| Xiaomi Redmi 4 | 64.8 | 70.1 | 72.0 | Average |
| Sony Xperia L1 | 64.7 | 70.4 | 72.3 | Average |
| Xiaomi Redmi 3S | 66.4 | 70.9 | 70.2 | Average |
| Sony Xperia L1 (ClearAudio) | 68.5 | 72.2 | 72.8 | Good |
| Meizu M5 | 63.7 | 69.1 | 82.5 | Good |
| Meizu M5s | 65.4 | 69.1 | 84.2 | Good |
| Xiaomi Redmi 2 | 70.8 | 70.9 | 77.4 | Very Good |
| Nokia 3 | 70.6 | 71.0 | 83.6 | Very Good |
| Sony Xperia L1 (xLOUD) | 91.5 | 74.3 | 83.2 | Excellent |