Conclusion
As we mentioned at the beginning, the Redmi 8A starts at a really low price of around $90 in India. This makes it easy to give the device some concessions, although there are things we wouldn't like to see compromised, regardless of the price.
The design and build quality of the phone is tremendous for the price. The phone has a premium look and feel to it, thanks to tastefully chosen color schemes and a unique striped pattern on the back. It feels solid in hand, and the splash resistant design is an added bonus. Nothing about this phone looks or feels cheap on surface.
The display is pretty good, as well. While the specs might fool you into thinking otherwise, the actual quality of the panel belies the price tag, offering good image quality with a low peak brightness being our only issue.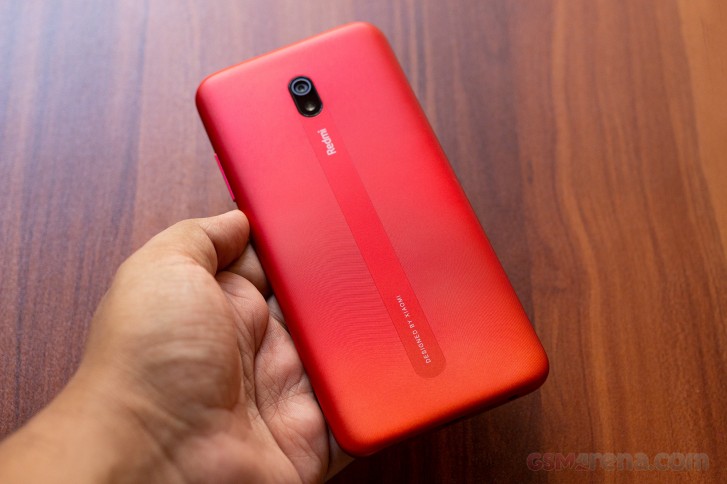 The battery life is another excellent aspect of the Redmi 8A. A 5000mAh capacity is nothing to scoff at, and the combination of a relatively low-resolution display and frugal chipset means the phone lasts quite a while on a single charge.
Unfortunately, the Redmi 8A does fall back in other aspects. Things like performance and camera quality are understandably weak. The 2GB memory on our device is simply not enough, and we urge anyone who buys this phone, either for themselves or for someone else, to just spend roughly $10 extra and get the 3GB variant. The camera, well, there's not much that can be done about it, and although it's usable it's certainly not going to wow anybody.
The other aspect of the device we had an issue with is endemic to nearly all Xiaomi phones. The software on the device, although mostly well-made from a design perspective with plenty of relevant features, is just stacked with ads, promotional content, duplicate apps, and annoying notifications. It's one thing to make up the cost of your devices, it's another to damn near harass your customers. The software singlehandedly brings down the user experience on this phone. You need an experienced user with a good hour at hand to fix all the quirks, and even then, you won't be able to fix everything. And most people buying this device will likely be first-time smartphone buyers or not particularly savvy enough to know these things.
In the end, if you're in the market for the most affordable Android smartphone, we'd recommend you consider something like the Realme C2 instead, with similar price and features but no ads in software.
Pros
Good design and build quality
Good display quality
Great battery life
Cons
Sluggish performance, especially on 2GB variant
Mediocre camera
Ads and bloatware-ridden software