Performance and charging
Xiaomi Redmi K20 Pro hands-on review
Performance
The main area of difference between the K20 and the K20 Pro is the chipset. The cheaper Redmi K20 ships with the Qualcomm Snapdragon 730, the highest-end model in Qualcomm's mid-range series. Meanwhile, the K20 Pro ships with the flagship Snapdragon 855 chipset, putting it in the same league as far more expensive devices, such as the Samsung Galaxy S10 and the Sony Xperia 1, at least as far as the performance is concerned.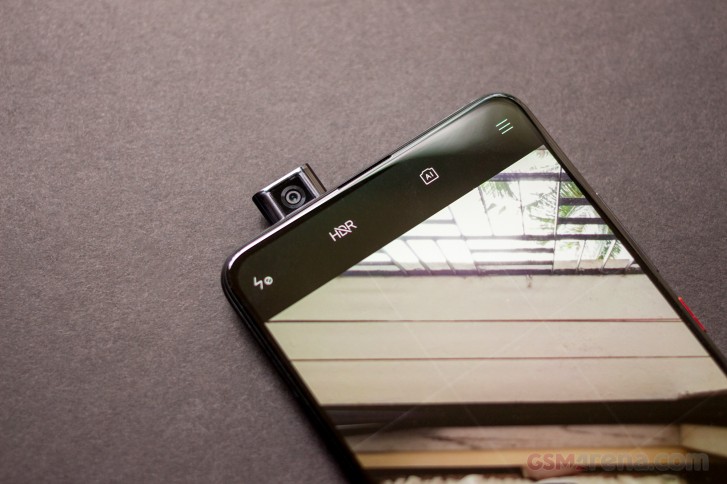 In our subjective testing, the K20 Pro exhibited excellent performance during everyday use. Applications open and close swiftly and scrolling performance was consistently smooth throughout. Demanding applications such as 3D games also faze no issues to the phone as the combination of a high-performance GPU and a relatively low-resolution display means it can crunch through them with ease.
In our synthetic benchmark tests, the K20 Pro keeps up with all the flagship Android smartphones on the market. The standard K20 does reasonably well here considering its more mid-range chipset but is left in the dust by the K20 Pro and its Snapdragon 855, especially in gaming tests.
With so much power at its disposal, we wish Xiaomi had put it to better use, such as by providing a higher resolution display or, ideally, a high refresh rate display, such as the 90Hz display on the OnePlus 7 Pro. However, at this price point, that's probably too much to ask for at this point in time.
The K20 Pro is available in two storage and memory tiers, with the base tier including 6GB of memory and 128GB storage and the more expensive model having 8GB memory and 256GB storage.
The Redmi K20 Pro is one of those rare Xiaomi phones that does not feature expandable storage, so perhaps it's not a bad idea to get the higher tier model, which also comes with more memory that will make the device more future-proof, if you intend to keep it around for a few years.
GeekBench 4.1 (multi-core)
Higher is better
Black Shark 2
11192
Xiaomi Mi 9
11181
OnePlus 7
11075
Sony Xperia 1
10985
OnePlus 7 Pro
10943
Xiaomi Redmi K20 Pro
10883
Asus Zenfone 6
10721
Samsung Galaxy S10+
10387
Samsung Galaxy S10
10174
Huawei P30
9789
Xiaomi Pocophone F1
9003
Samsung Galaxy A80
6934
Xiaomi Redmi K20/Mi 9T
6863
GeekBench 4.1 (single-core)
Higher is better
Samsung Galaxy S10
4543
Samsung Galaxy S10+
4522
Black Shark 2
3515
Asus Zenfone 6
3505
Xiaomi Mi 9
3503
Xiaomi Redmi K20 Pro
3492
OnePlus 7
3461
Sony Xperia 1
3447
OnePlus 7 Pro
3402
Huawei P30
3295
Xiaomi Redmi K20/Mi 9T
2537
Samsung Galaxy A80
2516
Xiaomi Pocophone F1
2438
AnTuTu 7
Higher is better
Xiaomi Mi 9
372006
Xiaomi Redmi K20 Pro
369082
OnePlus 7
367812
OnePlus 7 Pro
364025
Asus Zenfone 6
361679
Sony Xperia 1
356734
Black Shark 2
343460
Samsung Galaxy S10+
333736
Samsung Galaxy S10
328366
Huawei P30
287960
Xiaomi Pocophone F1
265314
Xiaomi Redmi K20/Mi 9T
211915
Samsung Galaxy A80
207502
GFX 3.1 Manhattan (1080p offscreen)
Higher is better
OnePlus 7
71
Sony Xperia 1
71
Black Shark 2
71
Asus Zenfone 6
71
Xiaomi Mi 9
70
Samsung Galaxy S10+
69
OnePlus 7 Pro
68
Samsung Galaxy S10
68
Xiaomi Redmi K20 Pro
67
Xiaomi Pocophone F1
60
Huawei P30
54
Samsung Galaxy A80
30
Xiaomi Redmi K20/ Mi 9T
27
GFX 3.1 Manhattan (onscreen)
Higher is better
Xiaomi Redmi K20 Pro
57
OnePlus 7
57
Black Shark 2
57
Asus Zenfone 6
57
Xiaomi Mi 9
56
Sony Xperia 1
55
Xiaomi Pocophone F1
53
Huawei P30
48
Samsung Galaxy S10+
37
Samsung Galaxy S10
37
OnePlus 7 Pro
33
Samsung Galaxy A80
26
Xiaomi Redmi K20/Mi 9T
24
3DMark SSE 3.1 Unlimited
Higher is better
OnePlus 7
6388
Black Shark 2
6330
Asus Zenfone 6
6263
OnePlus 7 Pro
6093
Xiaomi Mi 9
5816
Sony Xperia 1
5792
Xiaomi Redmi K20 Pro
5023
Samsung Galaxy S10+
4632
Samsung Galaxy S10
4550
Huawei P30
3597
Samsung Galaxy A80
2543
Xiaomi Redmi K20/Mi 9T
2329