Performance
Xiaomi Redmi Note 2 is among the first phones to be powered by the MediaTek's MT6795 chipset, also known as Helio X10. Unlike the name suggests, the processor is an octa-core 2GHz Cortex-A53, accompanied by a PowerVR G6200 (Rogue) GPU and 2GB of RAM.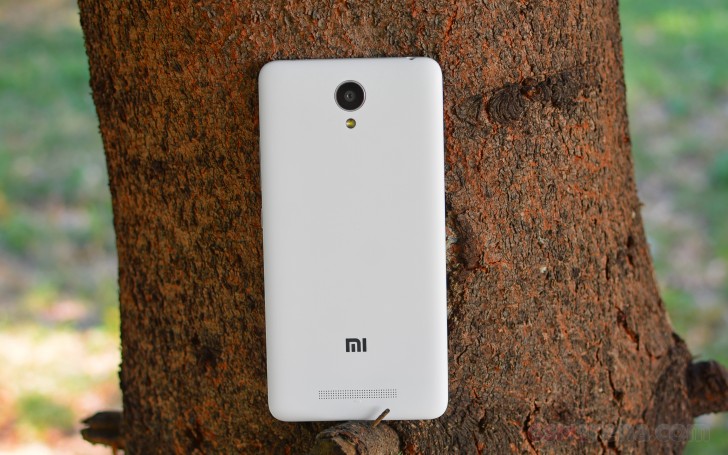 The Meizu MX5 and HTC One E9+ are the other devices we've met so far that utilize the same chipset. The upcoming Sony Xperia M5 and Gionee Elife E8 are also coming with the Helio X10 later this year, so it seems the chip is becoming a popular choice these days.
GeekBench 3 gauges the multi-core performance of the processor and Redmi Note 2 is doing lovely. What's odd is that the HTC One E9+, which has the same chips and CPU clocks, is doing slightly better in benchmarks. The Meizu MX5 tops the chart with the same processor, but it is running on a higher 2.2GHz speed.
GeekBench 3
Higher is better
Meizu MX5
5110
HTC One E9+
4796
Xiaomi Redmi Note 2
4589
Meizu m1 note
3988
Samsung Galaxy A8
3375
Xiaomi Mi 4
3175
Xiaomi Mi Note
3094
Oppo R5
2806
Meizu m2 note
2649
Oppo R1x
2507
Xiaomi Redmi Note
2435
Sony Xperia M4 Aqua
2375
Xiaomi Mi 4i
2336
Xiaomi Redmi 2
1460
The compound AnTuTu 5 test puts the Redmi Note 2 ahead of the competition, very close to the MX5 but somewhat behind the One E9+.
AnTuTu 5
Higher is better
HTC One E9+
50753
Samsung Galaxy A8
49554
Meizu MX5
48915
Xiaomi Redmi Note 2
46307
Xiaomi Mi Note
45632
Meizu m1 note
39224
Xiaomi Mi 4i
34491
Xiaomi Redmi Note
32487
Sony Xperia M4 Aqua
32217
Meizu m2 note
32054
Oppo R5
31417
Oppo R1x
30187
Xiaomi Redmi 2
20616
Hopefully, the other compound benchmark - BaseMark OS II 2.0 will give us a better idea. It calculates CPU, GPU, memory, OS and web performance and puts in into a single score. Yet the Redmi Note 2 is once again noticeably behind its Helio X10 siblings - the MX5 and One E9+. We made sure we opted for the Performance Power Mode, so we don't know what the real issue is.
Note that the Redmi Note 2 does admirably on the test even though it got a lower score than expected, so we are fine with its performance.
Basemark OS 2.0
Higher is better
Xiaomi Mi Note
1353
Meizu MX5
1252
HTC One E9+
1227
Samsung Galaxy A8
1089
Xiaomi Redmi Note 2
1063
Meizu m1 note
880
Sony Xperia M4 Aqua
858
Oppo R1x
753
Oppo R5
710
Meizu m2 note
673
Xiaomi Redmi 2
511
Xiaomi Redmi Note
479
Xiaomi Mi 4i
296
Quite expectedly a single Cortex-A53 processor core running at 2GHz is a real beast, while eight of those are indeed a blazing fast configuration.
Basemark OS 2.0 (single-core)
Higher is better
Xiaomi Mi Note
6068
Samsung Galaxy A8
4338
HTC One E9+
3444
Xiaomi Redmi Note 2
3434
Meizu MX5
3262
Xiaomi Mi 4i
3008
Sony Xperia M4 Aqua
2628
Meizu m1 note
2617
Oppo R5
2437
Xiaomi Redmi Note
2388
Oppo R1x
2177
Xiaomi Redmi 2
1806
Meizu m2 note
1709
Basemark OS 2.0 (multi-core)
Higher is better
HTC One E9+
28201
Meizu MX5
22976
Samsung Galaxy A8
21753
Xiaomi Redmi Note 2
21516
Xiaomi Redmi Note
18490
Xiaomi Mi Note
17882
Meizu m1 note
14565
Xiaomi Mi 4i
13521
Sony Xperia M4 Aqua
13167
Oppo R5
12044
Oppo R1x
8683
Meizu m2 note
8105
Xiaomi Redmi 2
6362
PowerVR G6200 GPU is perfectly capable to handle 1080p displays. Its raw offscreen performance is better than the widespread Adreno 405 within the Snapdragon 615, so we guess the Helio X10 would be the better choice for 1080p upper mid-rangers.
GFX 2.7 T-Rex (1080p offscreen)
Higher is better
Samsung Galaxy A8
31
Xiaomi Mi Note
28
Xiaomi Mi 4
27.6
Meizu MX5
27
Xiaomi Redmi Note 2
23
Oppo R5
15.1
HTC One E9+
15
Meizu m1 note
15
Sony Xperia M4 Aqua
14.9
Xiaomi Mi 4i
14
Oppo R1x
12
Meizu m2 note
12
Xiaomi Redmi Note
9.8
Xiaomi Redmi 2
5.2
GFX 3.0 Manhattan (1080p offscreen)
Higher is better
Samsung Galaxy A8
13
Xiaomi Mi 4
11.6
Xiaomi Mi Note
11
Meizu MX5
10
Xiaomi Redmi Note 2
8.5
HTC One E9+
6.6
Xiaomi Mi 4i
6.2
Sony Xperia M4 Aqua
5.84
Oppo R5
5.8
Meizu m1 note
5.8
Oppo R1x
4.9
Meizu m2 note
2.3
Xiaomi Redmi 2
1.8
When it comes to 1080p onscreen performance, it does as good as Adreno 405 running on a 720p display, which says a lot. The Meizu MX5, which has absolutely the same GPU, does slight better.
GFX 2.7 T-Rex (onscreen)
Higher is better
Samsung Galaxy A8
30
Xiaomi Mi 4
28.2
Xiaomi Mi Note
28
Meizu MX5
27
Sony Xperia M4 Aqua
25.8
Xiaomi Redmi Note 2
23
Oppo R1x
20
Meizu m1 note
16
Oppo R5
14.8
Xiaomi Mi 4i
14
Xiaomi Redmi Note
13.3
Meizu m2 note
12
HTC One E9+
10
Xiaomi Redmi 2
9.6
GFX 3.0 Manhattan (onscreen)
Higher is better
Samsung Galaxy A8
14
Sony Xperia M4 Aqua
12.2
Xiaomi Mi 4
11.3
Xiaomi Mi Note
11
Oppo R1x
9.6
Meizu MX5
9.5
Xiaomi Redmi Note 2
7.9
Xiaomi Mi 4i
6.2
Oppo R5
5.8
Meizu m1 note
5.7
HTC One E9+
5.4
Xiaomi Redmi 2
3.9
Meizu m2 note
2.3
The BaseMark X is another GPU stress test, which puts the Redmi Note 2 in the upper half of our chart, better than the mid-class Adrenos, but still behind the same GPU unit inside the E9+ and MX5.
Basemark X
Higher is better
Xiaomi Mi Note
13075
Meizu MX5
10403
HTC One E9+
9639
Samsung Galaxy A8
8838
Xiaomi Redmi Note 2
8518
Sony Xperia M4 Aqua
5105
Xiaomi Mi 4i
4875
Oppo R5
4855
Meizu m1 note
4617
Oppo R1x
4018
Meizu m2 note
3946
Xiaomi Redmi Note
2974
The MIUI web browser got some performance and stability improvements with the MIUI 7 upgrade and now it's quite fast. The Redmi Note 2 scored a very good mark on the JavaScript Kraken benchmark, and finished second-best on the compound BrowserMark test.
Kraken 1.1
Lower is better
Samsung Galaxy A8
5094
Xiaomi Mi 4
6137
Xiaomi Mi Note
6382
Xiaomi Redmi Note 2
9504
Meizu MX5
11414
Xiaomi Mi 4i
11439
Oppo R5
11656
Xiaomi Redmi Note
12416
Oppo R1x
12826
Sony Xperia M4 Aqua
13609
Xiaomi Redmi 2
13694
Meizu m2 note
14462
Meizu m1 note
15055
HTC One E9+
17430
BrowserMark 2.1
Higher is better
Samsung Galaxy A8
1992
Xiaomi Redmi Note 2
1505
Meizu MX5
1471
Xiaomi Mi 4i
1396
Oppo R5
1319
HTC One E9+
1279
Sony Xperia M4 Aqua
1171
Xiaomi Mi Note
748
Xiaomi Mi 4
744
Meizu m2 note
656
Oppo R1x
627
Xiaomi Redmi Note
588
Xiaomi Redmi 2
549
Meizu m1 note
536
Xiaomi meant business with the Redmi Note 2 and the Helio X10 chip was the right choice. It offers great processing power, the GPU punch is nice and will do even for heavy 3D games, while the multi-taskers should be fine with 2GB of RAM. Sure, the Redmi Note 2 isn't the fastest smartphone around, but it did very well across all benchmark tests and is surely one of the best performers in its class.