Software
The Redmi Note 4 runs on MIUI 8, the latest version of Xiaomi's operating system based on Android. The version of Android that the Redmi Note 4 is running at the moment is Android 6.0.1 Marshmallow, although an update to Android 7.0 Nougat is currently in the works and available in beta form. For the course of this review, we chose to stick to the stable Marshmallow ROM that the phone currently ships with.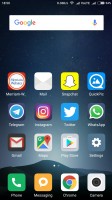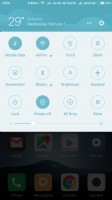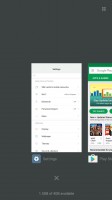 Homescreen • Notifications • Multitasking
MIUI 8 was released last year and features quite a lot of changes compared to the previous versions. One of the improvements was to the notification system, with the two panel UI of previous MIUI versions now being replaced by a single panel UI (although the two-panel version can still be optionally switched to from the Settings). You also get some other niceties, such as Dual Apps, which lets you run two different installations of the same app letting you, for example, have WhatsApp setup for two different SIM cards on the same phone, which is not otherwise possible. Additionally, you can go the whole hog and use the Second space feature, which creates two different accounts on the phone, letting you set up each individually as if it were a separate phone altogether.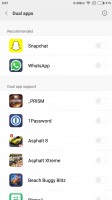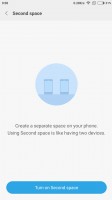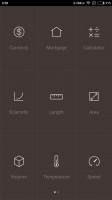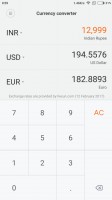 Dual Apps • Second space • Calculator
Other niceties include built-in caller ID for popular businesses, scrolling screenshots, calculator app with currency and unit converter built-in, updated image gallery with comprehensive image editor built-in, redesigned Notes app, ability to adjust all three volume levels from any screen, and more.
With the expansive range of features and options available at hand, coupled with the (generally) tasteful UI design, it is easy to like MIUI. However, as with previous versions, there are still many quirks all-around that should make it a bit difficult to get used to, or even annoying at times if you are coming from a more stock Android experience.
The notification system, despite the improvements, still lags behind what you find by default in Android. The notifications don't expand by default nor can they be expanded using just a single finger, and don't offer much in the way of interactions. They are even worse on the lockscreen, where they don't expand at all, nor is there any way to clear them without unlocking the device. Further annoyance with the notifications includes that most of the notification options, such as the pop-up notifications or lockscreen notifications are disabled by default for most apps except for a select few whitelisted by the OS (such as WhatsApp). This means for most new apps you install you will find yourself enabling these individually for every app.
The OS, by default, will shut down apps in the background to save battery. Even when you disable this from the settings you will still find apps being force closed in the background, causing messaging apps to not show messages until you open them.
The OS also tends to push ads on you. If you choose to leave the stock web browser installed, sooner or later it will start pushing ads in your notifications from different services.
We are also not completely fond of the homescreen design, with no option to have a separate app drawer and no way to disable the forced square borders around every app icon that's inoffensive at best and downright ugly at worst.
With the release of the Nougat update on the horizon, we look forward to improved notifications and also other features such as split-screen mode, which has been missing from MIUI all this time.
Performance
With the drop from a Snapdragon 650 to a Snapdragon 625 on the Redmi Note 4, the question on everybody's mind is naturally how well does the new phone perform and if it is any slower than the old one. The short answer is no.
The long answer is this; as we noted in our ASUS ZenFone 3 review, the Snapdragon 625 is no slouch when it comes to day to day performance. Based on the 14nm architecture, the eight Cortex-A53 cores perform well enough that with a bit of software optimization the performance is more than enough for most users.
And that is exactly what we found on the Redmi Note 4. In our daily use, we could have been using either of the Redmi Note phones and not notice any difference. Both phones feel just as fast when it comes to basic tasks like opening and closing apps, scrolling, and switching between apps. We even tried other activities such as installing apps that take an absurd amount to install (such as Facebook) or making lots of edits to a high-resolution DSLR image in Snapseed and then saving the image with all the edits, and then timed these activities. In each case, the difference between the two phones was within the margin of error.
This was reflected in our benchmark scores, where the Redmi Note 3 trounced the Redmi Note 4 in single-core scores due to its two powerful Cortex-A72 cores but in multi-score tests, the Redmi Note 4 handily beat the older phone with a sheer CPU core advantage, in this case, eight versus six. On top of that, both phones also have identical flash memory so not much of a difference there either. Translating that to the real world, you can see how the user experience between the two devices is more or less similar.
GeekBench 4 (multi-core)
Higher is better
Xiaomi Redmi Note 4 (Helio X20)
4456
Asus Zenfone 3 ZE552KL
4053
Xiaomi Redmi Note 4 (S625)
3065
Lenovo Moto M
2921
Meizu M5 Note
2690
Lenovo K6 Note
2027
GeekBench 4 (single-core)
Higher is better
Xiaomi Redmi Note 4 (Helio X20)
1546
Asus Zenfone 3 ZE552KL
843
Xiaomi Redmi Note 4 (S625)
839
Lenovo Moto M
771
Meizu M5 Note
683
Lenovo K6 Note
635
The only area where the older Redmi Note 3 beats the new Redmi Note 4 hands-down is in GPU performance. You can see in the tests that the older phone is consistently faster than the newer one by a healthy margin.
GFX 3.0 Manhattan (onscreen)
Higher is better
Xiaomi Redmi Note 4 (Helio X20)
15
Xiaomi Redmi Note 3 (S650)
14
Xiaomi Redmi Note 4 (S625)
9.9
Asus Zenfone 3 ZE552KL
9.7
Samsung Galaxy J7 (2016)
9.5
Xiaomi Redmi Note 2
7.9
Xiaomi Redmi Note 3 (Helio X10)
7.9
Lenovo Moto M
7.6
Lenovo K6 Note
7
Meizu M5 Note
5.5
GFX 3.1 Manhattan (onscreen)
Higher is better
Xiaomi Redmi Note 4 (Helio X20)
9.4
Xiaomi Redmi Note 3 (S650)
9
Xiaomi Redmi Note 4 (S625)
6.2
Asus Zenfone 3 ZE552KL
6.1
Lenovo Moto M
5.2
Lenovo K6 Note
4.4
Xiaomi Redmi Note 2
3.9
Xiaomi Redmi Note 3 (Helio X10)
3.9
Meizu M5 Note
3.6
Samsung Galaxy J7 (2016)
3.2
Basemark X
Higher is better
Xiaomi Redmi Note 3 (S650)
14717
Xiaomi Redmi Note 4 (Helio X20)
13666
Xiaomi Redmi Note 4 (S625)
10483
Xiaomi Redmi Note 3 (Helio X10)
8540
Xiaomi Redmi Note 2
8518
Lenovo K6 Note
7480
Lenovo Moto M
6732
Samsung Galaxy J7 (2016)
5383
Meizu M5 Note
5276
Fortunately for the Redmi Note 4, this difference does not really translate all that well into the real world. Most games we tried ran equally well on both phones, with only select games running better on the Redmi Note 3. These were usually games that were too complex to run well on either phone to begin with and even though the Redmi Note 3 did better in these it wasn't by a huge margin.
AnTuTu 6
Higher is better
Xiaomi Redmi Note 4 (Helio X20)
85162
Xiaomi Redmi Note 3 (S650)
76186
Asus Zenfone 3 ZE552KL
63358
Xiaomi Redmi Note 4 (S625)
62454
Lenovo Moto M
51831
Samsung Galaxy J7 (2016)
49094
Meizu M5 Note
47806
Xiaomi Redmi Note 3 (Helio X10)
45474
Lenovo K6 Note
44972
The Redmi Note 4 also runs noticeably cooler than the Redmi Note 3. Although the Redmi Note 3 never got uncomfortably hot, it does rack up a mildly warm temperature during games or benchmark tests while the Redmi Note 4 remained consistently cool to touch.
Basemark OS 2.0
Higher is better
Xiaomi Redmi Note 4 (Helio X20)
1728
Xiaomi Redmi Note 3 (S650)
1426
Xiaomi Redmi Note 2
1063
Xiaomi Redmi Note 4 (S625)
1061
Xiaomi Redmi Note 3 (Helio X10)
1018
Samsung Galaxy J7 (2016)
1007
Lenovo K6 Note
288
Redmi Note 4 also displays improved performance in other areas. The fingerprint sensor, for example, works better now. Xiaomi fingerprint sensors have been a bit hit or miss, with occasionally slow scans or scanning errors on older phones. The Redmi Note 4 was not only consistently fast but also had fewer scan errors and the annoying buzzes of the Redmi Note 3 as it failed to scan your fingerprint were thankfully fewer this time around.
The multimedia experience was also better due to the reworked loudspeaker. Simply having the speaker in a different location makes it sound better but it's also louder and better sounding than its predecessor. That's not saying much as the Redmi Note 3 speaker was quite disappointing and even though the Redmi Note 4 speaker isn't a revelation it's still good enough for the occasional podcast or YouTube video.