MIUI 9 with Nougat
The Redmi Note 5A runs on Xiaomi's own MIUI 9 - a neat launcher based on the latest Android Nougat version - 7.1.2. While MIUI is one of the most popular launchers with great support, it's been somewhat behind the competition when it comes to the latest Android adoption.
MIUI has been known for its clean interface, but looks are deceiving as it also offers a ton of customization options and advanced system tools at your disposal if you dig in.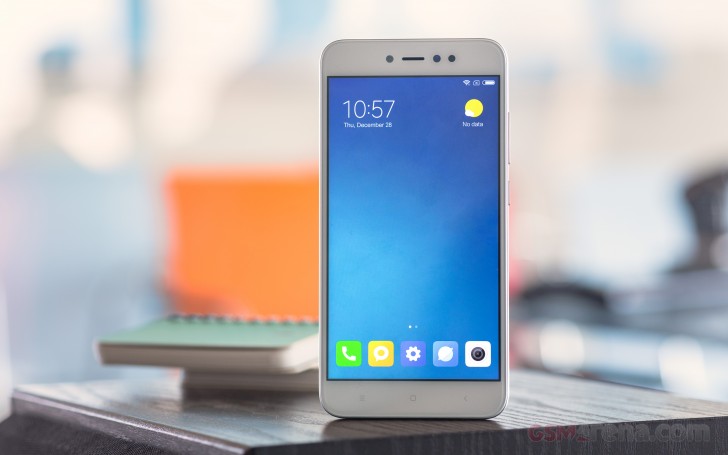 MIUI 9 builds on v. 8 with multi-window support, quick replies for notifications, smart app launcher, smart assistance, and smart image search. Yes, there is a lot of "smart" with MIUI 9 and it's possible thanks to the new machine learning process. There are tons of improvements under the hood, too, such as better RAM management, faster performance, lighter on resources, and improved doze mode.
The novelties aside, it's MIUI however you look at it - every shortcut, plus widgets of your choosing, are dropped on the homescreen. You get a docked menu for the most commonly used apps, of course. The notification drawer comes from the top and has the quick toggles, as usual.
There is a Quick Card pane, the leftmost one. It's quite similar to Today's page in iOS. It contains different cards with relevant information - recent apps, step counter, notes, calendar events, the weather, and favorites, among others. You can configure what shows up here, or you can disable this altogether.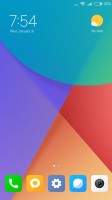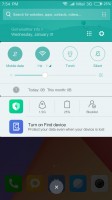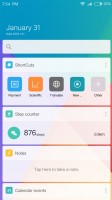 Lockscreen • Home • notification • quick card
The app switcher feels like it came out of iOS - apps are represented by appropriate thumbnails in the same manner, but there is an additional key for the Split Screen mode. MIUI 9 adds native support for multi-tasking via the new Split Screen feature. It allows you to launch two apps side-by-side. All native apps support it and, luckily, all third-party apps with support for any kind of split screen mode work flawlessly on MIUI 9 side-by-side view.
Themes are fully supported, and several are available out of the box. You can download more and change your wallpapers, lockscreen style, system icons, font, and sounds.
MIUI v9 also offers a Security app. It can scan your phone for malware, manage your blacklist, manage or restrict your data usage, configure battery behavior, and free up some RAM. It can also manage the permissions of your installed apps, and allows you to define the battery behavior of selected apps and applies restrictions only to the apps you choose.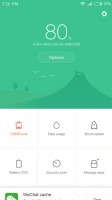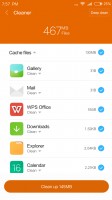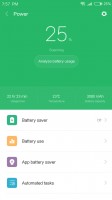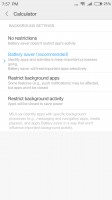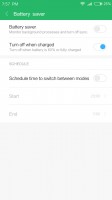 Security app • Cleaner • Battery management • Managing a single app • Battery Saver
MIUI also offers proprietary Gallery, Music, and Video player. If you are running on a Chinese ROM, then the Music and Video app will also allow access to local (paid) streaming services.
Benchmarks and performance
The Xiaomi Redmi Note 5A is powered by the Snapdragon 435 chipset, not the most recent iteration in Qualcomm's popular 400 series. There is already a newer 450 model found in vivo V7, but as far as 435 version is concerned - it is quite a popular choice for budget phones.
The Snapdragon 435 has a rather classic setup found in many a mid-ranger in terms of CPU configuration - eight Cortex-A53 cores, in this instance clocked at up to 1.4GHz. There is also a capable Adreno 505 GPU, and 3 or 4 gigs of RAM (depending on the storage configuration).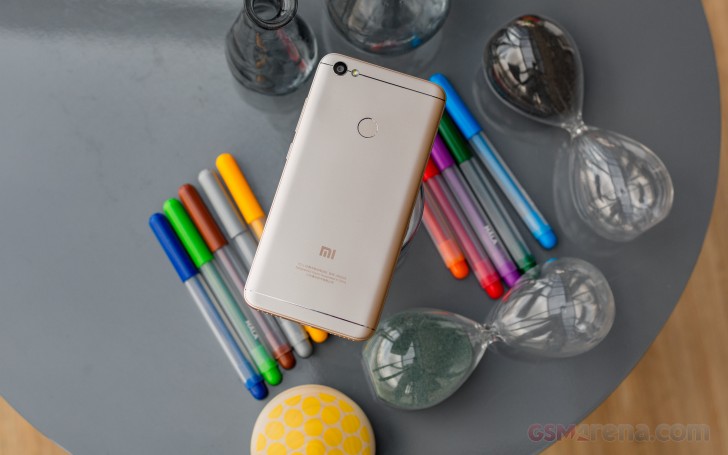 Kicking things off with GeekBench, as usual, we got some nice numbers - the Redmi Note 5A processor is doing a good job for the class beating the one inside the Snapdragon 425 (Redmi 4A) and doing even better than its S435 sibling inside the LG Q6. The vivo V7's S450 chip does a lot better, as expected from a newer hardware.
GeekBench 4.1 (multi-core)
Higher is better
Xiaomi Redmi 5
4018
vivo V7
3935
Samsung Galaxy J5 (2017)
3667
Huawei P10 lite
3344
Xiaomi Redmi Note 5A (Y1)
2610
LG Q6
2244
Xiaomi Redmi 4
1819
Xiaomi Redmi 4a
1781
Having a regular 16:9 720p display really helps in games, as the Redmi Note 5A outputs similar fps as S625-powered phones with 1080p screens. Meanwhile the LG Q6 with the same GPU trails behind crippled by the high screen resolution.
GFX 3.1 Manhattan (onscreen)
Higher is better
Xiaomi Redmi 5
13
vivo V7
13
Xiaomi Redmi Note 5A (Y1)
11
Xiaomi Redmi 4
10
Samsung Galaxy J5 (2017)
7.4
Huawei P10 lite
5
LG Q6
3.6
AnTuTu's score is in line with our expectations - the Snapdragon 435-powered Redmi Note 5A does the same as the Redmi 4 (same chip), better than Redmi 4A (older S425 chip), but is inferior to the Redmi 5 (S625) and vivo V7 (newer S450 chip).
AnTuTu 6
Higher is better
Huawei P10 lite
60895
Xiaomi Redmi 5
56136
vivo V7
54970
Samsung Galaxy J5 (2017)
46400
Xiaomi Redmi Note 5A (Y1)
45642
Xiaomi Redmi 4
44089
LG Q6
40558
Xiaomi Redmi 4a
36110
Overall, a predictable showing from the Redmi Note 5A in the benchmark run - not a record breaker, but a dependable all-round performer. And that's more than enough for the budget class, where most of the competitors would have compromised a lot.