Xiaomi unveils Redmi Router AX5 - a Wi-Fi 6 router with mesh networking support
Xiaomi's subbrand Redmi unveiled its Router AX5, which supports the latest Wi-Fi 6 connectivity (previously known as 802.11ax). It can also create a mesh network with other routers to cover your whole home without any hassle.
The router has four external antennas and four internal ones. They are powered by four independent signal amplifiers by Qorvo, which boost the signal by 4 dB and enable multi-user MIMO for faster speeds.
Wireless transfer speeds are up to 574 Mbps on the 2.4 GHz band and 1,200 Mbps on the 5 GHz band (using Wi-Fi 6).
A 14nm Qualcomm chipset is the brains of the operation. It features four Cortex-A53 cores at 1.2GHz and an NPU core at 1.5 GHz. The processor can offload certain tasks to the NPU, reducing CPU usage and increasing the stability of the system. The router runs a MiWiFi ROM that is based on OpenWRT.
Thanks to the lower process node the chip generates less heat than a typical router chipset. Xiaomi went a step further to ensure cool operating temps by sticking an aluminum alloy heat sink, which sits under large vents.
A mesh network can be created with several routers using a wireless connection boasting a speed of 1,200 Mbps. Alternatively, you can run Ethernet cables between the routers or use both wired and wireless connection as appropriate. Speaking of, there are three gigabit LAN ports and one gigabit WAN port.
The Redmi Router AX5 can serve up to 128 devices. This is important as it can be the heart of your smart home network – a few smart bulbs here, a smart speaker or two there, a vacuum robot and the number of connected devices can go up pretty quickly.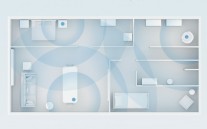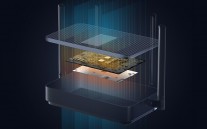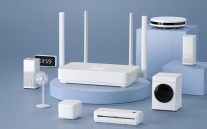 Mesh networking • Heatsink + vents for cooling • Smart home integration
The router can be found on Xiaomi's official site. Its price is CNY 250 ($35/€31), but during the pre-order period (which starts on June 10, tomorrow), the price is down to CNY 230.
T
I can only see routers with WIFI 6 - 20 times more expisive than this in RU. My ethernet board couldn't handle this speed lol. Good stuff + very cheap (=affordable to people) = that's why i love Xiaomi.
C
The only troll here is you, because you saw a product you don't like and still see the need to complain over it, while there are better products out there, according to you, yet you couldn't get them and simply be happy with them. All these because y...
You know what ? I don't even care anymore, go bother and troll someone else. Have a good day.