Introduction
Alongside the global launch of the 12 series, Xiaomi showed the S1 pair of smartwatches that take direct aim at Huawei and Samsung's lineups. The Xiaomi Watch S1 and Watch S1 Active share their internals and smarts, but they're very different on the outside and target different people - one is a classy, premium watch, the other is a youthful, sporty watch.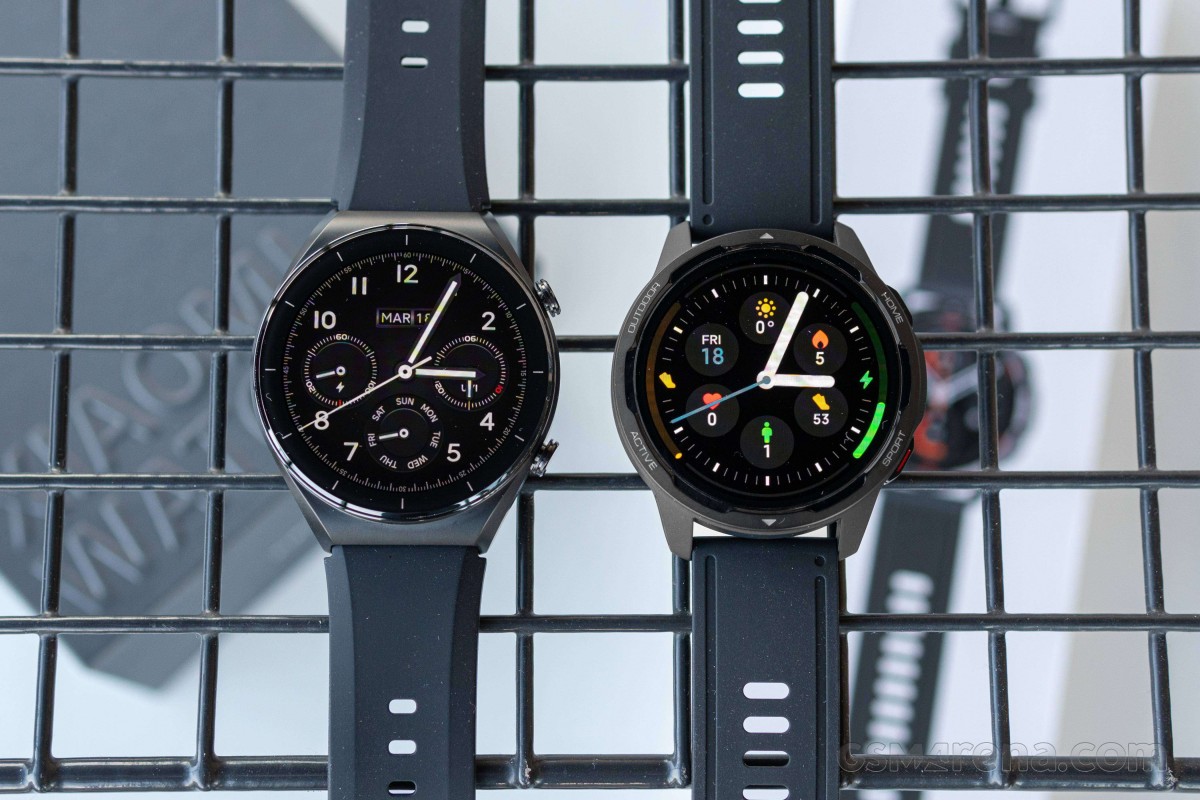 Xiaomi Watch S1 on the left and S1 Active on the right
The most impressive thing about these smartwatches is the bang-for-buck ratio - both are fast, capable, and look great, and both are cheap compared to their direct competition. The Xiaomi Watch S1 Active is only €179/$199, while the S1 with a stainless steel casing and sapphire glass display is €229/$269.
Huawei and Samsung's offers, which are heavily discounted at the time of this review, are still much more expensive. Huawei's GT 3 starts at €209 for the 42mm, while the 46mm is €229. The Watch 3 is €299, the same as the Watch GT Runner. Samsung's Galaxy Watch4 starts at €199 for a 40mm model and is €239 for the 44mm. Going for a Galaxy Watch4 Classic starts at €269 for the 42mm and jumps to €289 for a 46mm.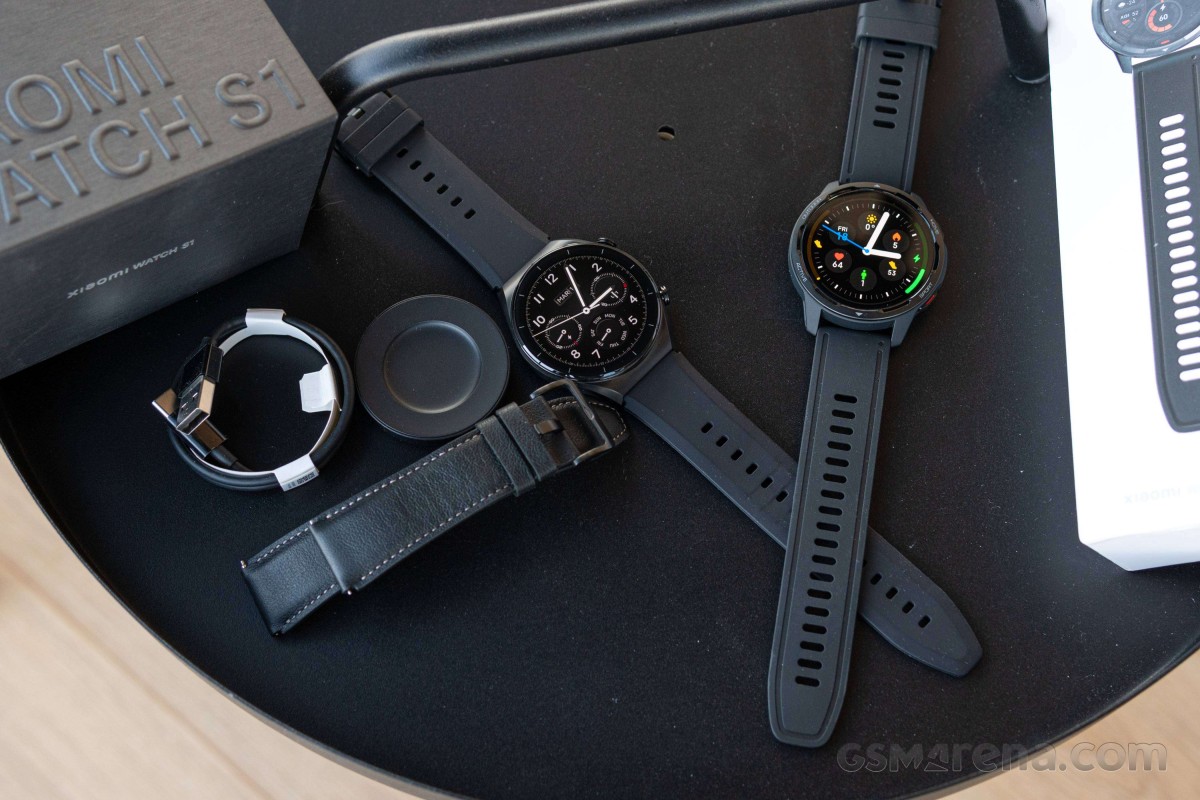 Xiaomi Watch S1 on the left and S1 Active on the right
That immediately puts Xiaomi in a great position. Going for a Xiaomi S1 watch is a no-brainer if your main concern is the price.
But the Xiaomi Watch S1 and S1 Active are more than just the cheaper choice. They're good watches that cover just about every need. Let's take a deeper dive.
S1 is classy, S1 Active is sporty
The Xiaomi S1 lineup is very simple. First of all, there are no size differences - both the Watch S1 and Watch S1 Active have 46mm cases and 1.43-inch displays.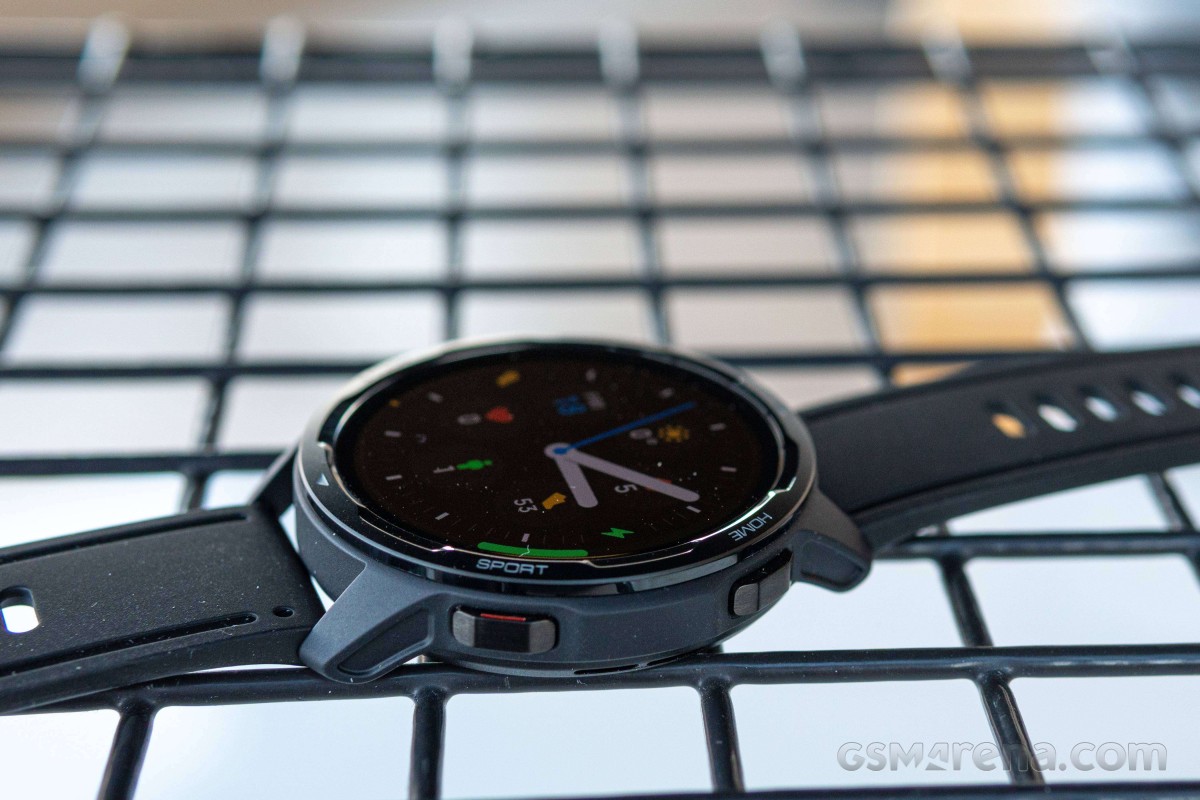 Xiaomi Watch S1 Active
The S1 is a premium watch that weighs just under 70g (with the wrist strap). Its casing is simple and stylish. You can have it in Black or Silver and the watch comes with a Leather and a Fluororubber strap in the box. The case is made of 316L stainless steel and has a quality look and feel. The model we have here is the Black one and it's matte, while the Silver is glossy. Xiaomi says that each case is individually polished.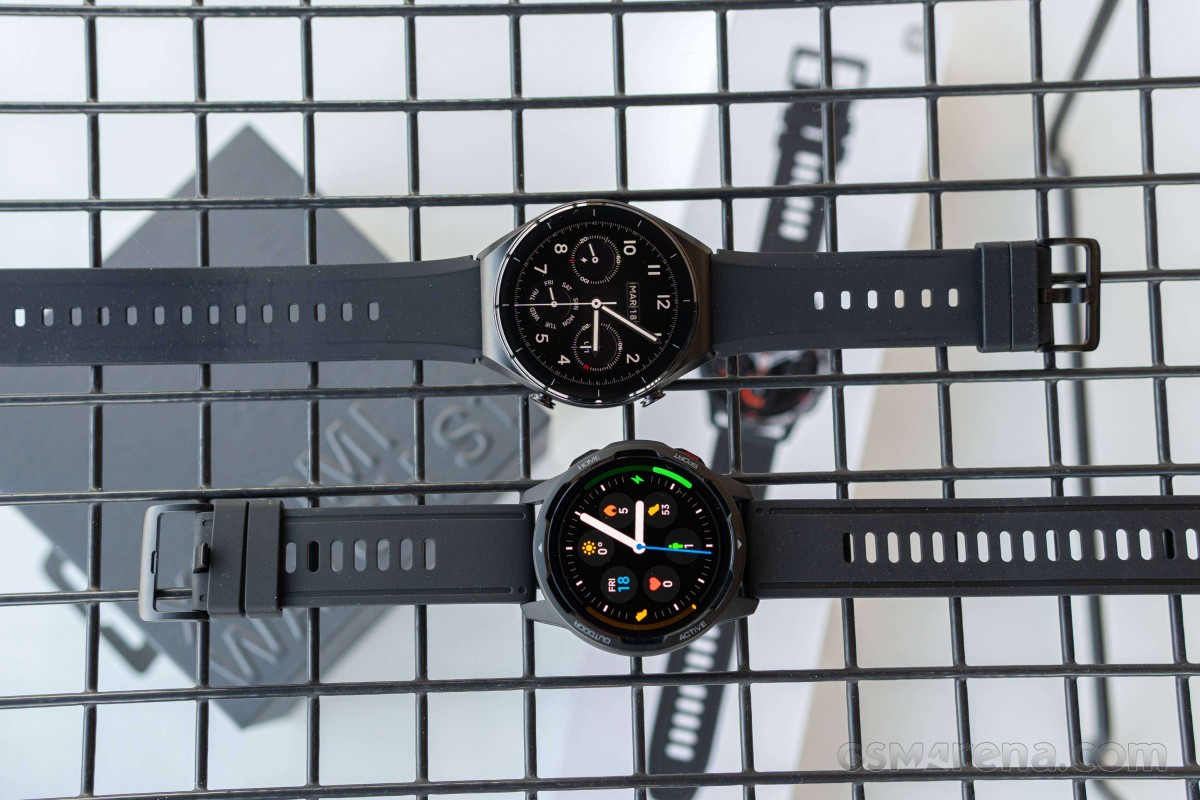 Xiaomi Watch S1 on the top and S1 Active on the bottom
The S1's dome is all glass - Sapphire glass, to be precise. It has that infinity pool look where the glass flows over to the edges. It's a very clean look that's only interrupted by the embedded 12 marks for the hours on the bezel underneath the glass.
Normally we're not fans of this glass-topped design, because it's much easier to scratch - it's better to have a metal bezel that protects the delicate display. But with the Xiaomi S1, we aren't worrying that the glass would scratch. Xiaomi calls this 'Synthetic Sapphire Glass' and we can verify that it hasn't a single scratch on it after two weeks of use - neither micro abrasions nor deeper grooves.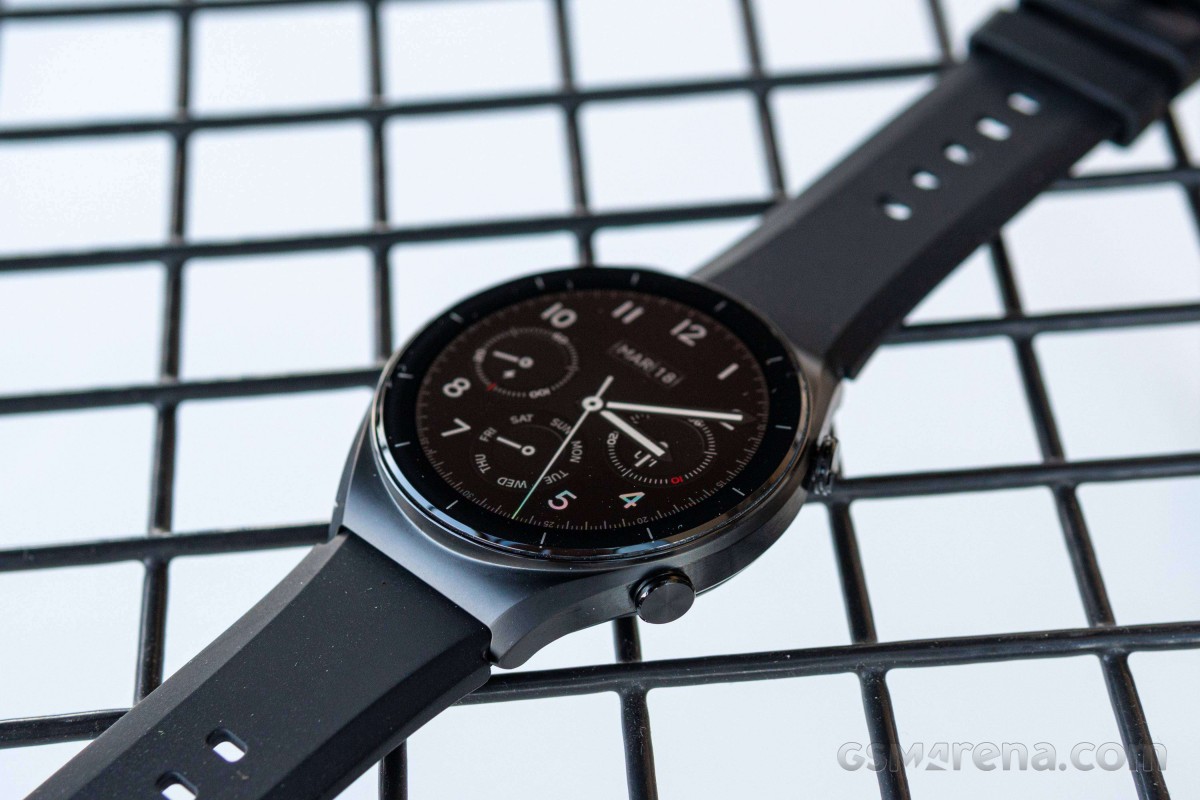 Xiaomi Watch S1
The underside of the Xiaomi S1 is made of plastic but you get standard wireless charging. We tested the watch with a number of charging pads and it worked with all of them, so you can use the bundled charger at home, for instance, and charge the Watch S1 on a wireless charger at work.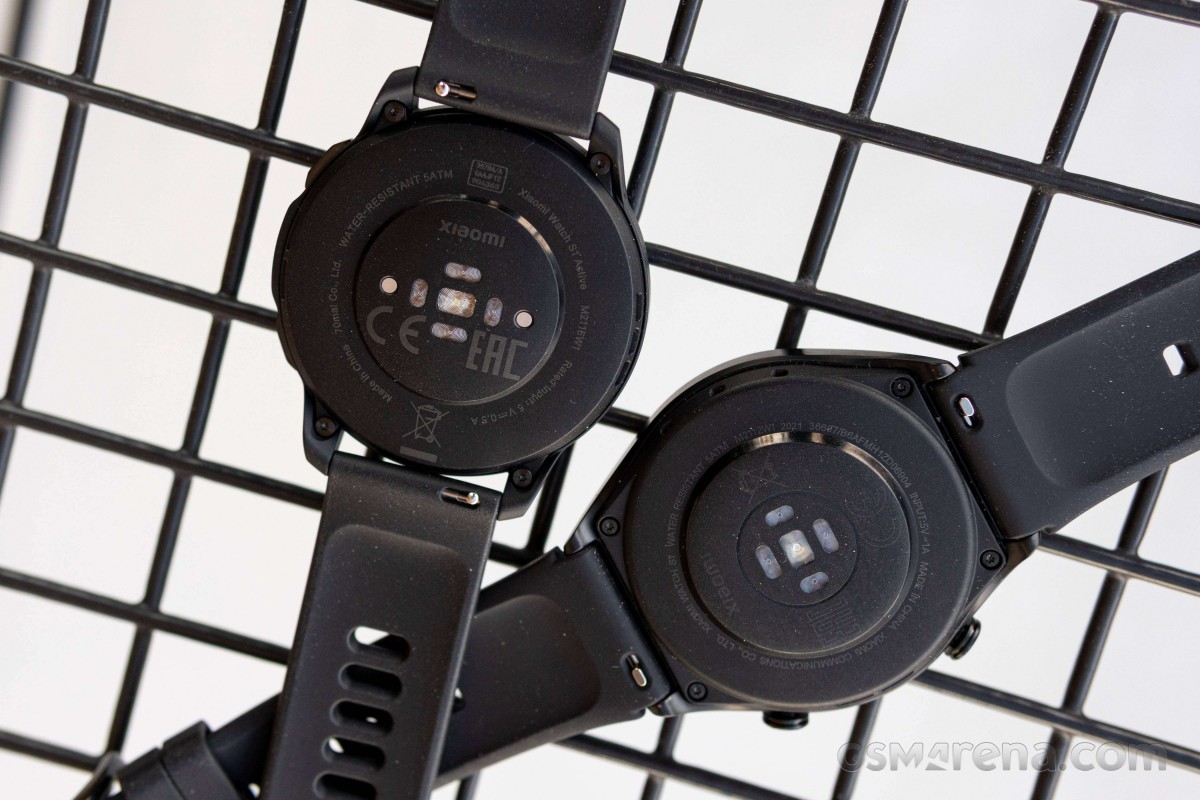 The Watch S1 Active, on the other hand, doesn't support any wireless charger outside of its own bundled puck.
The displays on both smartwatches are the same. They measure 1.43-inch and have 466x466px resolution. They're sharp and detailed. Both can reach up to 450 nits in strong light, so you won't have issues with legibility.
The Watch S1 Active is much lighter than the S1. With the silicone strap, it weighs just over 50g. The case is made out of fiberglass-reinforced polyamide, which feels like plastic. The watch glass is slightly recessed under a physical bezel. This will serve to protect the glass from scratches.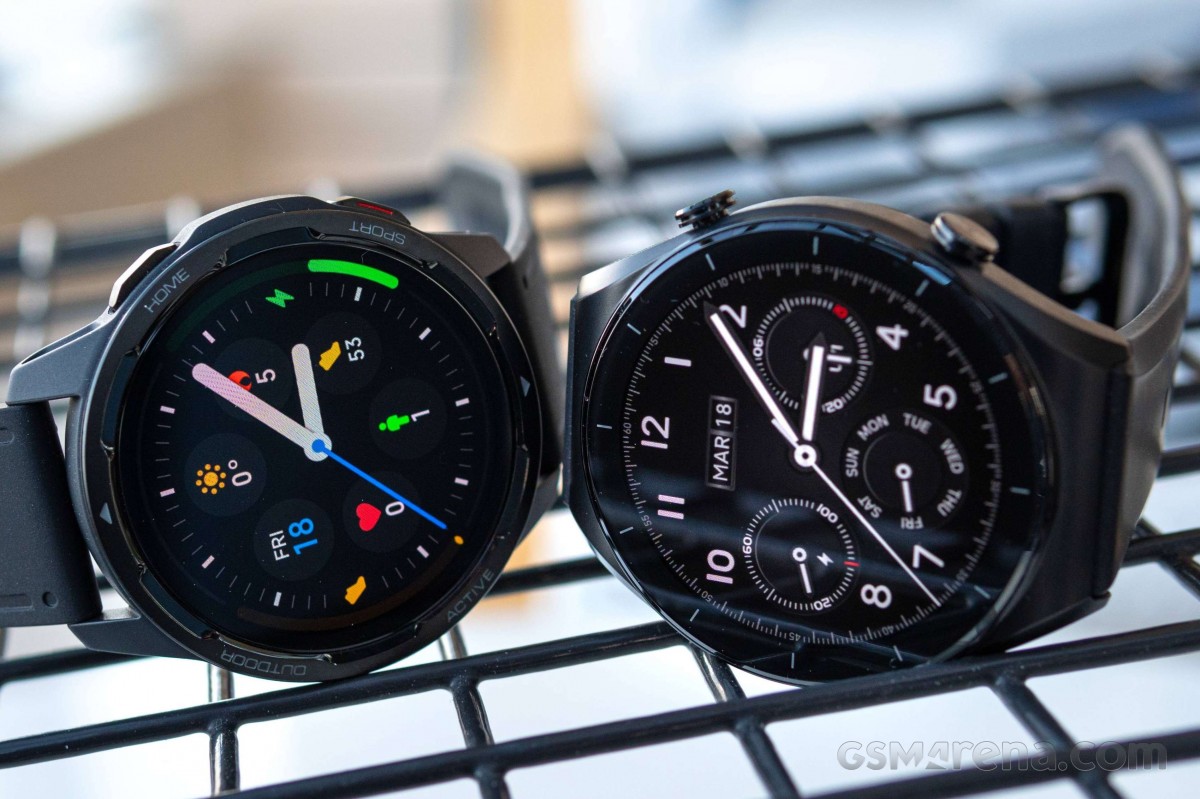 Xiaomi Watch S1 Active on the left and S1 on the right
Both Xiaomi watches operate in the same manner - you get two physical buttons on the right side - one takes you home and opens the apps menu, while the other is customizable but takes you to the Rolodex of sports modes (which is also customizable).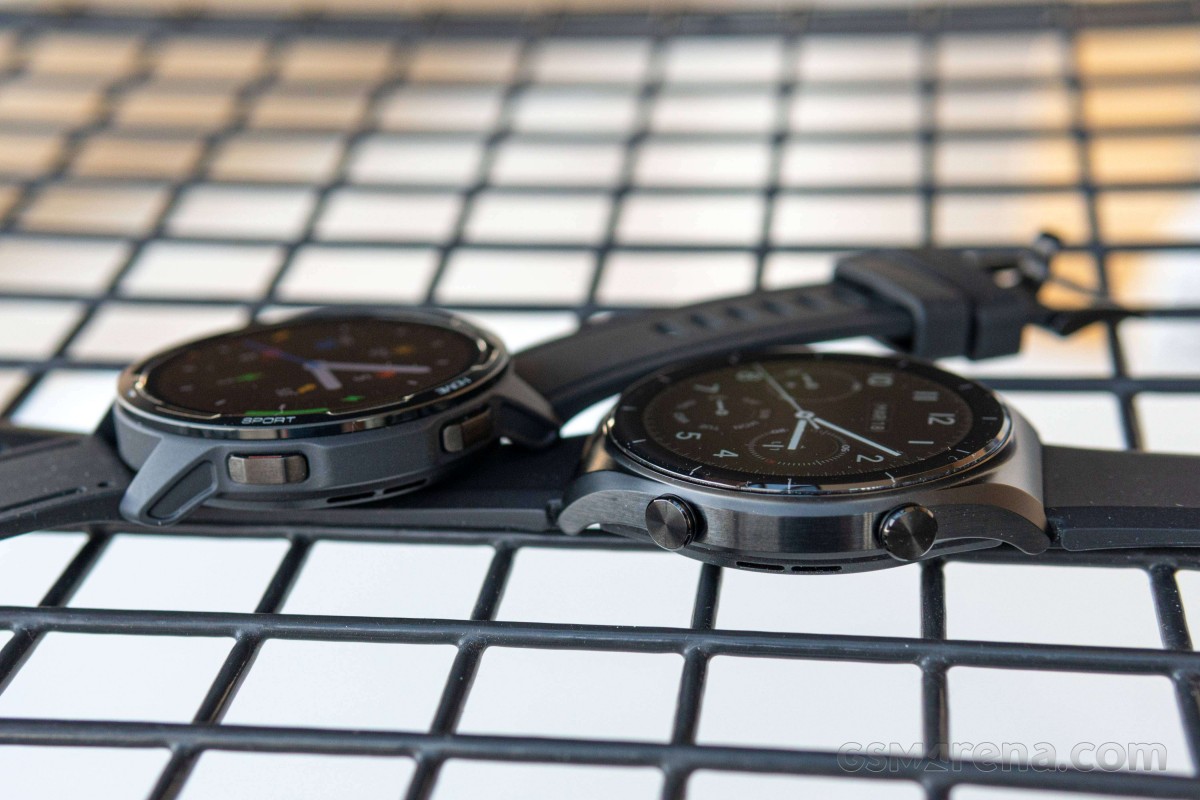 Xiaomi Watch S1 Active on the left and S1 on the right
Xiaomi went with the 22mm standard for the straps, which is a great thing as it's by far the widest at this size - you can easily swap with any 22mm sized band you have lying around.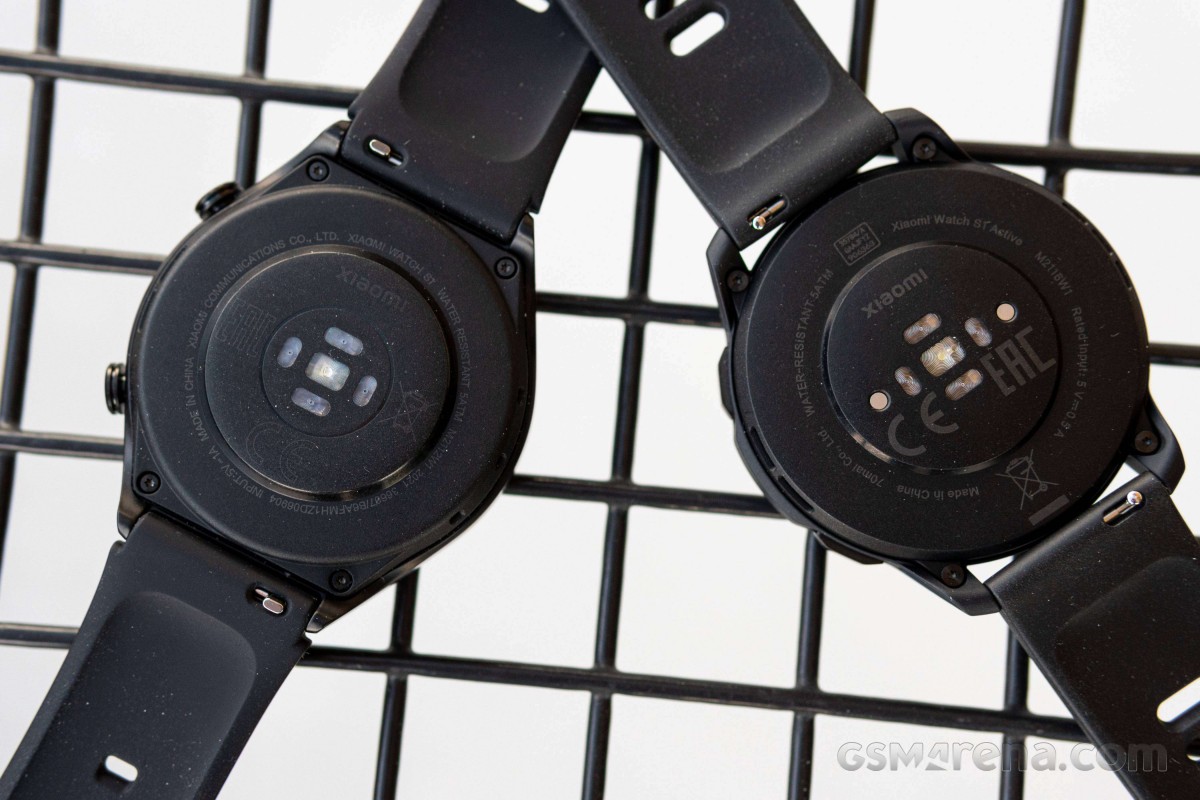 The leather band of the S1 feels more premium than what you normally get with smartwatches. It's wider and softer than a Galaxy Watch3 band (the Watch4 ships with silicone). It's a nice middle ground as far as quallity is considered.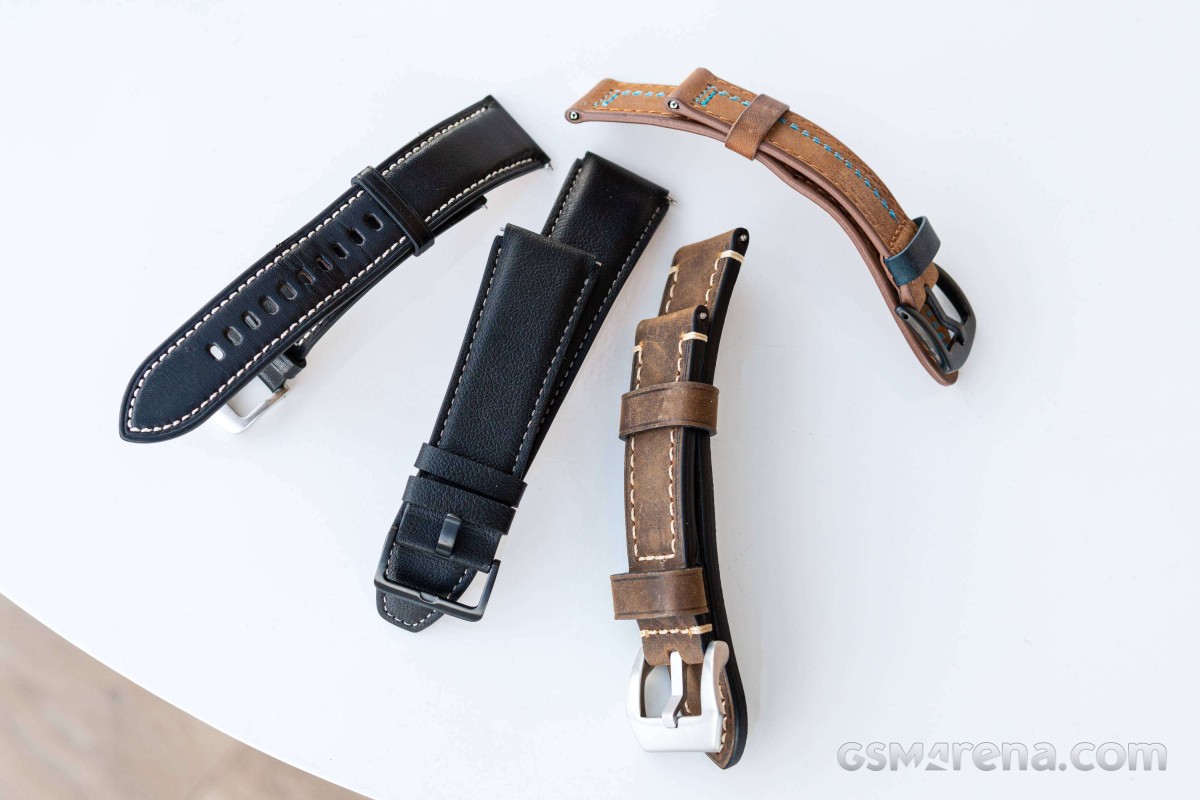 But the rubber band feels better suited to the Watch S1. It's similar in weight and size to Huawei's rubber band for the GT2 Pro but isn't textured like it. The silicone band on the Xiaomi Watch S1 Active is plain and unimpressive, but will more than suffice for training.
In closing on design and build, some may be put off by the lack of a smaller Watch S1 or Watch S1 Active option for a smaller wrist. There's also no clever use of a rotating bezel or rotating crown, which gives some competitors an edge - you get two buttons and a screen.
Software, health and fitness tracking, battery life
The Xiaomi Watch S1 and Watch S1 Active use a proprietary OS with a preloaded set of apps and no way of installing new ones, at least at the time of this review. Xiaomi's smartphone app does have a section for new apps, but there weren't any available.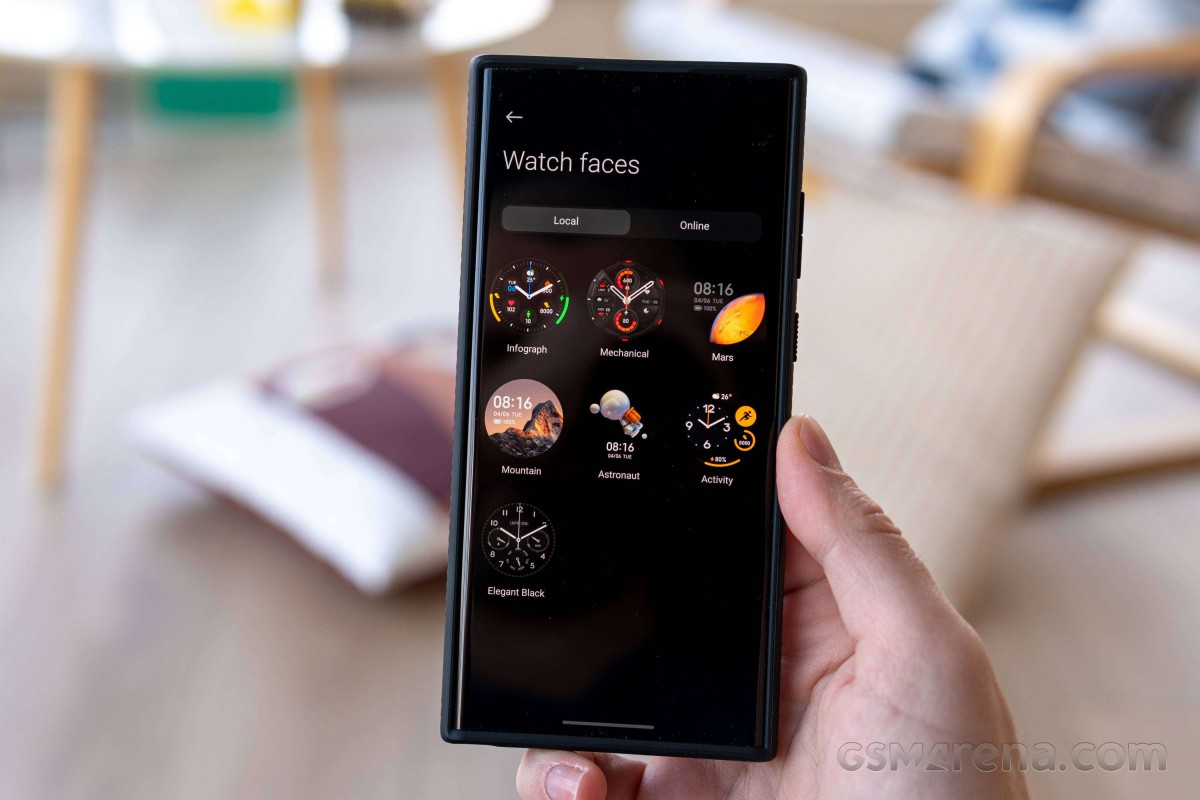 The app, called Mi Fitness is easy to use. It acts as a hub for your fitness and health data, as well as a place to change smartwatch settings like the watch face. And while on that topic, watchface selection is disappointing to say the least. You get around 8 preloaded watchfaces, of good quality. Some of the animated ones from MIUI are even available. Both have more than 200 additional ones you can download, but still, competitor smartwatches have hundreds more at their disposal.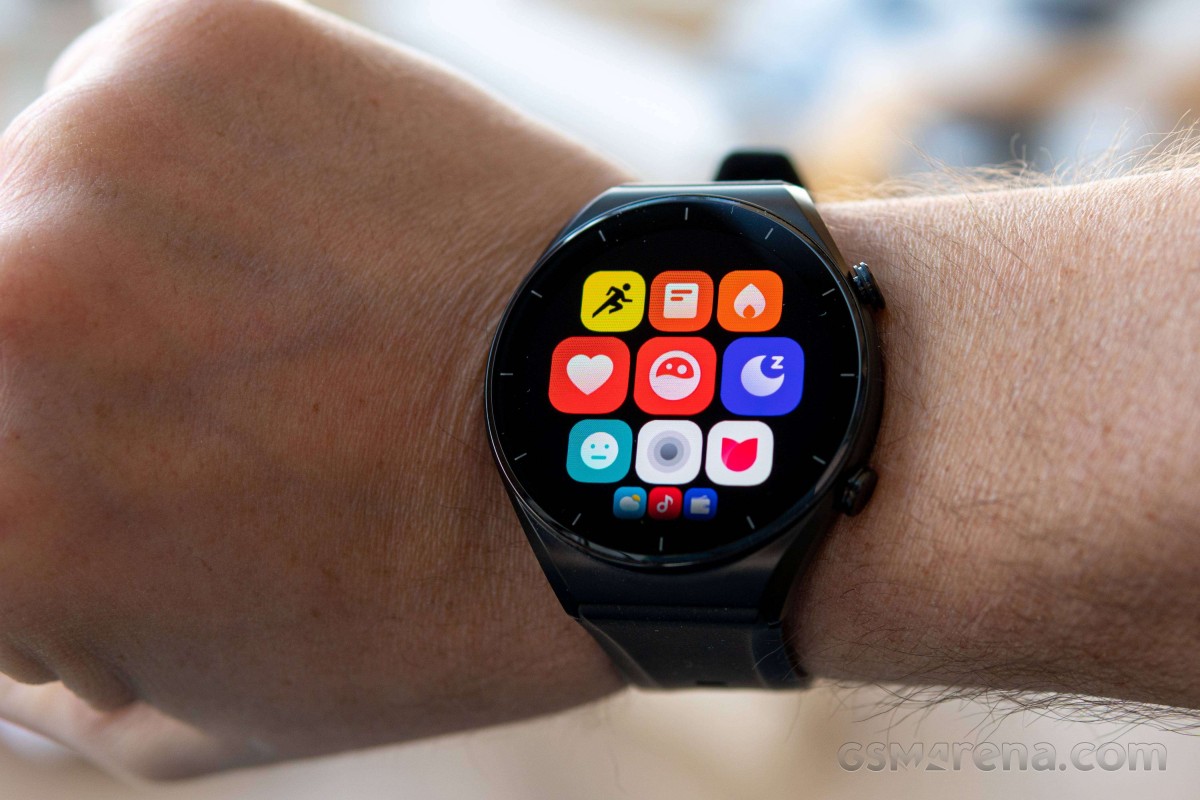 Xiaomi Watch S1
There's an always-on display on both watches, but it is pretty basic. On the Xiaomi Watch S1 Active, it's just a digital clock with no option to change it to an analog. And it doesn't matter if you select an analog watch face, the always-on will be a digital one.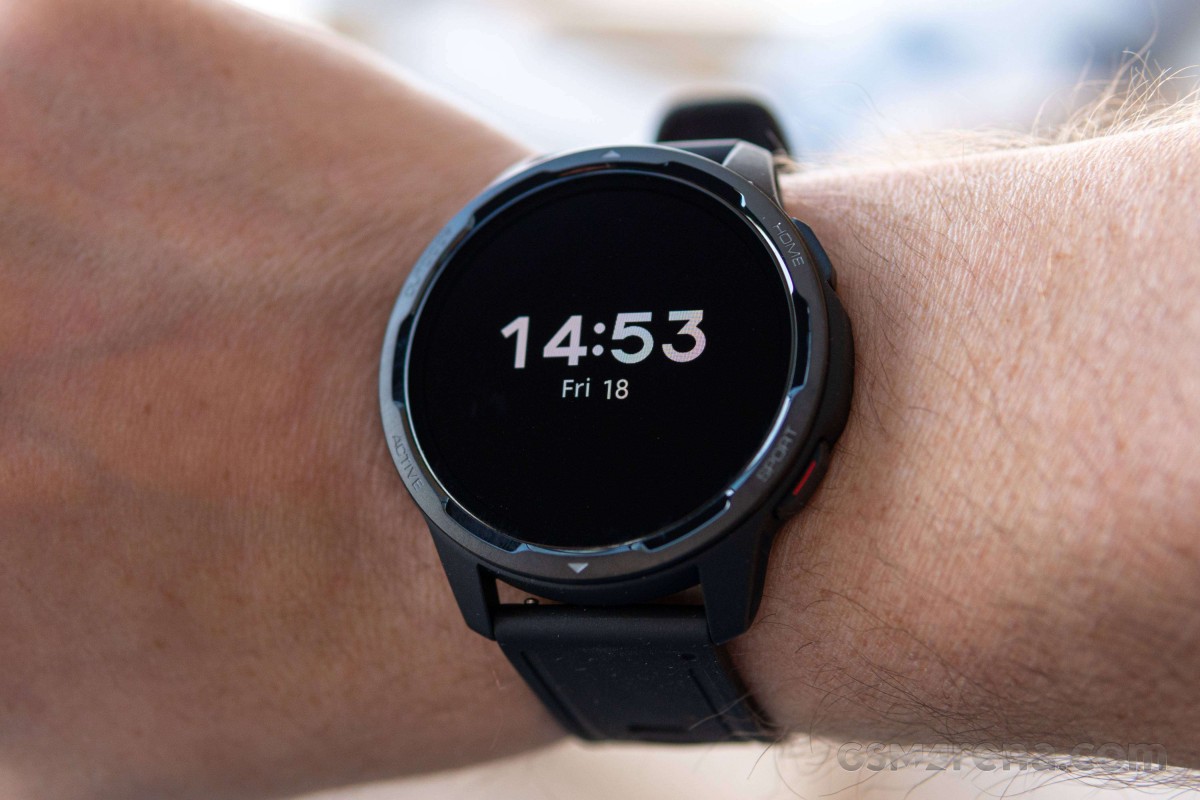 Xiaomi Watch S1 Active
On the Watch S1, you can have an analog always-on, but it's paired to a single watch face. The others are, again, only digital. It's limiting and it doesn't hold a candle to what rival smartwatches offer.
Xiaomi Watch S1
But we expect that Xiaomi will step up third-party support over time. Over the two weeks we tested the pair of S1 watches, Xiaomi issued a number of updates to both.
Navigating the Xiaomi Watch S1 and Watch S1 active is easy enough. Swipe to the left or right of the watch face to move through screens with widgets for Fitness, Sleep, Weather, Steps, Music control, etc. Interestingly a swipe downwards brings up the notifications, while a swipe from the bottom and up brings up the quick setting toggles - that's the opposite of just about every other smartwatch on the market. It did require some getting used to and never felt right.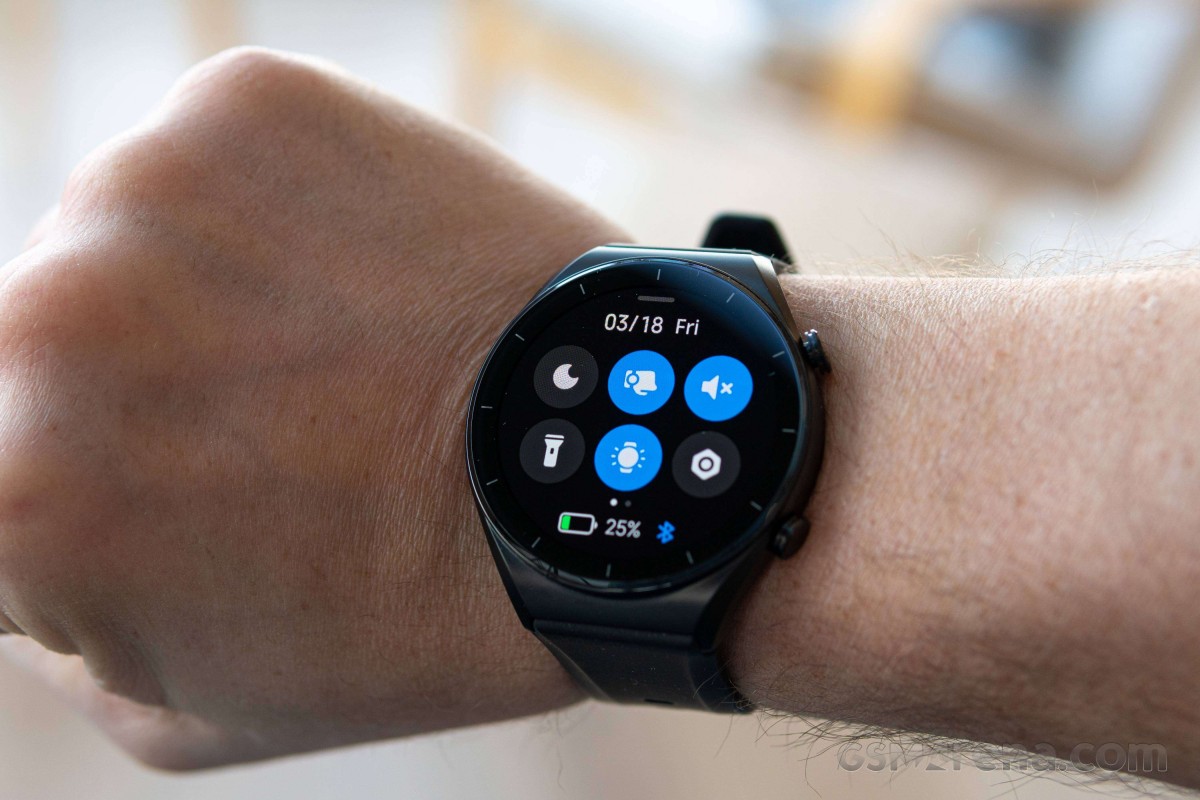 Xiaomi Watch S1
You can switch these screens around both on the watch, or your phone. You can also altogether remove them.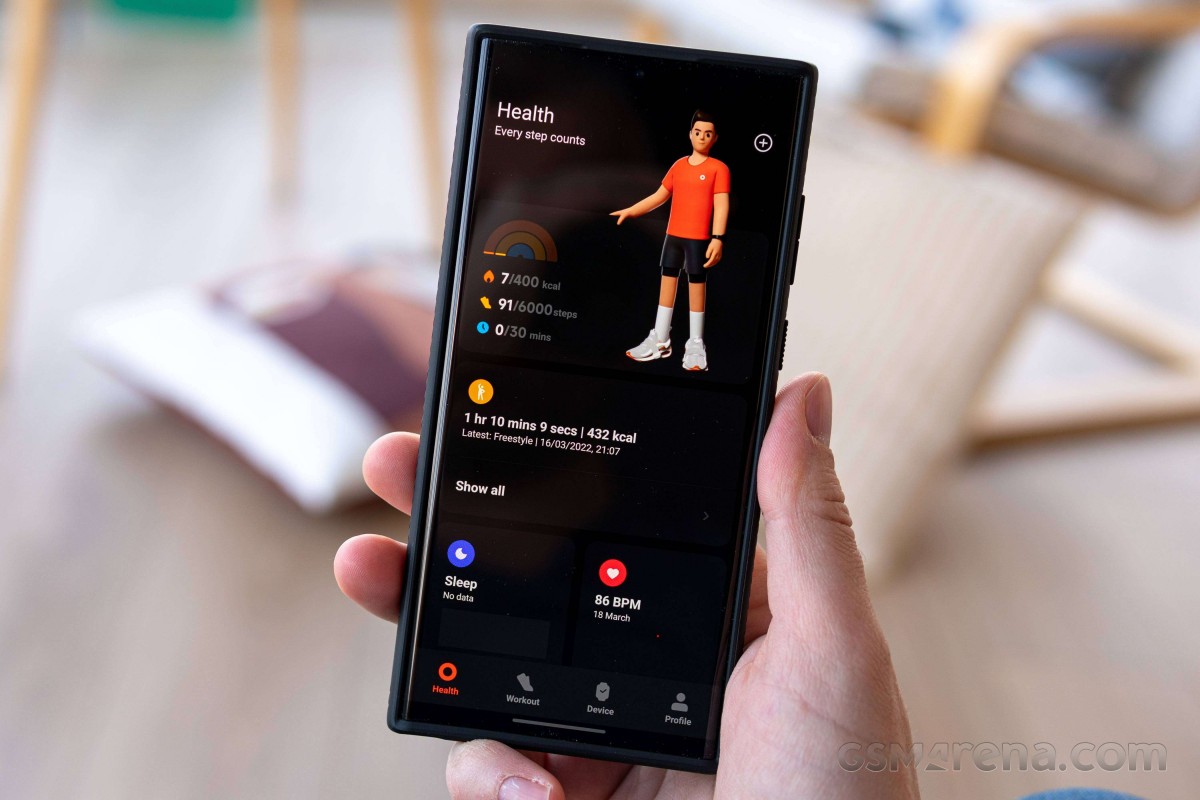 Smarts aren't lacking on the Watch S1 and Watch S1 Active. Both can deliver notifications from your smartphone. But you can't reply from the watch itself - not even a pre-selected set of emojis.
Vibration on the Xiaomi Watch S1 and S1 Active is very strong. You're unlikely to miss a call, notification, or alarm. These watches use by far the strongest motor this reviewer has tested.
Both smartwatches share a fitness suite of up to 117 modes to track, as well as alway-on heart rate and blood oxygen tracking, as well as VO2 Max during training. There's stress and sleep tracking as well.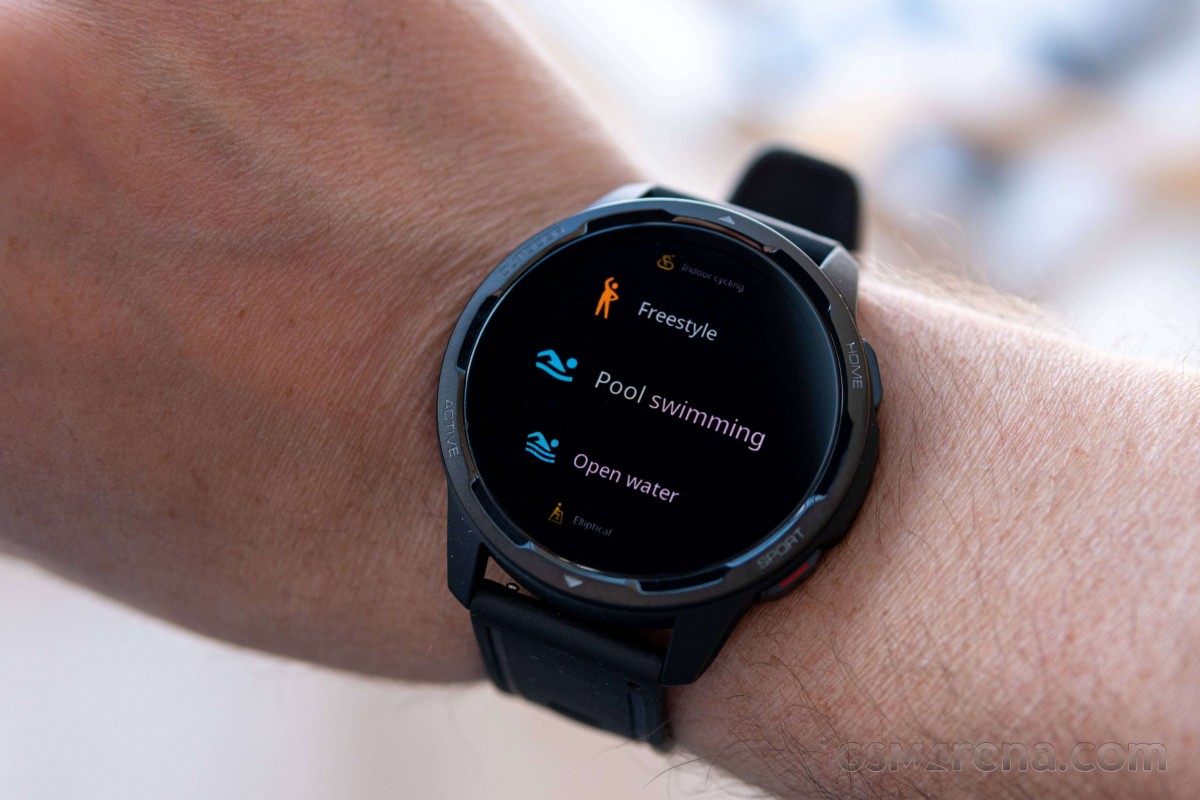 Xiaomi Watch S1 Active
We found a discrepancy between the Watch S1 and Watch S1 Active - the former wasn't very accurate in its heart rate monitoring. It consistently showed a lower bpm reading than the Active. During one workout we recorded an average of 127 bpm and a maximum of 176 bpm, while the S1 Active recorded an average of 152 bpm and a maximum of 202 bpm. We also tested the Watch S1 against a smartwatch from another brand and saw the same discrepancy so our only conclusion would be that the S1 Active's heartrate sensor probably needs you to stay still to measure correctly.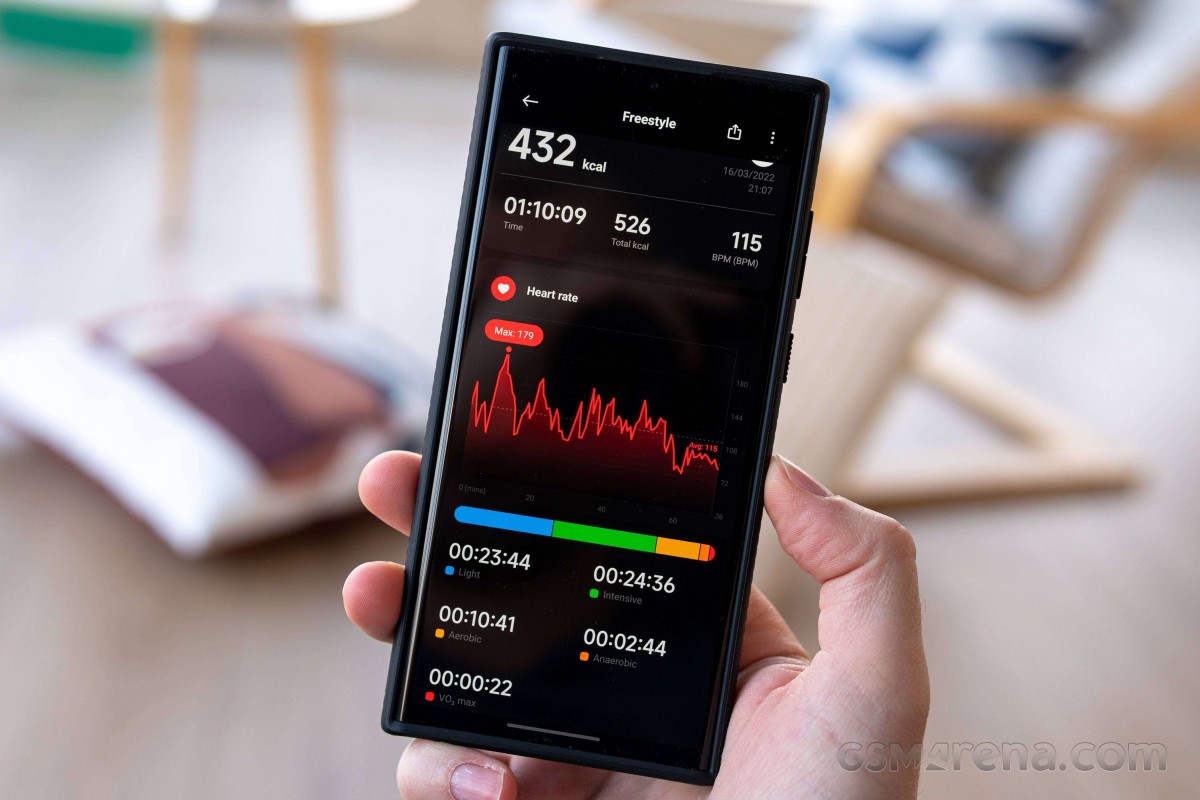 The Xiaomi Watch S1 had no issues with resting and idling heart rate, showing consistent results with the Watch S1 Active, so we guess the issue is isolated with more rigorous workouts.
The tracking modes are about what you'd expect from a smartwatch, although we weren't impressed with the skiing mode. Dubbed 'Other Winter Sports', although there is a skier in the image, this mode offered nothing in the line of pace, ascent, descent, or speed. It's basically just a heart rate reading with weight loss data based off of an algorithm. Both Xiaomi watches have GPS, so we don't understand why the ski mode is so limited.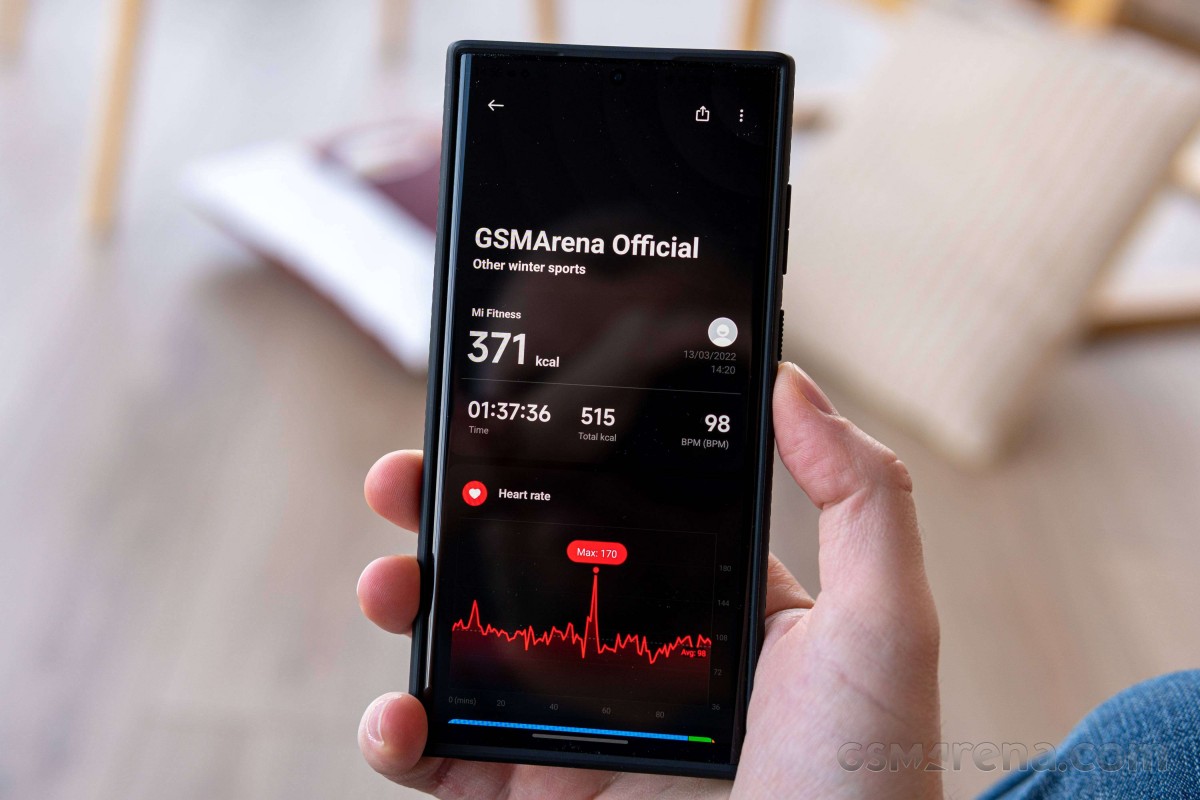 Sleep tracking is on automatically. If you wear the watch to bed, it will track your sleep. But it isn't very accurate. For starters, there's no awake data, so you can't see how much sleep you've lost during the night - it just says 0 min. We cross-checked with a different brand watch, which showed a reading. Now, whether that watch correctly assesses the time I've been awake is disputable, but what isn't is that I was, in fact, awake, at certain points during the night. The deep sleep data is also overly-generous - the Xiaomi Watch S1 and Watch S1 Active both gave me 2 and a half to 3 and a half hours of deep sleep per night. My usual smartwatch shows between 30 minutes to an hour a night. Once again, you can dispute the numbers, but the average amount of deep sleep for adults is between an hour and an hour and a half.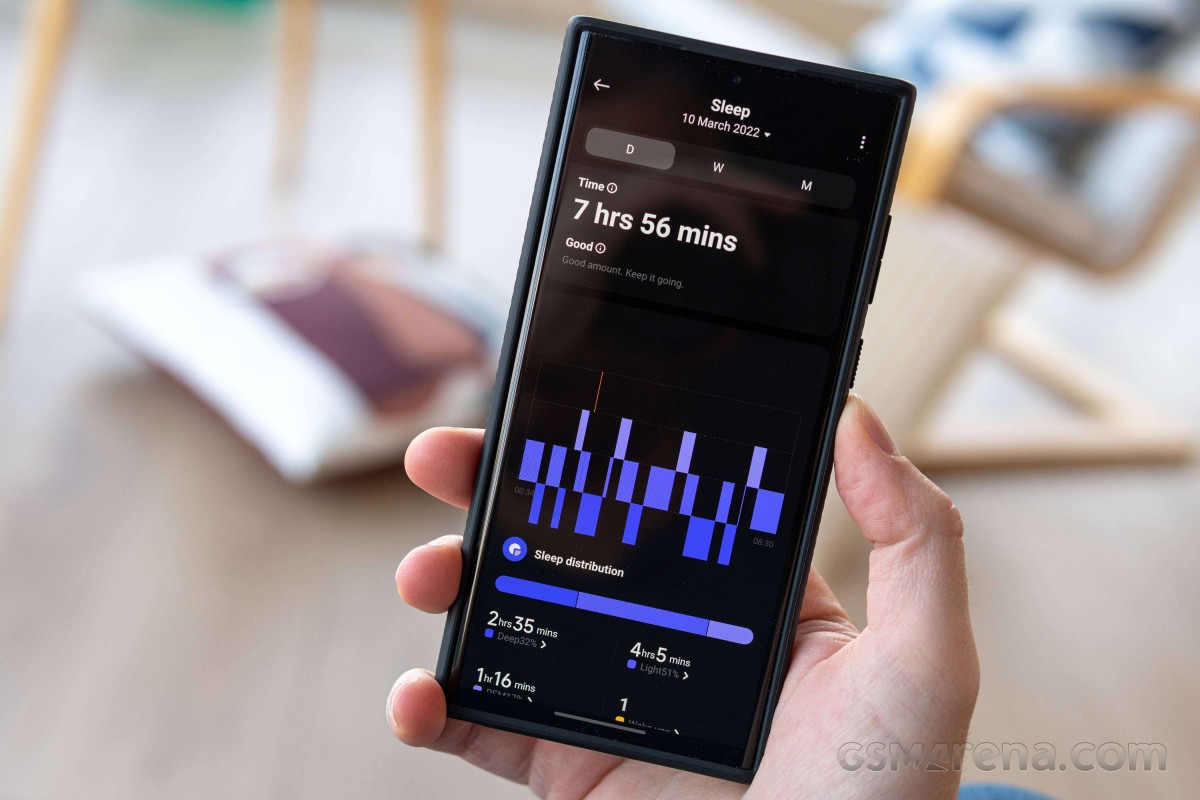 There's a neat camera controller app, which uses the watch to capture photos on your phone. You need to open the camera app on the phone yourself, otherwise tapping the shutter on the watch just changes the volume on the phone.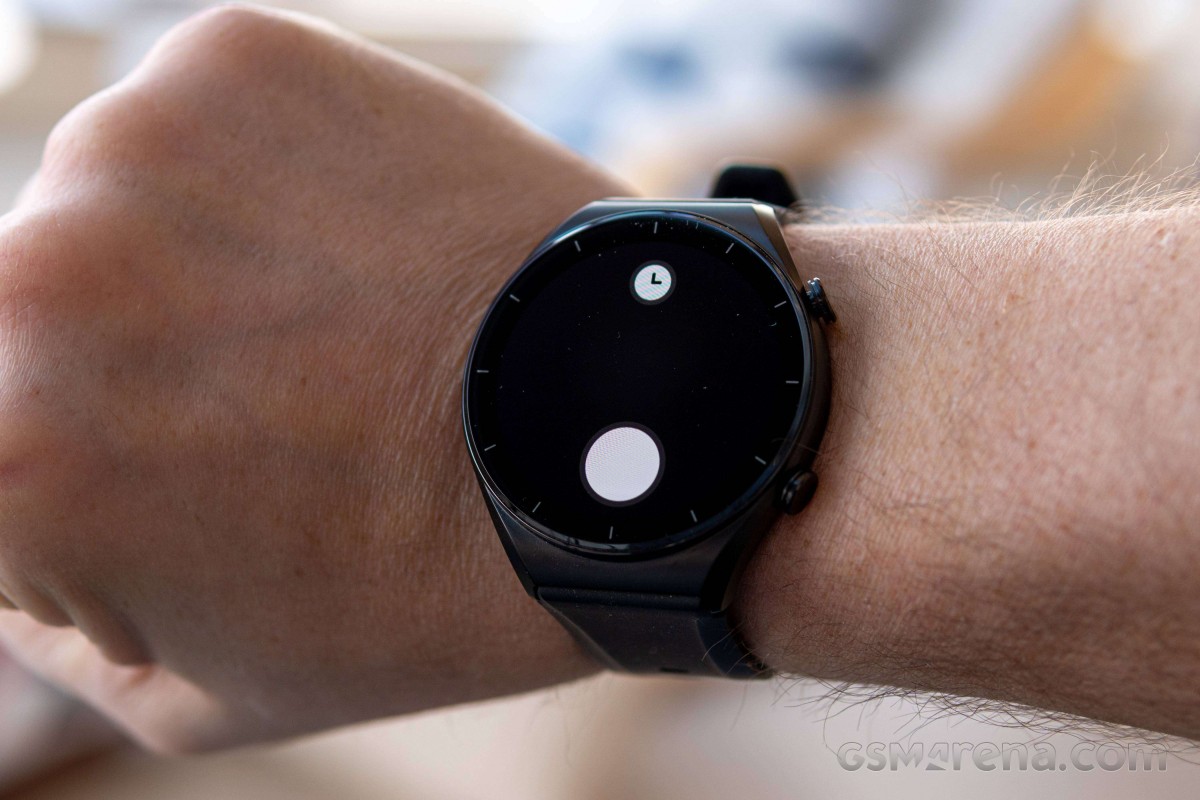 Xiaomi Watch S1
Battery life is excellent on the Xiaomi Watch S1 and Watch S1 Active. Xiaomi claims up to 12 days of endurance, but I got about 7 with notifications, sleep tracking, and the occasional workout. That's still amazing endurance!
Both watches also offer Mastercard contactless payments and Alexa voice assistance, both of which I wasn't able to try at my place of residence. Alexa support was enabled this week, so buyers in countries where Xiaomi has deemed for Alexa to work can try it out.
The Xiaomi Watch S1 can also make calls over Bluetooth as it has an integrated speaker and mic, whereas the S1 Active lacks that feature.
Should you buy these?
So, are the Xiaomi Watch S1 and Watch S1 Active good? Yes - definitely. The hardware is great, especially for the price, and both watches do what's needed of them. More importantly, there's hopeful potential for more, given Xiaomi's obvious determination to provide software improvements.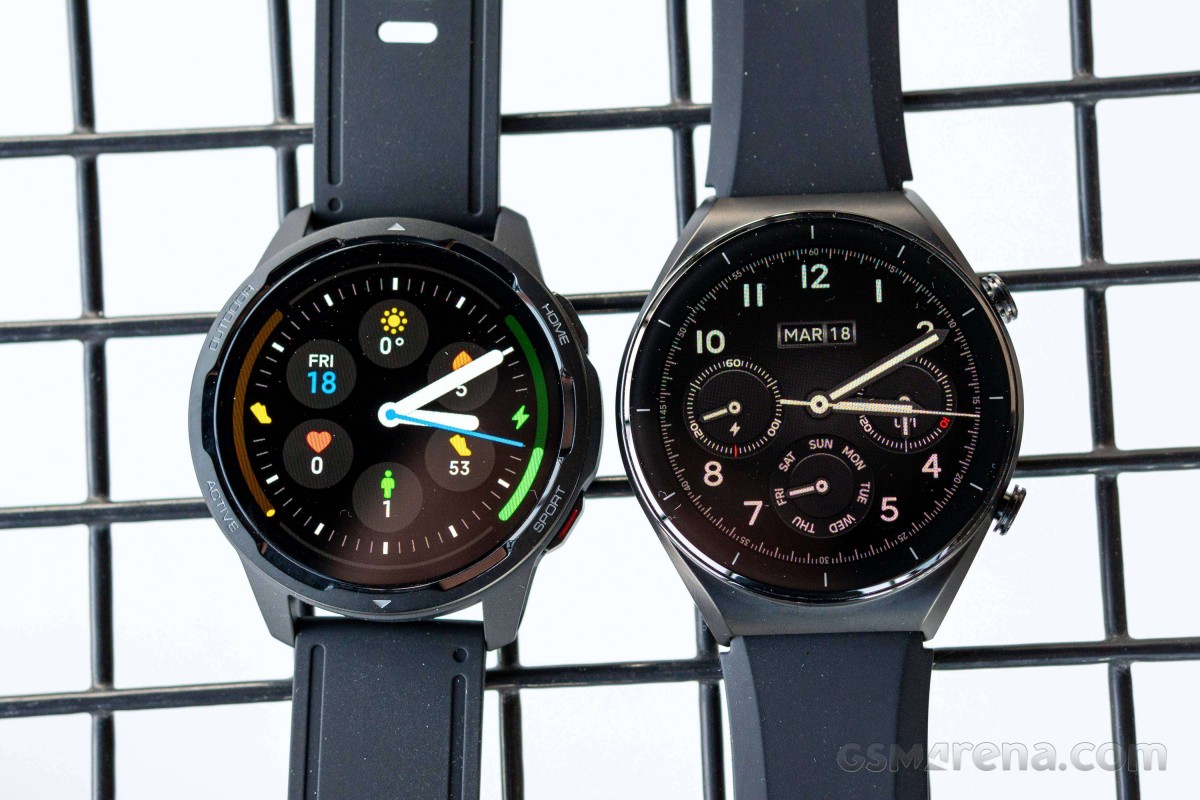 Xiaomi Watch S1 Active on the left and S1 on the right
Even better, at their starting prices, the Xiaomi Watch S1 and Watch S1 Active are very competitive, especially the S1. You'd have a hard time finding a smartwatch with this level of craftsmanship, at this price. We said that about Huawei's GT2 Pro watch back in 2020, but even that cost €299 - the Watch S1 is €229!
If you're platform-agnostic, these Xiaomi smartwatches may be the best deal you can find right now!
?
how do i measure blood pressure in a xiaomi watch active
M
The S1 lineup is a let down on omitting the VO2 that is available in the lesser Mi Watch version
N
I have removed all the restrictions on battery usage, otherwise the app is not connected to the watch and weather does not synchronize. After the update I have noticed that I get Bluetooth connection notifications only once in two weeks and it d...
ADVERTISEMENTS