The E3 expo has just started and Sony Ericsson has something to show the gamers - the Xperia PLAY Experience Pack. It contains the DK300 Multimedia Dock, USB and audio cables and code for 3 three Gameloft titles.
The Experience Pack is compatible only with Sony Ericsson Xperia PLAY. It contains the previously announced DK300 multimedia dock, a portable short-length USB cable, a 3.5mm male-to-male audio cable so you can connect the dock with an audio system and a game code.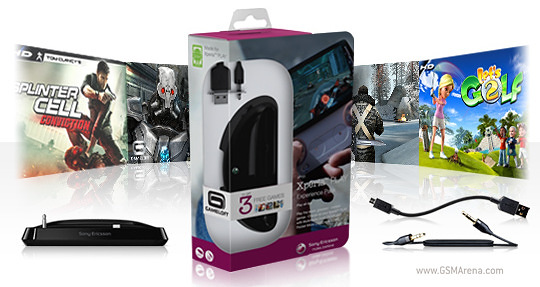 The game code will allow you to download three Gameloft games of your choice from this list:
Assassin's Creed – Altair's Chronicles
Uno
Real Football 2011
Modern Combat 2 : Black Pegasus
Let's Golf! 2
Tom Clancy's Splinter Cell Conviction
Brothers In Arms 2: Global Front
N.O.V.A. 2 – Near Orbit Vanguard Alliance
Eternal Legacy
Here is the promo video for those games:
There is no official information on the price and availability of the Experience Pack, but we guess it should be released shortly after the E3 expo on about 25 euro price.
K
I have the voucher code but I don't know how to enter the code to claim my free games. Were do you enter the code and how... Please help me!! Thanks
Y
I've used Shazam and SoundHound and came back empty. I've also visited original YouTube page and nothing there also.
?
It's obvious that the launch titles aren't as good as they want us to believe. I mean, common man, only Backstab is unique, all the other games are also available on touchscreens and will be loading quicker on Dual Cores. Not to say that Gameloft gam...
ADVERTISEMENTS