Sony Ericsson Xperia ray has just gone on pre-order in the UK. Play.com claims it will have the Xperia ray on 15 August opposing the previous rumors for September release and wants £350 for it.
Sony Ericsson announced the Xperia ray just two weeks ago but was mum on the release date. The only thing we got was Q3 2011.
According to a previous information leaked prior to the official Xperia ray announcement, the Gingerbrad-running smartphone is supposed to hit the shelves in September. Now we have two sources that say otherwise.
Play.com has already started a pre-order campaign for the Xperia ray. It costs £350 and is supposed to ship on 15 August.
Carephone Warehouse has also announced it will offer the Xperia ray in August, but for now you can only register your interest.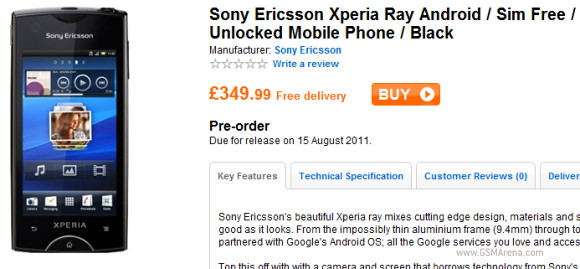 Both sellers warn the date (and the price) are subject to change, so you might want to take this with a pinch of salt.
C
Very suck expensive!!! it's Should be $350
N
SE NEO is avialable for 319pounds when compared to SE Ray. NEO has bigger Display than Ray. Check it out for yourself. http://www.play.com/Mobiles/Mobile/4-/18876515/-/Product.html?opFR=true
D
I just don't have the time or patience to answer everyone who writes absolute rubbish in the comments. Many people think it's too small: that's why SE have the arc and the neo as alternatives! Too expensive? Compare it properly to other phones with s...
ADVERTISEMENTS