The successor to the Sony Ericsson XPERIA X10 mini pro reminds us again of its existence through another leak. The diminutive QWERTY-side slider refreshes the specs of the original with new software, bigger screen and more powerful internals.
We first saw the X10 mini pro successor (codenamed "Mango", possible real name Duo) break cover when it aced a couple of benchmarks, beating a Froyo-running Nexus One. Speaking of OS versions, the XPERIA Duo is currently running Android 2.3 Gingerbread with an updated version of the small-screen UI by Sony Ericsson.
The four corners of the screen still hold shortcuts, but now each packs four shortcuts at (so something like docking a folder in the big-screen counterpart). By the looks of it the one widget per screen restriction remains though.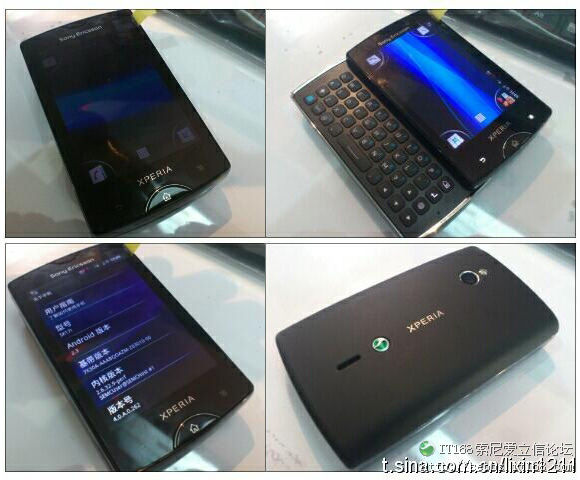 Leaked live photos of the Sony Ericsson XPERIA X10 mini pro successor (a.k.a. Duo, Mango)
The Sony Ericsson XPERIA X10 mini pro successor, or SK17i as its model number is, is powered by a Qualcomm processor (MSM7230 Snapdragon probably) running at near 1GHz - 800MHz or 1GHz, it's not clear. What matters though is good performance, which the Duo has according to those very early benches.
Anyway, the screen on the XPERIA Duo is 3-3.2 with HVGA resolution. The camera is a 5MP snapper with HD video and there's a video-call camera too. A leak from January puts the amount of RAM at 384MB, but there's no confirmation on that.
The Sony Ericsson XPERIA X10 mini pro successor was a no-show at the MWC, so we don't know when it will be announced. We're waiting for a Sony Ericsson XPERIA X10 mini2 as well.
Source (Site in Chinese)
s
I have started using this phone.. and its super awsome...
S
Will there be a replacement scheme for the current Mini pro users..
A
Hei, HVGA for a mini is a big res and a snapdragon is mainstream... Galaxy mini use QVGA, 600 MHz... So, xperia duo is the most powerfull mini, and its rocks...
ADVERTISEMENTS